Do you know that Spotify addicts now can share tunes, albums or playlists they like to Snapchat just like Instragram which adds the feature one year ago? And your friends who see the shares from the Snapchat feed can swipe up to open tap to listen to the music easily.
This is pretty cool, right? If you are interested to find out how does it work, just check this post. We will show you how to share Spotify music to Snapchat directly as well as add a Spotify song to your Snapchat video as a background music.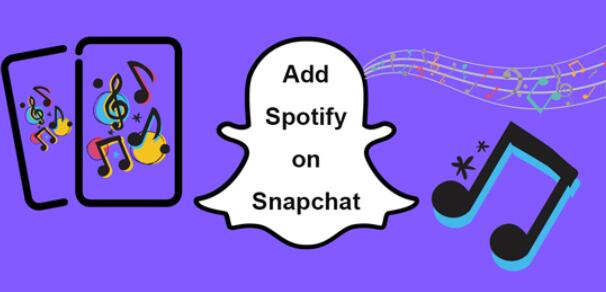 Part 1. What Is Spotify and Snapchat
Spotify is the kinds of streaming media service launched in 2008. It provides 50 million tracks including music, audiobooks as well as podcasts and has over 200 million monthly active users. Unlike physical or download sales, Spotify allows you to access all songs by paying a small amount of subscription fee. It is best know for its smart curated playlists. Also, it has powerful features to help you share music via Spotify code or via Facebook, Twitter, Snapchat.
Snapchat is one of the social messaging app. It is developed to be mobile-first. Unlike other apps Facebook, Instagram, Twitter and so son, Snapchat is well-known for its privacy protecting feature "burn after reading". The pictures or messages are usually only available for a short time before they become unavailable to their recipients. Also, the app has evolved greatly from person-to-person photo sharing to stories of 24 hours. Users now can add emojis, snippets and effects, music to their shared videos as well.
Part 2. How to Share Spotify Music to Snapchat Video
Share Spotify Music to Snapchat
Spotify has been combined the social sharing feature for Facebook Twitter, Messenger etc. for a long time. Snapchat is the latest one joined not long ago. To use this feature, you just need to make sure Spotify and Snapchat are installed to your mobile devices like Android, iOS devices. This is also a great feature for artists to promote their new music.
Launch Spotify app.
Find the Spotify music, podcast, album or playlist you want to share.
Click the "three-dot" icon to open the context menu and choose "Share".
Now you can choose "Snapchat" to share the Spotify music to your Snapchat story line. You may need to input the account and password to login.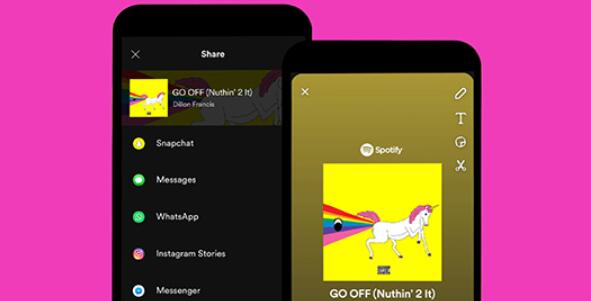 Add Spotify Music to Snapchat Video
Want to share video instead of music? Don't worry, you can also add Spotify music to your Snapchat video. How? Just play any music you want from your local phone or online streaming service such as YouTube, Apple Music, Google Play Music, Amazon Unlimited Music and use the Snapchat camera to record a video.
This sounds easy. But please note on Spotify mobile app, it only supports to shuffle music. This means it is difficult to locate and play the song you want. To turn off Spotify auto shuffle feature, you are required to subscribe to Spotify Premium.
See also: How to Turn Off Shuffle on Spotify without Premium
Open Spotify app and start to play one song and pause it. Also, please make sure you have adjusted the volume to a proper value.
Open Snapchat app and open the camera view.
Swipe up from the button on iPhone or from the top on Android, you will see the song you have picked for your snap. You can adjust the slider to select the right portion of the song and start play it.
Go back to the Snapchat app, tap and hold the "Record" button to record a video.
When it is done, you can play the video with the music. And you can click the little arrow icon to share it to your friends.
Part 3. The Other Way to Share Music to Snapchat without Spotify app
Don't have Spotify Premium membership and can't add the Spotify you want to Snapchat?
Please just take it easy.
Besides online streaming music service, Snapchat also supports to add your local music files. If you can download Spotify music offline, then all the problems will be solved.
Thanks to the DRmare Spotify Downloader for Windows/Mac, it has never been easier to convert Spotify to MP3, M4A, AAC, M4B, WAV, FLAC and so on.
DRmare Spotify Converter for Windows/Mac
Step 1

Add Spotify tunes or playlist

After opening DRmare software, you will see the Spotify app as well. You can drag & drop the songs, playlists you want from Spotify to DRmare Music Converter for Spotify.
Step 2

Choose an output format

You can click the top "Help" menu and then choose "Preferences" to open the Spotify preferences window. From there, you can choose a new format such as MP3 and change the channel, sample rate, bit rate.
Step 3

Download Spotify tracks

After that, you just need to click "Convert" to save all the Spotify songs offline as MP3. With the 5X converting speed, it won't take you long to download the songs.,
Step 4

Transfer Spotify songs to your mobile phone

Now you can transfer the Spotify songs and your mobile phones. When you record video with Snapchat, you can add the local Spotify songs as the background music of Snapchat Window.