"I hear that Spotify has integrated the Last.fm option to scrobble music. But last night when I try to use it I realized that the Android, iOS app as well as the desktop client all don't have the last.fm option. Did Spotify end the option?Can I still scrobble Spotify to Last.fm?" - Question from Reddit.
As the most widely used streaming service, Spotify is offer great algorithm to help users curate playlists and discover new music with the features Discover Weekly and Release Radar. But some users still prefer the Last.fm scrobbling feature which offer most powerful features to discover new music and analysis your music taste.
Regarding to the question about, though you can set up the scrobbling feature from Spotify directly, you can still do that via the Last.fm account. Now let me show you more details about Last.fm and Spotify and how to scrobble Spotify music.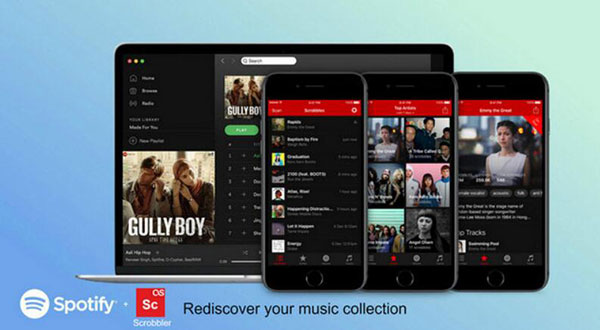 Part 1. What Is Last.fm and Spotify Scrobbling?
What Is Last.fm
Last.fm is a music website that was found in United Kingdom in 2002 and owned by CBS interactive that runs a massive brands including CBS News, CNET, GameSpot and so on.
It comes with the powerful music recommender system called "Audioscrobbler" which supports to track each user's listening history and show each one's musical taste.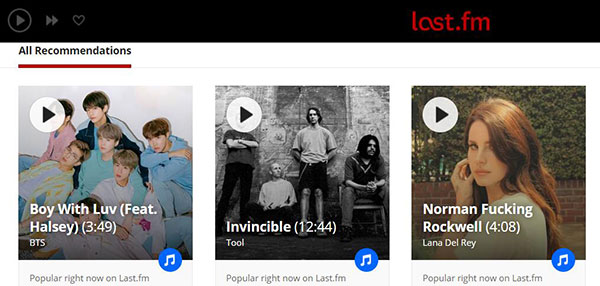 What Is Spotify Scrobbling
Scrobbling means tracking music with third party apps. As the most famous music scrobbler, Last.fm supports to sync music from any streaming music including Spotify, Google Play Music, Amazon Unlimited Music, YouTube Music except Apple Music. We will talk about how to scrobble Apple Music later in a new article please stay tuned. Usually you just need to convert Apple Music to MP3 as local files by DRmare Apple Music Converter.
As for the Spotify Scrobbling, you can easily record a Spotify listener's music preferences and recommend similar music that he or she may like easily.
Part 2. How to Scrobble Spotify to Last.fm?
What You Need
You need to have both Spotify and Last.fm accounts. If you don't have both, you can simply visit the official websites to sign up directly.
Steps to Scrobble Spotify to Last.fm
There used to be two ways to do that either use the Spotify app or the Last.fm. But Spotify has deleted the option to connect to Last.fm via the Spotify settings menu, so you can only do the scrobbling settings via Last.fm now. Following is the instruction on how to do that via the website.

Head to Last.fm website and login with your credentials.
Click the profile icon from the top right corner, it will show you a list of menus.
You can click "Settings" and then go to the "Applications" tab on the new window.
Besides the options of "Spotify Scrobbling" and "Spotify Playback", please click "Connect".
You can then input your Spotify account and password and click "Agree" on the popup permission window.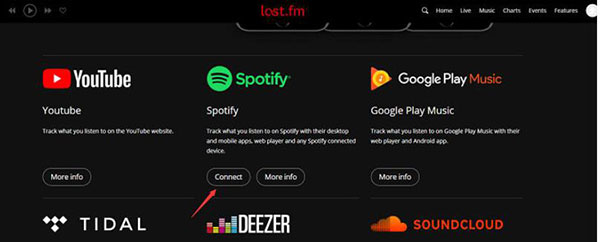 That is it. The instruction to do that via the Last.fm is more or less the same. Just click "Help" menu > "Track My Music" from the Last.fm desktop app and click "Connect" button beside the "Spotify" option.
Part 3. Is It Good to Scrobble Music from Spotify to Last.fm?
Everything has its positive side and down side. Giving the situation, somebody may wonder is it really worth to scrobble tracks from Spotify to Last.fm? Now let's take a look at its pros and cons first.
Pros
Scrobble local music files. If you have add music to Spotify from your computer, you can use them to help Last.fm to recommend new songs for you and analysis your music taste.
Spotify offline playback. By connecting Spotify to Last.fm, you can download up to 50 songs on Last.fm for offline listening even if you don't have the Spotify Premium membership.
You can easily start private sessions to end the scrobbling. If you don't want Spotify to log into your playback history, you can enter a Private Session. By the way, if you start this, it will suspend your Last.fm scrobbling too.
Cons
To scrobble Spotify music to Last.fm means will you give out all your profile info and listening info to the third party platform which owns a large network.
In this case your privacy and personal info maybe disclosed to some networks which you don't want. So please make close attention to it.
Part 4. Best Alternatives to Last.fm Scrobbler
Although Last.fm is one great Scrobbler for most music files. Sometimes you just just want more audio scrobbler for your Android/iOS devices or Windows/Mac computers.
Open Scrobbler - This is a manual scrobbler. You can accurately control which songs you want to add for scrobbling. Besides, it is also a great vinyl scrobbler which supports vinyl records too.
Universal Scrobbler - This is another most powerful scrobbler. It supports to scrobble radio, car stereo and vinyl records.
You can download them to have a try and decide which one works best for you. We want to hear your thoughts. If you have any questions or comments, please just tell us below.