Spotify is a well-known music streaming service in the world. And plenty of users use it to listen to music they like. Besides enjoying music, users can see their music listening behavior on Spotify. They can check their music stats via Spotify Wrapped or so on.
In today's post, we will show you one more way to view your listening habits. That's using Receiptify to make Spotify receipt. What does it mean? To learn more, please read the post here and see how to get receipt from Spotify. Also, we will show you how to download your Spotify receipt most played songs to local files. Here we go.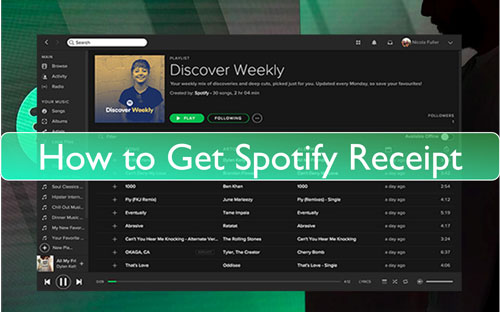 Part 1. How to Get Spotify Receipt with Receiptify
What is receipts for Spotify and how to get it? In this part, we will introduce a tool for you to make it. Please check out the following sections to learn more about it and find your Spotify music receipt.
What Is Receiptify: Brief Introduction
Receiptify is an open-source and online tool developed by Michelle Lui and hosted by Herokuapp. It can scan top tracks and playlists on your Spotify. Then it will generate a shop-style receipt, which is your Spotify stats receipt. The receipt for Spotify will show your most played songs ranked from top to bottom. And this Spotify receipt generator allows you to see your Spotify stats receipt from the last month, last six months and all time. Besides Spotify, you can also get receipt from Apple Music and Last.fm via Receiptify.
How to Get Receipt from Spotify
Now, you will learn how see Spotify receipts by Receiptify on your device. Please check the detailed steps below.
Step 1. Open a web browser on your computer or mobile device, then go to Receiptify official website.

Step 2. Touch the 'Log in with Spotify' button. Then go head to sign in to your Spotify account.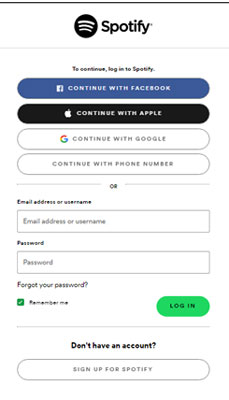 Step 3. If it is your first time using Receiptify with your Spotify account, then you will need to allow Receiptify access your Spotify listening history. Please hit on 'Agree'.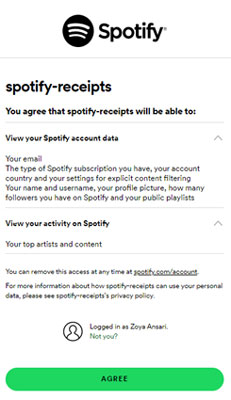 Step 4. A while later, you will see your Spotify music receipt. You can check top tracks/artists/genres from last month, last 6 months or all time.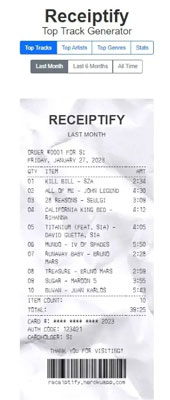 How to Share Spotify Listening Receipt on Social Media
If you want to share your Spotify receipt with others on your social account, then follow the steps below.
Step 1. Once got the receipts for Spotify, you can hit on the 'Download Image' button on the screen. It will start to download Spotify stats receipt for you as an image on your device.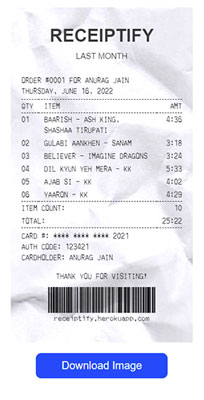 Step 2. Or you can take a screenshot of your receipt and keep it as an image in your device.
After then, you can head to share receipt of Spotify tracks on your social account.
Part 2. How to Download Spotify Receipt Most Played Songs
From the above, you know how to find Spotify receipts. Then you can go to download the most played tracks on the receipt if you have a Spotify premium account. Or if you don't have a Spotify premium plan, you can still download receipt Spotify songs by the tool below.
DRmare Spotify Playlist Downloader is the best software for any Spotify user to download content from Spotify. No matter you are a free or premium Spotify user, you can use it without any efforts. With this tool, Spotify playlists/podcasts/albums and more can be downloaded and converted to local audio files like MP3, AAC and so on. That's to say, you can use it to get music receipt from Spotify and save it to common files forever with ease.
Besides, it allows users to alter the Spotify output audio channel, bit rate, sample rate and more. Also, it can run at a rapid conversion speed which save you time. Moreover, it won't touch the original audio quality of Spotify music tracks. It means that you can still enjoy a better listening experience of Spotify files on your device after converting.
DRmare Spotify Playlist Converter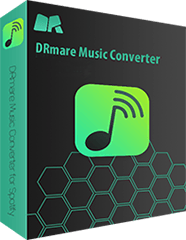 Download Spotify receipt playlists/tracks without a Spotify premium
Convert tracks from Spotify at a fast speed and save lots of time
Change audio format of Spotify to MP3, WAV, FLAC and so on
Keep receipt from Spotify on the device for use forever
Now, let's see how to download the most listened tracks/playlists from the Spotify stats receipt by DRmare Music Converter. To move on, please download and install this DRmare tool on your computer first.
Step 1

Load Spotify receipt songs into DRmare program

Open the DRmare Spotify Playlist Converter. Then the Spotify music software will pop up as well. Next, enter the platform to locate your receipt songs Spotify. Once found, drop and drag it to the DRmare main screen. Or, get its link address and put it to the blank box area in the DRmare tool. And then click on the plus icon to load the tracks for downloading.
Step 2

Set output format for Spotify tracks

To help enjoy Spotify songs on different platforms well, you can alter the output audio format for them. Please hit on the menu icon at the top right corner of the DRmare's Windows version, then choose 'Preferences'. Or find 'DRmare Music Converter' and hit on 'Preferences' on the Apple system if you use its Mac version. After that, tap the 'Convert' option and start to change the audio format, audio channel, sample rate and else for your Spotify music.
Step 3

Download Spotify receipt most played songs

Now, click on the 'Convert' button to start to download top tracks/playlists from Spotify stats receipt. After then, find the tracks in the 'history' section on the DRmare tool. Then you can locate them on your computer. Later, you can play them on your computer or move them to other devices for use offline.
Extra Tips: How to Get a Spotify Receipt by Beatspend
Besides Spotify Receiptify, here we'd like to show another tool for you to make receipts for Spotify. It is to use Beatspend. It is a free tool and only works on iOS and macOS. This tool allows you to check the top 10 artists of your Spotify for the year. But you can't find a list of your top genres and songs from Spotify. Now, let's view how to generate a receipt from Spotify on iOS and Mac devices.
Step 1. Download, install and start Beatspend from your iOS device or Mac computer.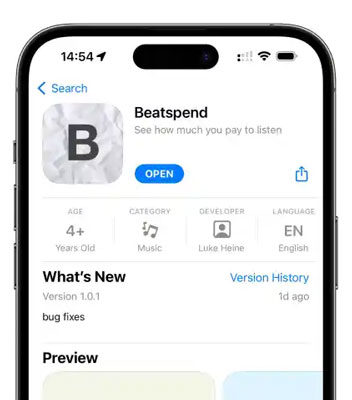 Step 2. Once opened, click on the 'Login With Spotify' button.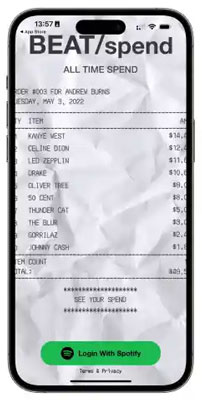 Step 3. Next, click on 'Continue' to allow Beatspend access your Spotify account. Then you can type your Spotify account info to log in.
Step 4. Then you need to agree Beatspend to access your Spotify data by hitting on the 'Agree' button.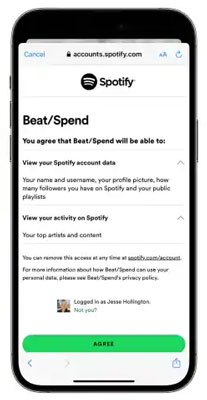 Step 5. Now, you need to wait for Beatspend make Spotify receipt for you with your top 10 artists.
Step 6. Then you can touch the 'Generate Final' button to take a screenshot of the receipt.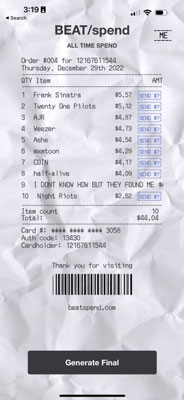 Step 7. Choose to send money to your top Spotify artists or not by picking up 'Nah' or 'OK'.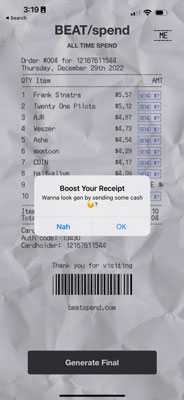 Step 8. At last, hit on 'OK' in the 'Take a Screenshot' screen to save the image to your device.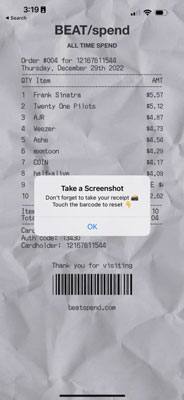 The Verdict
Now, you learned how to get Spotify stats receipt via Receiptify and Beatspend. Also, you got how to download Spotify receipt most played songs to local files via DRmare Spotify Music Converter. By the way, with DRmare Music Converter, you can download any track from Spotify for offline listening without subscribing to Spotify premium. And it will keep a better output quality of Spotify songs after downloading. In this case, you can put Spotify music files on any device you like for offline playing with ease.