Alexa is the virtual assistant from Amazon. It is capable of a lot of tasks like broadcasting news, controlling home devices, playing music including Spotify Premium, Amazon Music, Pandora, Deezer and iHeartRadio.
Previously, we have talked about how to listen to Spotify on Amzon Echo with Alexa. But what if we don't have Amazon Echo? Can we still get the full potential of Spotify music? What is the cheapest way to play Spotify on Alexa? Will Alexa work with Spotify independently? Here are all the tips you need.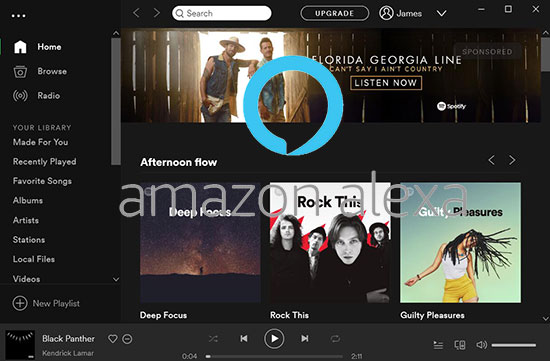 Part 1. What You Will Need
To get started to enjoy Spotify music on Alexa, you will need to subscribe to Spotify Premium, get Alexa app as well as an Alexa speaker capable of streaming Spotify.
Spotify Premium
Spotify membership let you access to millions of songs with highest 320Kbps quality and no ads. Also, it will enable you to access it from the speakers such as Echo, Sonos, Google Home, Chromecast Audio. It costs $9.99/month.
Alexa App
This app is available for free on Apple App Store and Google Play store, you can download it to your mobile phone.
Alexa Devices with Spotify Integration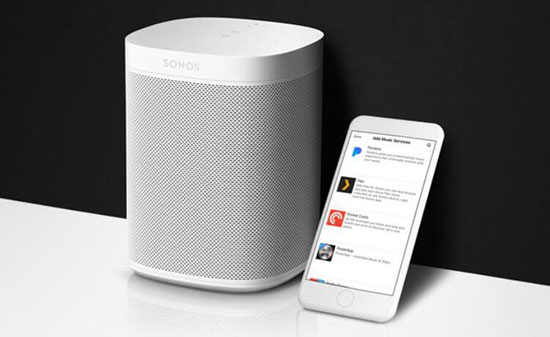 Besides Echo series speakers, more and more devices are built in with Alexa and Spotify services. The other recommended devices are Fire TV, Fire tablets and a lot of third-party speakers such as Sonos One. If you have already got one of these devices, you don't have to invest on Echo.
Part 2. How to Link Spotify to Alexa on Sonos
Playing Spotify playlists with Alexa will be much more fun and convenient. Thanks to the perfect technology. Now I will take Sonos speakers for example to show you how does it work.
How to Connect Spotify to Sonos
1. Launch Sonos app from your phone.
2. Set up and connect your Sonos speakers to your home Wifi if you are the first time to use it.
3. Tap the menu "Add Music Serivces" > Select "Spotify".
4. You can insert your Spotify premium account and password and click "OK" to complete the connection.
Set Up Alexa for Sonos One
1. Launch Sonos app from your phone again.
2. Tap "Add Amazon Alexa" from the browse tab.
3. Please log in with your Amazon credentials.
4. Next, you can continue to follow the screen instruction to download the Alexa app.
5. Finally, you can verify music services on Alexa and choose the default music service as "Spotify".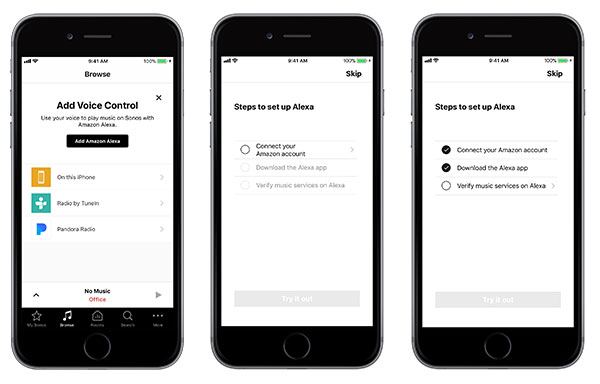 Start Playing Spotify on Alexa with Commands
Now you can ask your Sonos speakers to play the supported music services, ask for the weather report and so on.
"Alexa, play xxx in the living room."
"Alexa, what is playing?"
"Alexa, turn the volume down."
"Alexa, play Spotify."
Part 3. Solution to Spotify Won't Work on Alexa
Alexa works stably to play Spotify artists, playlists, albums and songs, but sometimes you may still encounter some technical issue. Following are the general issues and solutions.
Alexa Can't Find Playlist on Spotify
This maybe caused by that your playlist name is not recognized. Please try to change the name and use the command "Play XXX Playlist".
Alexa Won't Connect to Spotify
Alexa only supports Spotify Premium. If you encounter this trouble, please check if you have login with the right premium account and password yet.
Can't Detect Any Alexa-Enabled Devices
Please make sure you have initialize your device and connect it to the same Wifi network. Also, you can try to reset your device name and settings.
Can I Change the Wake Word "Alexa"
If you have Amazon Echo, you can change it on the settings. But for Sonos speaker, it currently doesn't support to change it.
That is all it is to it today. Besides Sonos, there are a lot of other third-party speakers supports to play Spotify music with Alexa without Amazon Echo. Some even works with the Google Home voice assistant, Siri and Windows Cortana. If you'd like to get Spotify music for any speakers for free, you can try the DRmare Spotify Song Converter for Windows/Mac to download songs to common MP3 files. Please share with us if you know other better tips below.