Are you annoyed with the low space prompt or inconsistent music due to slow internet speed when streaming music on your phone? If so, now there is a best solution.
Spotify has officially released the Spotify Lite app which is only around 10M in size recently to solve such dilemma for all music fans. Spotify Lite works well on any Android phones including the outdated models with version 4.3 or higher and it is available in 36 markets.
Feel interested in it? You can continue to find out the top questions about Spotify Lite below such as what is Spotify Lite, how does it work and much more.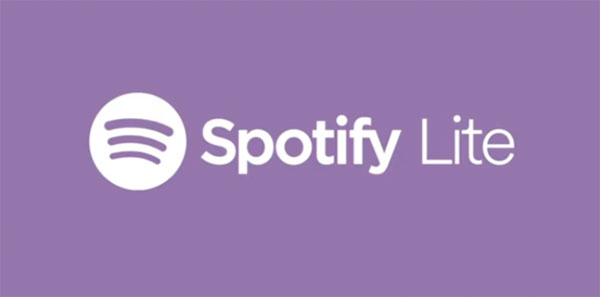 Part 1. What Is Spotify Lite
Spotify is a simplified version of the Spotify app with similar look and feel. It is designed to improve the overral music listening experience. Because it is small and fast, you won't have any problem running it on old smart Android devices.
According to Kalle Persson, senior product manager at Spotify, the Spotify Lite was built from the ground up based on user feedback from around the world.
Best Features of Spotify Lite
#1. You can discover and listen to millions of songs just like the full version.
#2. You can set a cellular data limit and be notified when you reach it.
#3. You can control your Spotify cache and clear it with a single tap.
Part 2. How to Use Spotify Lite
Lite apps are not a new trend. Before the Spotify Lite is released, many apps from social media to lifestyle apps such as Facebook, Instagram, Uber, YouTube, etc. already had their Lite versions on Google Play Store.
How to Install Spotify Lite
The Spotify Lite version is available in Asia, Latin America, Middle East and Africa. If you are in one of this market, you can login to the Google Play store and then search "Spotify Lite" and download to use it directly.
If you are in US or other countries, you may not get the Spotify Lite directly. Please follow the steps:
#1. You can go to the settings of your Android phone and then enable the option of "Install Software from Unknown Sources".
#2. Download and install the Spotify Lite APK online directly.
#3. You can login with your original account and password.
Part 3. Difference Between Spotify Lite and Spotify
Spotify Lite looks very similar to the standard version, but there are still some main difference between the lite and standard version of Spotify
Interface
The Lite version is more concise but still with most features from playlists to recommendations.
#1. First, it doesn't have library tab but replace it with favorites.
#2. Another thing missing from the lite version is podcasts.
#3. Besides, there is not an "offline" option on the Spotify Lite and you won't be able to download music for offline listening.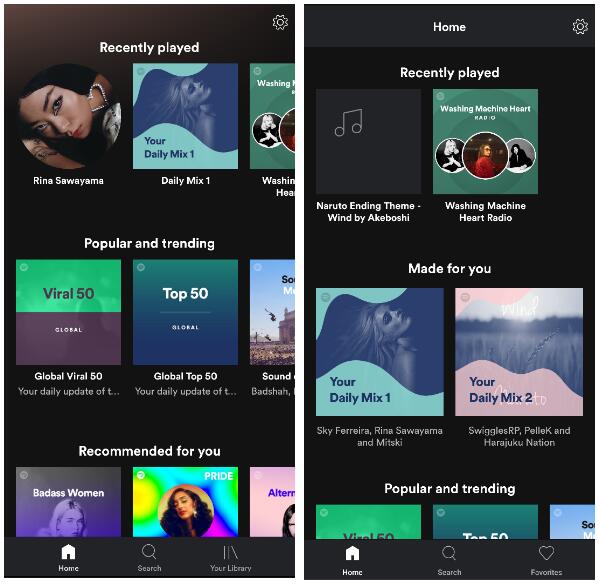 Features
The is the part where the standard version and lite version differentiate from each other deeply. Spotify Lite has only 10M in size, so it lacks all the main features such as Spotify Connect, Download Settings, Crossfade, Allow Explicit Content, Volume lever and so on.
You can't connect your Spotify lite to other devices such as Echo, Chromecast, Sonos which are in the same Wifi network like the standard version.
But the lite version add a few useful specific features too.
#1. You can set the audio quality while the song is playing depending on how much data you have.
#2. You can set the data limit easily every month so that to avoid extra usage.
Part 4. How to Download Spotify Songs for Offline Listening
I like Spotify Lite much. However, there is a small negative part that Spotify Lite doesn't allow download music for offline listening. This is not so convenient. For example, you are in a remote area where there is no mobile singles or you are running out of cellular data, you won't be able to stream music online.
So what can you do?
Instead of using the Spotify standard version to download songs offline, you can also try this third party software DRmare Spotify Song Downloader for Windows/Mac to download any music you want offline including the Spotify podcasts which are not available in the lite version. What is more, you have the benefits to transfer Spotify songs to any other devices and you don't need to pay for the Spotify premium fee anymore.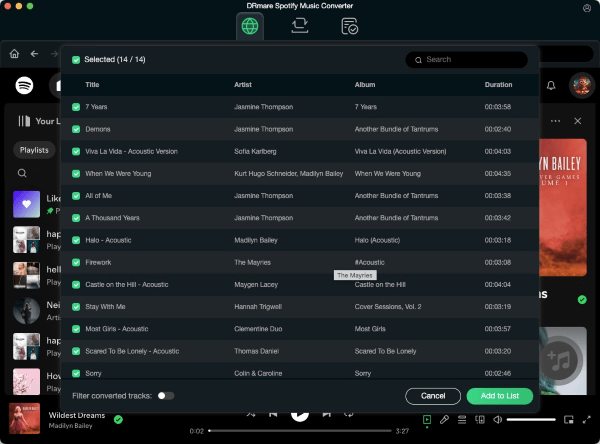 Part 5. FAQS
Q1: Can I install Spotify Lite and Spotify standard version together?
A1: Yes, you can.
Q2: Spotify or Spotify Lite, which is better?
A2: The lite version will enable to you focus on listening to music with best experience but lacks some features. The standard version will contains everything you want. So the answer varies and it has much to do with your personal requirements.
Q3: Can I create Spotify playlist on the lite version?
A3: Yes, sure.