"Does Spotify have a DJ mode?" Yes, there is a Spotify DJ mode. With this feature, you can mix any Spotify song you want for your party. If you are new to it, no worries, here you will learn more about it. In this post, we will show you what is DJ mode on Spotify. And we will show you how to get Spotify DJ mode PC/Mac/iPhone/Android and use it. Also, we will introduce the best way for you to mix Spotify songs with any DJ app you like. Now, please follow us and learn more detail below.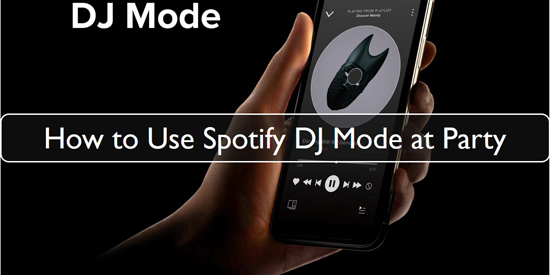 Part 1. Is There a DJ Mode on Spotify?
Can you DJ with Spotify? Can you mix songs on Spotify? Sure. Now, Spotify has a DJ mode. It allows you to play songs from a playlist and enjoy a simple music party at home. In fact, it is not the true Djing with Spotify. So, if you want to mix your Spotify songs, you still need to seek help from some professional DJ software.
Yet, if you only want to crossfade a Spotify song, you can still use the Spotify DJ mode to make it. If you have no idea how to do that, then please move to the next part. Then you will learn how to turn on DJ mode Spotify and DJ with Spotify.
Part 2. How to Get Spotify DJ Mode to DJ from Spotify
Featured the onboard DJ mode in the standard Spotify app, it's easy to DJ with a Spotify playlist. But where is Spotify DJ mode? DJ mode on Spotify is available for its iOS, Android, and desktop app. It contains many EDM playlists and the "Crossfade" option to blend all your songs together. Here we will show you how to use Spotify DJ mode Mac/PC/Android/iPhone step by step.
Way 1. How to Get Spotify DJ Mode Desktop/Mobile via Crossfade
Crossfade is a feature that can help remove the gap between two songs. It can be used as a classic Djing method. So, you can use crossfade on Spotify to turn on the DJ mode Spotify.
Step 1. Launch the Spotify app on your computer or mobile device. And then log in to it with your account and password.
Step 2. You can find the DJ playlist you want or click "File" > "New Playlist" to generate a new playlist. Then you can search and add the DJ songs to it. If you want your friends to add their favorite songs, you can also set it as a collaborative playlist on Spotify.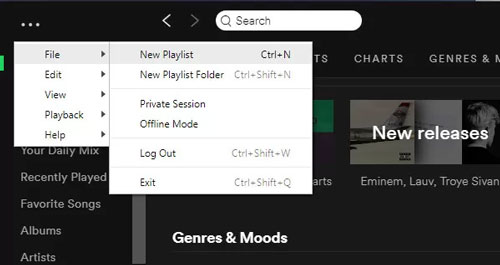 Step 3. With the Spotify premium, you can DJ songs and play them without WiFi. To do that, please toggle the "Available Offline" button to green.
Step 4. Connect your stereo audio system via Bluetooth or a cable. This will help you improve the sound quality and volume significantly.
Step 5. On the Spotify mobile app, click on the 'gear' icon to start the 'Settings' section. Then touch 'Playback' and turn on 'Gapless Playback'. While on PC or Mac, touch 'Spotify' > 'Preferences'. And then scroll down to the 'Playback' section and turn on 'Automix' to get Spotify auto DJ. Next, turn on 'Crossfade songs'. After that, you can start to set the length you want.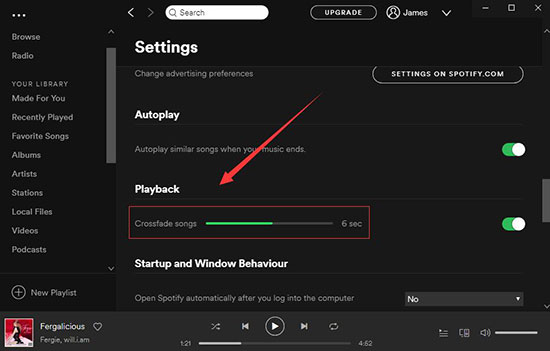 If you are using mobile apps, you can also access the Spotify music equalizer. And you can use the "Mood Tuner" of the Spotify party to adjust the atmosphere. It will mix Spotify songs like a professional human DJ.
Way 2. How to DJ on Spotify by Starting a Spotify Group Session
Group Session is a feature on Spotify. It is only available for Spotify Premium users. And it can help those Spotify Premium users who are in the same neighborhood to share DJ mixes. By starting a Group Session, you can enjoy the DJ mode Spotify party with your friends.
Step 1. Start the Spotify app on your Android phone or iPhone. Then choose a playlist you want and play it.
Step 2. Click on the 'Connect' icon at the bottom bar on the 'Now Playing' screen.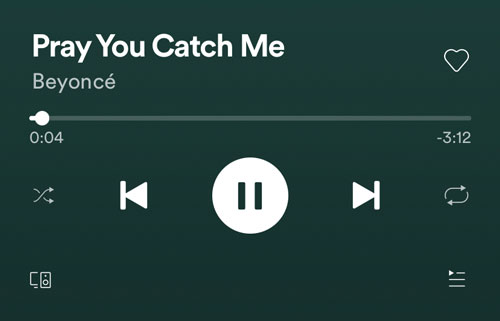 Step 3. Select the 'START SESSION' option under the 'Start a group session' section.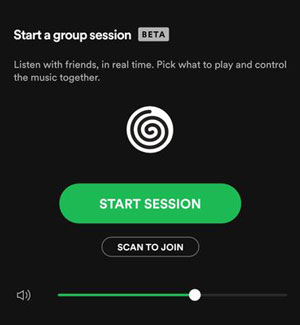 Step 4. Touch the 'INVITE FRIENDS' button to send the invite link to invite your friends to join your party.
Way 3. How to Mix Songs on Spotify by Spotify AI DJ
Spotify AI DJ is a new feature that Spotify offers to users. It can create transitions between two music tracks. And it can analyze the beats per minute (BPM) of each track and match them to make a mix. In this case, it is a nice choice for users who want to mix Spotify songs quickly. Here let's check how to use Spotify AI DJ to get Spotify auto DJ.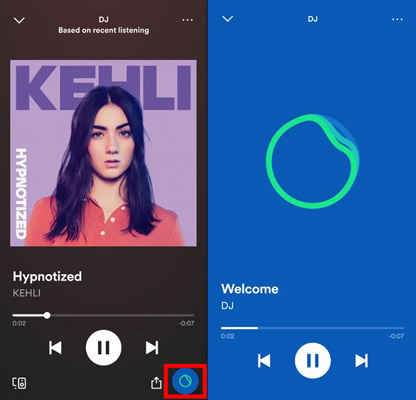 Step 1. Start the Spotify app from your Android/iPhone device.
Step 2. Hit on the 'Music Feed' and locate the 'Play' button on the screen. And then click on the 'Play' button.
Step 3. Now, you will listen to the tracks created by AI DJ that match your tempo and style.
Step 4. Head to the 'Now Playing' page and touch the 'DJ' button. Then you will see the type of music mixing on Spotify.
Part 3. How to DJ with Spotify via Any DJ Software for Free
Want to have more controls when DJing Spotify songs? Then you can use professional DJ software as a Spotify DJ controller to help you. And there are many incredible DJ apps on the market, like Pioneer DJ Rekordbox, VirtualDJ Pro, Djay Pro and more.
So, is there a DJ app that works with Spotify? Spotify had worked with many DJ apps ever. Yet, now it only supports Pacemaker DJ and JQBX. So, how to use DJ with Spotify on other DJ apps? No worries. It is lucky that almost all DJ software can support uploading local songs for mixing. So, you can get Spotify local songs offline and then use Spotify to DJ in any DJ app.
Here, we can meet DRmare Spotify Playlist Downloader. It is specialized in downloading Spotify songs offline for free. It downloads songs from Spotify and quality will be retained 100%. And it can save Spotify songs to MP3, FLAC and more plain audio formats.
Besides, you can edit your preferred output bit rate, sample rate and more for your Spotify songs with this tool. Also, this DRmare Spotify Music Converter can work at a super-fast conversion speed. And it can still keep all the ID3 tags of each Spotify music track. After that, you can keep the Spotify music on your computer. And then you can move and DJ with Spotify on any DJ app you want.
DRmare Music Converter for Spotify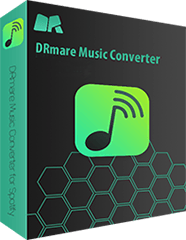 Support to download all genres of songs, playlists, and albums from Spotify
Keep ID3 tags, metadata and archive converted Spotify songs
Download Spotify songs to MP3, AAC, M4A, FLAC and more for DJ apps
Support to change audio channel, bit rate and so on for Spotify music files
How to Get Spotify DJ Mode on Other DJ Apps via DRmare Spotify Music Converter
With DRmare Music Converter, no matter which DJ software you have, you can use it to DJ a party with Spotify songs. By the way, you can use DJ apps with Spotify offline no need to subscribe to Spotify Premium.
To make Spotify songs available for any DJ software, here is a quick tutorial:
Step 1

Add Spotify EDM playlist to DJ to DRmare program

Launch DRmare software, then you can start to load EDM playlists for converting. Please drag & drop songs from the Spotify app to the DRmare software. Or you can choose to copy and paste a Spotify playlist link to this software.
Step 2

Choose output format for Spotify DJ software

Select the output format which is compatible with your DJ app. Here you can choose MP3 as various Spotify DJ apps can recognize MP3 files. To do that, please open the setting window by clicking the menu icon > 'Preferences' > 'Convert' option. Also, you can modify the bit rate, sample rate and more for Spotify music files. Once set, hit the 'OK' button.
Step 3

Download Spotify playlist for DJ apps

Click 'Convert' from the main UI, then all your Spotify songs will be downloaded offline. It takes only a while depending on how many files you convert. You can locate them by clicking the 'Converted' icon.
Step 4

How to Mix Spotify songs in DJ software

Now, Spotify files are compatible with all DJ apps. You can launch your DJ software and load downloaded Spotify playlists for DJing. In general, DJ apps come with many other charming features that allow you to mix Spotify files. After that, you can even auto DJ Spotify if you like.
Part 4. FAQs about Spotify DJ Mode
Q1: What DJ Software that Works with Spotify?
A: Now, only Mixonset, Pacemaker DJ and JQBX can work with Spotify. Yet, there were some DJ apps that work with Spotify before. They are djay Pro, Rekordbox, Traktor DJ, Serato DJ and Virtual DJ.
Q2: What DJ Controllers that Work with Spotify?
A: At present, Spotify doesn't support any DJ controllers. That's because Spotify is not available on most DJ apps now. Before this year, Spotify could work with DJ controllers like Reloop MIXTOUR, Numark iDJ Pro, and more.
Q3: Can You Mix Songs on Spotify?
A: To DJ with Spotify, you can turn on Spotify DJ mode. You can use the crossfade feature, Spotify AI DJ or the Spotify Group Session to do that. Then you will know how to DJ using Spotify.
Q4: Is There a Way to Use Spotify with Any DJ App?
A: Yes. To DJ with Spotify on any DJ app, you can use the DRmare Spotify Music Converter. With this tool, you can convert and save Spotify songs as local files for use on DJ programs. Also, you can use Spotify music on other platforms you want.
Q5: Why Is AI Spotify DJ Mode Not Showing?
A: Please note that the AI DJ mode on Spotify is only available for Spotify Premium users in the United States and Canada. So, if you don't under these condition, you can't get Spotify DJ mode of AI DJ.
Part 5. Final Thought
There are ways for you to DJ with Spotify playlists at a party. If you are a Spotify Premium user, the better way could be using Spotify DJ mode. But if you don't have a subscription, seeking help from DRmare Spotify Music Converter is your best choice. Also, it helps you DJ Spotify in all DJ software. You can listen to Spotify songs offline without Premium and mix the Spotify audio you want.