Converting or transferring audios from Spotify to SoundCloud is something we can easily learn to do on our own. Solutions to all these trivial problems are available online on the internet.
Spotify and SoundCloud are two of the most popular audio streaming sites. And they have quite some popularity because the use of them is very easy, just like any social media platform. Many of the artists have gained a lot of popularity and have made their careers out of these. Music industry has become a lot easier for the new artists, and platforms like this are the reason people are getting a lot of recognition for their work.
Today, here we will focus on Spotify and SoundCloud and show you how to transfer Spotify to SoundCloud for listening with ease. Just follow us and learn more.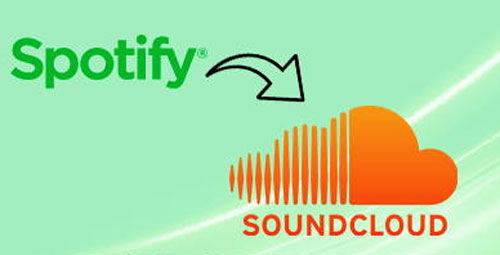 Part 1. Know More about Spotify and SoundCloud
SoundCloud
SoundCloud is a music sharing site where you can share your music and can hear to any music that has been uploaded on the site. You can have access to people's entire playlist and can also share your playlists. This website came into existence in 2006, and since then, it has been used widely all over the world and still in use of a lot of people even though most people have shifted towards a similar site known as Spotify. Some people even still prefer SoundCloud over Spotify, and that is why people look for a way to convert Spotify playlist to SoundCloud.
Spotify
Spotify is one of the latest and most popular audio streaming sites on the internet. It is a Swedish-based website, and it was launched in 2008, but it gained popularity just recently from 2018. A lot of artists share their music here on Spotify for free, and all you have to do is pay for the subscription. The thing about Spotify is that you can't download it on your device very easily and can't copy that music to another website like SoundCloud. But there are different ways now that you can make that happen. You can now very easily transfer the Spotify playlist to SoundCloud with different methods.
Part 2. How to get Spotify to SoundCloud using DRmare
When it comes to transfer Spotify playlist to SoundCloud for playing, we need to know that Spotify doesn't support to do that due to the protection of its songs. Thus, to make it, we need to use the tool DRmare Spotify Music Converter to help.
It can rip the protection from Spotify songs and convert them to plain audios for using on SoundCloud. And you can edit the songs you like and save them to your computer. Then you can easily import Spotify playlist to SoundCloud for listening.
DRmare Spotify to SoundCloud Converter
Once you have downloaded DRmare Spotify Converter on your computer, the rest is quite easy. You can add the Spotify link and convert that Spotify playlist into an MP3 file, so it can be played on other devices that aren't supported by Spotify. Once the conversion has been completed, you can download the file and can also keep the original version of it. Here are the detailed steps for you.
Step 1

Add songs from Spotify to DRmare

First of all, you need to either purchase the full version of DRmare or download the free version, whatever suits you best. Once you have downloaded the latest version of DRmare, then the next process is to install it on your computer system. Installation is really simple, as you need to follow the instructions, and you will be good to go.
Once you are done with the installation, then the next process is obviously to convert Spotify to MP3 files, and for that, you need to press the button of "+", which will add Spotify music, podcast, or even a whole playlist. All you need to do is drag the necessary playlist or song from Spotify and drop it into this application.
Step 2

Define audio parameters

Now when a playlist or song file has been added, then you will be provided with the options to choose the file format and sound quality. Here you need to select the MP3 file format and audio quality as it suits you best. But to get better output music, you can customize the output bit rate, etc. from the "Preferences" window.
Step 3

Convert Spotify to SoundCloud

After that, select the button to convert, and DRmare will start converting those Spotify files for you into MP3 format. And once this process is done, then all those files will be downloaded in the desired folder.
Part 3. How to Transfer Spotify to SoundCloud
Till here, the first part of how to get Spotify Playlist to SoundCloud is done, and now comes the next phase where you will be adding those Spotify converted MP3 files to your SoundCloud account.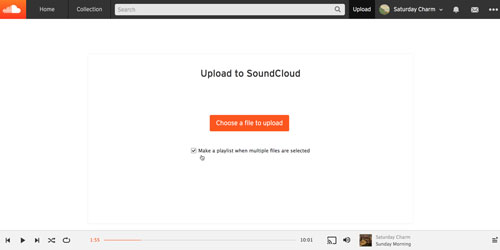 Step 1. Open the SoundCloud webpage on your internet browser.
Step 2. After the webpage is opened, then sign in to your SoundCloud account. Once you have logged into your account, then you will see an option for Upload.
Step 3. Click that option for Upload, and another webpage will be opened where you can either drag or drop those Spotify converted MP3 files or select from a small pop-up window.
Step 4. Once you have selected the necessary files, click Done, and all those Spotify songs are now transferred to your SoundCloud account.
Part 4. Conclusion
So, this is how you can convert your Spotify music to SoundCloud using DRmare Spotify to SoundCloud Converter. There are many things that SoundCloud has, and Spotify doesn't. And that's why this is the most sought-out question of people nowadays. Also, most people like to stick with their SoundCloud accounts since that is what they are familiar with. But since Spotify is the most used audio streaming apps, you can find almost all kinds of music audios from there, and it is also somewhere new artists upload their music now.
So, if you want to take your new music to your old audio streaming app, you will need a good Spotify to SoundCloud Converter like DRmare. With DRmare, you can not only convert your Spotify to SoundCloud, but can also convert Spotify audios to the other platforms. So DRmare is the solution to most such problems.