What if your favorite music tracks are from different platforms? For example, you find some pleasure songs on Spotify and Deezer respectively. Will you switch from one to another? This will cause you to lose the music playlist that you curated with many efforts in one service.
The best way could be to sync them to one place for easier listening and music collection. Thus, how to convert Spotify to Deezer? Here we will get you covered with all the solutions here.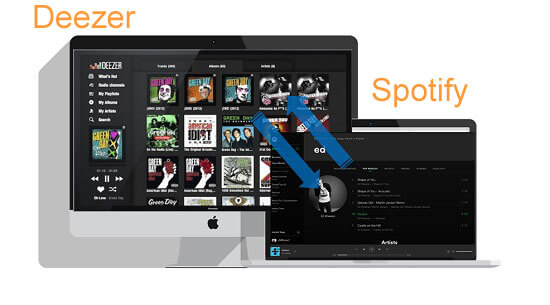 Part 1. How to Convert Spotify to Deezer in Batch
There are many online tools to convert Spotify to Deezer online. But here, we will introduce a third-party Spotify to Deezer playlist converter firstly. Because this way can help you get and keep local Spotify files offline.
DRmare Spotify Playlist Converter is the assistant you need to draw support from. It enables you to download Spotify playlists as local files without unnecessary encoding. After that, you can listen to Spotify music offline on Deezer after syncing.
This software works well to convert Spotify to MP3, FLAC, WAV, AAC, and more. So, it's able to not only transfer playlist from Spotify to Deezer but also to Apple Music, Google Play Music, and so on. It is not free, but it will let you enjoy the privilege to listen to Spotify songs offline with a free account.
How to Convert Spotify Playlist to Deezer
Step 1. Add Spotify playlist. When you launch DRmare software, the Spotify app will be started as well. Please drag the songs from the Spotify app to the DRmare software main screen. To add Spotify playlists, you can copy and paste the link of Spotify playlists to the given space. And click the 'Add Files' button to load them.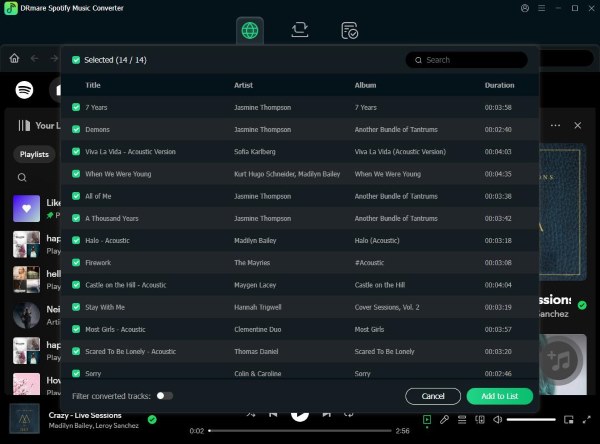 Step 2. Set Spotify output format. MP3 is the default output format, usually, you don't have to do anything to it. But you can also click the top menu to choose "Preferences" to access the settings window to change it. There are six output audio formats for your choice. And there are some other audio parameters that you can customize.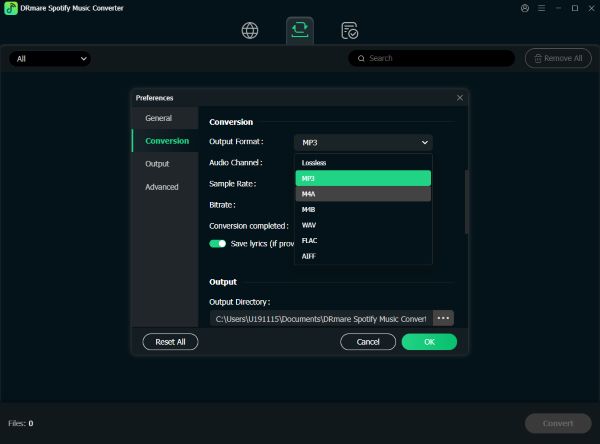 Step 3. Start converting Spotify playlists. After pressing the "Convert" button, your Spotify playlists will be saved to the local computer. It is handled automatically. So please wait a while patiently.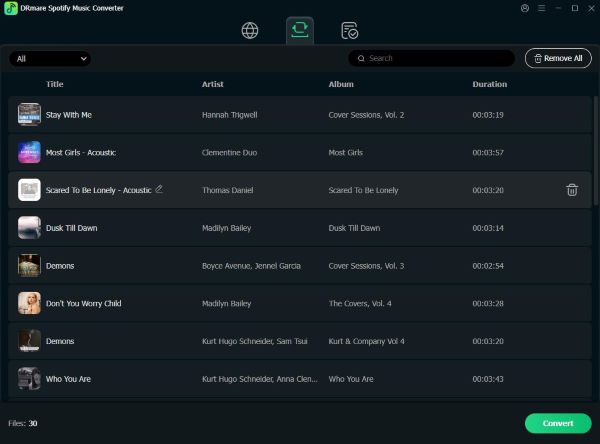 Step 4. Sync playlist from Spotify to Deezer. Go to the Deezer website > Click "My Music" > Tap the "More" tab > Tap "My MP3s" option. Now, select the converted Spotify playlists from your computer for syncing to Deezer. That is it.

Part 2. How to Sync Spotify to Deezer Online for Free
It is not a secret that there is a need for users to transfer playlists between different streaming apps. That is why there are so many free playlist converters that sprout out online. So does Spotify to Deezer playlist converter online.
No matter for syncing Spotify to Deezer or on the contrary, there is a tool that can do it. And almost all of them work all in a similar way. Export the playlists as a data file from Spotify and then import them to Deezer and vice visa.
Here, you will meet the top 5 best Spotify to Deezer playlist converter online. They can import Spotify playlist to Deezer and import Deezer playlist to Spotify as well.
1. Soundiiz
Soundiiz is a convenient and powerful music synchronization tool. It supports syncing playlists between Spotify, Tidal, Deezer, Apple Music, and more. It's available to transfer playlists, albums, artists, and tracks.
The well-designed interface and the features make the transferring process a breeze. Let's see how does Soundizz Spotify to Deezer playlists converter work.
Step 1: Log into the Soundiiz web app. You can either sign up for a new account by email or login with Facebook, Google, or Twitter accounts.

Step 2: Soundiiz will connect to all the playlists, albums, artists, tracks from your account.
Step 3. Click the "Transfer" menu, it will prompt you to select the source platform and the destination platform as Spotify and Deezer.

Step 4. Sounddiiz will transfer your favorites from Deezer to Spotify or vice visa.
2. Mooval
Mooval is another great tool to wrap your favorite music and take it elsewhere. It doesn't support as many music services like Soundiiz. It only works for Spotify, Deezer, Napster. But it is much easier.
Step 1. Visit the website. And select the export music service and import music service as Spotify and Deezer.

Step 2. Click the "Connect", Mooval will list all the playlists. It may prompt you to input the account info of the music service.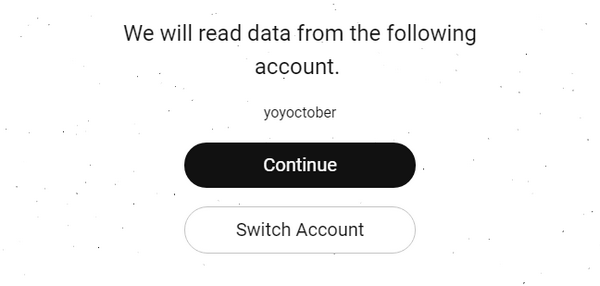 Step 3. You can select the tracks you want and click the "Move" tab to move Spotify to Deezer.
3. Playlist-Converter
Playlist Converter enables you to convert your playlists from many music services and file formats. The files include plain text, CSV, and so on. Of course, it has the ability to import Spotify to Deezer. This is helpful if you want to share music with your friends and families. It takes more steps but it is very intuitive.
Step 1: Go to the Playlist converter website. Click the Spotify icon, then login with the account and password.

Step 2: Select the playlists you want and wait for a moment to load them.
Step 3: Click the button "Convert to Deezer" and wait for it to convert.
Step 4: Click on the "Connect to your Deezer account for exporting" button. It may take a while depends on the size of your playlist.
4. Spotizr
Spotizr is specially designed for transferring playlists from Spotify to Deezer. You even don't need to sign in to your Spotify account. It can also help you export Spotify to Deezer for free. The shortcoming is that it can't import Deezer playlist to Spotify.
Step 1: Go go to the Spotizr web interface.

Step 2: Copy the URL of your Spotify playlist, artist, album and click "Import" to transfer music from Spotify to Deezer.
5. TuneMyMusic
Likewise, TuneMyMusic supports playlist transformation between the main music platforms in many ways. You can either do the transferring via text file, uploading local songs, or from one platform to another. Now, let's see how to use it to do Spotify Deezer sync.
Step 1: Select the source music platform or music files. Here I selected Spotify.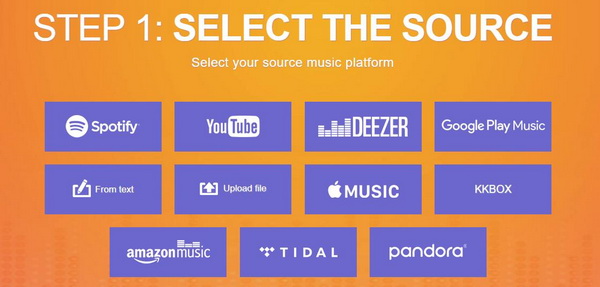 Step 2: Select a playlist and click the "Load playlist" button.
Step 3: Choose the destination as "Deezer".
Step 4: Click the "Start Moving My Music" button to move playlist from Spotify to Deezer.