Last.fm allows you to connect to many music services and keep track of the music you listen to. Not only that, it also allows you to keep up with some current news. It has both desktop and mobile applications and supports Spotify, SoundCloud, Pandora, etc. So, many users are asking: How do I connect my Last.fm to Tidal?
Read on to find out how to connect Tidal to Last FM. Also, since many users have reported that Last FM Tidal does not work, we have found some solutions for you.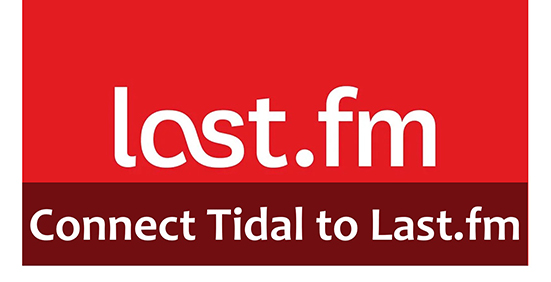 Part 1. How to Make Tidal Last FM Connect on Computer/Mobile
Since Last.fm supports Tidal, you can easily connect Tidal to Last FM on the desktop app, mobile app, or web player. Below is how you can scrobble Tidal on Last.fm.
For Mobile Application:
Step 1. Launch the Tidal app on your Android/iOS device.
Step 2. Tap on 'My Collection' > 'Settings' and then tap your user name at the top.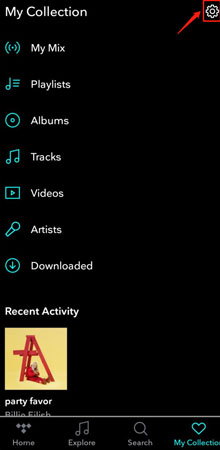 Step 3. Choose 'Connect' and then scroll down to 'Social'.
Step 4. Enable 'Last.fm scrobbling' under 'Sharing & Friends'.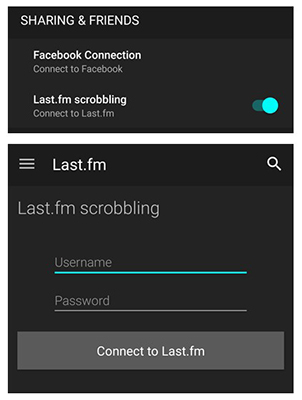 Step 5. Enter your Last.fm username and password. Tap 'Connect to Last.fm'.
Note: Although there is no Tidal scrobbling option on the Tidal Android app, you can still link Tidal to Last FM with the Last.fm Android app. Or, you can use a third-party scrobbling app such as Scroball.
For Desktop Application or Web Player:
Step 1. Open the Tidal desktop app or web player. Log in to your account.
Step 2. Click on 'profile' at the top-left corner and then choose 'Settings'.
Step 3. Scroll down to the 'Connect' section and click on 'Connect to Last.fm'.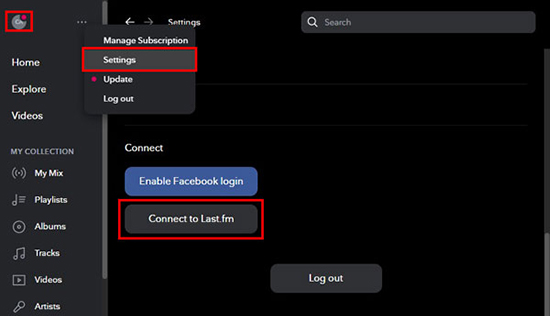 Step 4. Then you will be led to a new window to enter your Last.fm account. Once finished, click on 'Yes, allow access'.
Part 2. How to Sync Tidal to Last FM for Local Playback
Last.fm allows users to track and record their music tastes. However, there is no option to listen to music offline. So, we will show you a better way to connect Tidal to Last FM. This way will allow you to listen to Tidal music offline.
You can use DRmare Tidal Music Converter to download Tidal music locally. It doesn't need a paid subscription so all Tidal users can use it. With it, you can download songs from Tidal at a 5X speed. The downloaded songs are 100% lossless and are yours own local files. This means that you can listen to these downloaded Tidal songs anywhere including Last.fm.
DRmare Tidal Music Converter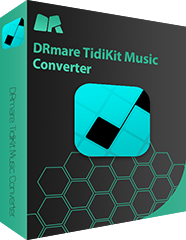 Download Tidal music losslessly for offline playback on Last.fm
All the ID3 tags including the title, album art, etc. would be preserved
Convert Tidal music to MP3, FLAC, AAC, M4A, M4B, and WAV
Available for free/paid Tidal users, work at a 5X speed
The following tutorial enables you to download Tidal music without a subscription and sync it to Last.fm for offline playback. Before that, please first install the DRmare Tidal Downloader by clicking the 'Download' button above.
Step 1

Customize output preferences for Tidal Last FM

Open DRmare Tidal Music Converter on your computer and click the top-right 'menu' icon. Then choose the 'Preferences' option to head to 'Convert' section. Here you can define the output format and customize other parameters if you want.
Step 2

Import Tidal music to DRmare Tidal Music Converter

Find the tracks that you want to enjoy on the Tidal app and right-click on it. Choose the 'Share' > 'Copy Track Link' option to copy the track URL. Then you will need to paste this URL into the search bar of the DRmare Tidal Downloader and click '+' to load the track. Alternatively, you can directly drag and drop tracks from Tidal.
Step 3

Download and convert Tidal for Last FM

After importing all your desired Tidal songs, click on the 'Convert' button. And this software will download them at a 5X speed to your computer. When it's over, you can hit the "history" icon to find the local Tidal music files. You can also go to your computer's local folder to find them.
Now you truly own these Tidal songs so you can use them as you want. You can listen to them offline on your computer without a subscription. You can also sync them to Last.fm or any other music player or device for listening.
Part 3. Last FM Tidal Not Working: Solved
Recently, many users reported that their Tidal Last FM not working and didn't know how to fix. In fact, the desktop Last.fm application now uses the new scrobble protocol 2.0. It no longer requires you to log in to your Last.fm account in the app. So, if you have met the problem of Last FM Tidal not working issue, you can do like below:
1. Check if the Tidal scrobbling option is listed in the Last.fm app.
2. Remove the Tidal scrobbling option and then connect Tidal to Last FM again.
3. Use a third-part browser like the Web Scrobbler.
Part 4. In Conclusion
In this post, you've learned how to connect Tidal to Last FM and how to fix Last FM Tidal not working. Simply follow the tutorial and you'll enjoy Tidal streaming with Last.fm with ease. If you want to play Tidal offline without Premium, DRmare Tidal Downloader can help you. It enable you to download music from Tidal without Premium to your local. Besides, it can be a better way to connect Last FM to Tidal when you have trouble with Last FM Tidal.