OPPO Digital is known for producing the best quality audio and video equipment including Blu-ray disc players, headphones, amplifiers and more. From playing outstanding 4K HD videos to giving you the perfect sound quality, OPPO Blu-ray players have features making them the leading media players in the market. The sleek design, clear LED display, and various USB and HDMI ports on the OPPO Blu-ray players helped them gain popularity.
To make the video/audio players even more appealing, the brand integrated all Blu-ray media players with the Tidal music streaming app. All OPPO Blu-ray users now have easy access to millions of songs on the world-leading music streaming service.
If you recently bought an OPPO Blu-ray music player and have no idea how to use Tidal with OPPO, we have got you covered. The article will give you a quick ride on how to achieve the OPPO Tidal connection using two different ways. Check them out below.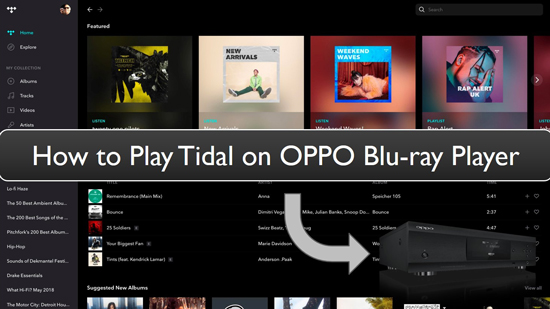 Part 1. OPPO and Tidal: More You Should Know
What Is OPPO?
OPPO Digital is a consumer electronics company that came into being in 2004. The company designs and markets superior quality digital electronic products that offer outstanding performance. The style and design of the product delivered by OPPO is unique in itself, whereas the use of innovative technology to make amazing AV systems is what makes them stand out in the competing market.
What Is Tidal?
Tidal is a music subscription service having a catalog of about 60 million songs from artists all across the world. There are exclusive tracks, podcasts, music videos, live concert recordings, and professionally curated playlists. Users can access Tidal music from a wide range of devices including tablets, smartphones, smart speakers, and TVs as well.
The feature that makes Tidal the most sort-out music streaming service is its Hi-Fi music tier. Under the Hi-Fi subscription plan, music fans can download Tidal HiFi and enjoy high-quality flawless music. To give users a higher-resolution sound quality directly from the studio of the artist, the service has a Master subscription plan.
Part 2. How to Use OPPO Tidal via MediaControl App
The MediaControl is an OPPO Tidal app that connects the two services while giving you full control over music listening. Please download the MediaControl app on your smartphone or tablet. After installing it on your phone, you can use the app to control your Tidal OPPO Blu-ray player. You can visit the Tidal music library, explore latest trending songs, play/pause tracks according to your preferences.
To take control of the OPPO Tidal app, follow the steps given below:
Step 1: Connect the OPPO Blu-ray media player and your smartphone to the same network connection.
Step 2: Go to the Google Play Store to download the OPPO MediaControl App (Visit the App Store for iOS devices).
Note: OPPO MediaControl app only runs on BDP10X-75-0515 firmware version or later. To check your firmware version, go to the Set Up menu, then Device Set Up > Firmware Information. You can also upgrade your firmware to get started.
Step 3: After downloading the app, launch it on your phone. The main interface will give you a list of devices along with their respective IP addresses.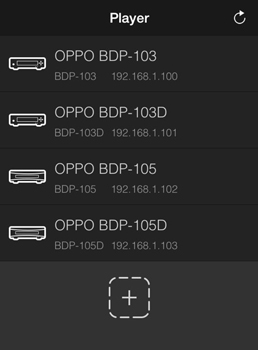 Step 4: Choose your respective media player from the list and connect your MediaControl app to your OPPO Blu-ray media player. Select Tidal music streaming service.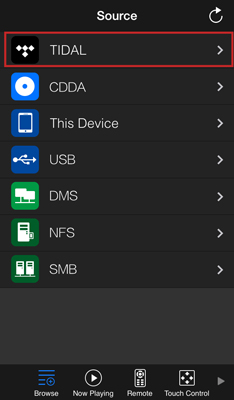 Step 5: In the next pop-up window, you need to sign in to your Tidal account to enjoy Tidal on OPPO.
Part 3. How to Play Tidal on OPPO Blu-ray Player by USB Port
Tidal is a music subscription service that gives users easy access to music and world-famous artists. However, to keep the quality of the music streaming service intact, the tracks and audio files are well-encrypted. This makes it impossible to download Tidal music files to your device and play it on your OPPO Blu-ray media player.
But we have an amazing tool to help you solve this problem. DRmare TidiKit Music Converter is primarily designed to download and convert Tidal HiFi music into local files. This simple conversion lets you enjoy Tidal music on OPPO Blu-ray player or any device, even without an internet connection.
Available for both Windows and Mac users, the converter keeps 100% lossless quality of audio files allowing you to stream Tidal HiFi music conveniently. The super-fast speed and the ability to save music files along with their ID3 tags are some features that make this converter a special tool for every user.
Key Features of DRmare Tidal Music Converter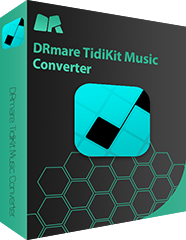 It's easy to convert Tidal music for use with a simple user interface
Supports multiple conversions of Tidal music tracks at a time
Convert Tidal music into a number of common output formats
Personalize the bit rate, channel, and sample rate for your Tidal songs
Download and play Tidal music on any device offline without Tidal app
How to Convert Tidal Music for OPPO Blu-ray Player via DRmare TidiKit Music Converter
Here we will guide you how to download and convert Tidal songs for use on OPPO Blu-ray player via the DRmare TidiKit Music Converter. This tool has a very simple user interface. To use it, please install it on your computer. After then, follow the given steps to get started.
Step 1

Set up DRmare TidiKit Music Converter

Once installed the DRmare TidiKit Music Converter, then please launch it from your computer. Then you can see its main screen. To begin, you are required to log in to your Tidal account. Please press on the 'Log in' or 'Sign up' button to do that.
Step 2

Personalize the output format of Tidal for OPPO Blu-ray player

Again, go to the menu option at the top of the page and select the "Preferences" option. Then click on the Advanced section where you can adjust the output format of the Tidal audio files. The converter supports the file formats including MP3, M4A, M4B, Lossless, FLAC, AAC and so on. You also have the choice to adjust the audio channel, sample rate, and bit rate.
Step 3

Add Tidal music files into DRmare

The software gives you direct access to Tidal music. Use the built-in Tidal web player on DRmare to search for the playlists of your choice. Then click on the playlist and hit on the blue "Add Music" icon to upload Tidal tracks into the software. You can add multiple Tidal music tracks and an entire playlist into the converter.
Step 4

Convert and download Tidal music for OPPO Blu-ray player

After adding all the Tidal tracks into the software, click on the "Convert" option at the bottom of DRmare. The software will convert and download all your selected Tidal songs to computer. And the downloaded Tidal music files can be transferred to any device even without the Tidal music app such as media players, game consoles as well.
Step 5

Transfer Tidal songs into a USB drive

Now, plug a USB drive into your computer. Navigate your system to find the converted Tidal audio files. Then, copy-paste the downloaded music files of Tidal to USB.
Play Tidal Music on OPPO Blu-ray Player via USB Drive
Step 1. Connect the USB drive into the USB port on your OPPO Blu-ray media player.
Step 2. Click on the "Music" icon from the homepage. In the next window, you can search for the location of your file folder.
Step 3. Select the USB drive from the opened window. You will have the list of downloaded Tidal songs.
Step 4. Click on the song of your choice and enter the "Play" option to enjoy the track of your choice.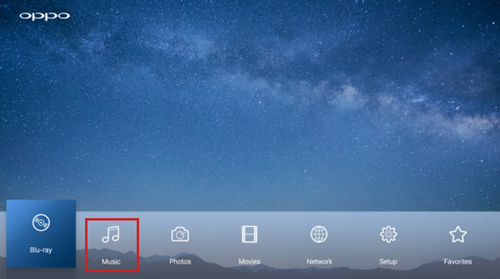 Part 4. Conclusion
OPPO media players are sophisticated and give you the smoothest sound, whereas Tidal is preferred due to the high-quality audio that it delivered. The combination of two leading brands can help you enjoy music and songs in the finest manner.