Can you play Tidal on Alexa? When it comes to Alexa, we know that it is the digital assistant of Amazon. With an Alexa, you can ask it to do lots of thing for you by voice commands. You can let it play music from many music streaming services on your Amazon Echo device, like Tidal, Spotify and others.
If you are a new user of Alexa and want to know how to connect Tidal to Alexa, then you could go ahead and check out the post here. In this post, we are going to show how to play Tidal on Alexa. Just take a look of this article below and learn more.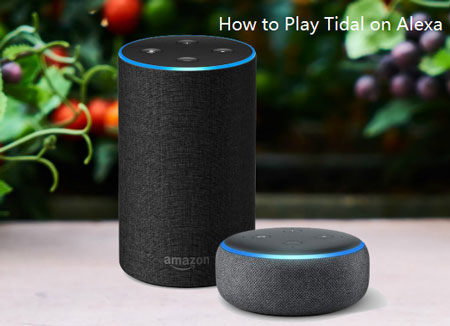 Part 1. Connect Tidal to Alexa with Premium
Due to the Tidal Alexa integration, users can directly play Tidal on Alexa. But to do that, you need to be a Tidal premium user. And please make sure that your Tidal premium account is still valid before you link Tidal to Alexa. After then, now let's see how to play Tidal playlist on Alexa step-by-step-as below.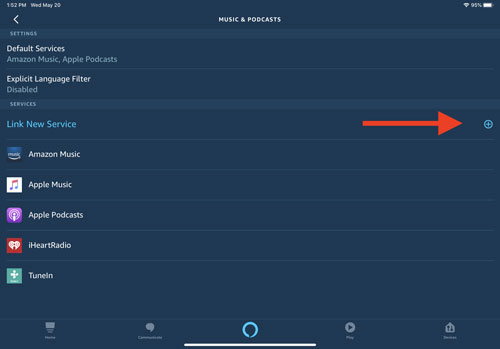 Step 1. Open the Amazon Alexa App on your phone.
Step 2. Go to the 'Settings' > 'Music' option.
Step 3. Select 'Link New Service' > 'Tidal' option.
Step 4. Touch on the 'Enable to Use' and link your Tidal account.
Step 5. Go back to the 'Settings' > 'Music' section.
Step 6. Choose 'Tidal' as 'Default Services'.
Once finished the connection, then you are able to ask Alexa to play Tidal music by voice commands. Then you can listen to your favorite songs from Tidal on Alexa with ease.
Part 2. Powerful Tool to Play Tidal on Alexa without Premium
After learning how to connect Tidal to Alexa with premium, here you may want to ask:" Can I play Tidal on Alexa without premium?" The answer is yes.
Currently, you are allowed to stream audio files from your phone or tablet to Echo via Bluetooth. Thus, you need to download Tidal music as local files to your phone, tablet or computer. However, as Tidal music are with technology protection, the songs you download from Tidal can't be played on other devices.
Thus, here we meet a powerful and professional tool. It can help rip the restriction from Tidal and convert them as local files. This tool is DRmare Tidal Music Converter, an easy-to-use and all-round program for Tidal music. It can convert songs from Tidal to FLAC or other plain audio formats with high quality. Besides, it supports to batch convert Tidal music files at a faster speed, which can save lots of your time.
In addition, you can also personalize the Tidal audio files as you like, such as bit rate, sample rate and more. And you can customize the ID3 tags for them, which can let you manage your files easily. After that, you can add Tidal to Alexa or other devices for offline playback.
DRmare Tidal Music Converter for Alexa
Steps to Convert and Listen to Tidal on Alexa
Now, you can download and install DRmare Tidal Music Converter to your computer via the "Download" button above. Then you can go ahead and follow the guidance below to start to convert and play Tidal on Alexa.
Step 1

Import Tidal music to DRmare program

Please launch DRmare Tidal Music Converter on the desktop from your computer. And you will see Tidal application will be opened at the same time. Then you could go to Tidal app and find the songs you want to convert for listening on Alexa. When you find the tracks, then please copy and paste the URL of them to the box on DRmare program main interface. Then press on "+" button to load Tidal audio files.
Step 2

Define Tidal output format for Alexa

Here you could set the output audio formats for your Tidal music files. Please hit on the Menu on the top right of DRmare Tidal Music Converter. And choose "Preferences" to open the setting window. In the pop-up window, you could click "Convert" to begin to adjust the output format, like Format, Channel, Sample Rate and Bit Rate. You could define Tidal music to Alexa supported format according to your needs. Then please click "OK" to keep the settings.
Step 3

Download and convert Tidal to Alexa

Once finished all the settings, then please click the "Convert" button at the bottom right. And DRmare program will start the conversion. After a while, all the Tidal music tracks will be downloaded and saved to your computer. To locate the converted Tidal music files on your computer, you could hit on the "history" > "search" icon on DRmare program. Then you can start to stream and connect Tidal to Alexa.
Steps to Play Tidal on Alexa
In this part, we will show you how to connect Tidal to Alexa and play music from Tidal on Alexa. Before that, please stream the converted Tidal audio files from your computer to your phone or tablet. After that, then you can check the steps below to start to play Tidal on Alexa.
Step 1. Connect your device to Amazon Echo.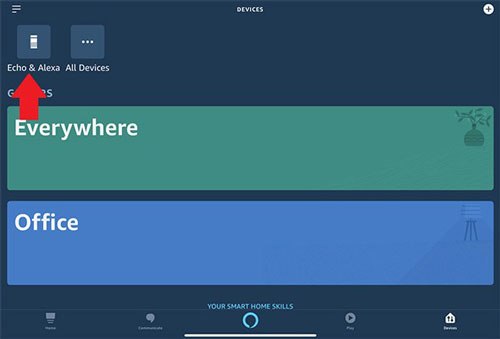 With your phone and tablet nearby, say "Alexa, pair". Then your Echo will enter to the pairing mode. Please turn on the Bluetooth on your phone or tablet. And wait for the Echo to display in the list of devices to be paired. Then you will see the "Echo - XXX". Please tap the name to connect your device with Echo. When the two devices are linked, Alexa will tell you the connection is done.
Step 2. Add your device to Alexa.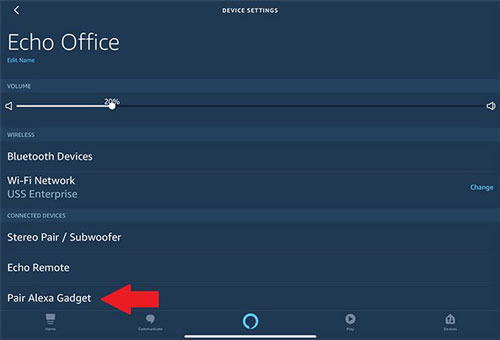 Please hit on "Devices" > "Echo & Alexa" and choose the Echo device you would like to pair with your phone or tablet. Then tap "Pair Alexa Gadget" in the Connected Devices section. Next, open the Bluetooth settings window on your device and click on the name listed for your Echo. Then your Echo will be connected.
Step 3. Open Tidal app on your device.
Now you can launch Tidal application on your phone or tablet and have it play through your Echo device. You can ask Alexa to play Tidal music by talking to it. Besides, if you want to set Tidal as the default music service, then you could go to the 'Music & Media'. And hit on 'Choose default music services' to set Tidal default on Alexa.
Part 3. Frequently Asked Questions of Tidal and Alexa
1. In which country that Alexa is available on Tidal?
Currently Tidal on Alexa is only available in the United States. If you want to use it, you need to have a U.S. account on Amazon first.
2. Where to download Amazon Alexa companion app?
If you are on iOS device, please go to the App Store to download it. Or if you are on Android device, you should go to Play Store to download the app.
3. How can I connect Tidal to Alexa?
Sign in to the Amazon Alexa companion app on your mobile or in your browser. Then search for 'Tidal' or find it under 'Music skills' to enable Tidal. Then you are required to log in to your Tidal account.