Q: "I like to play Tidal music every day, and I have bought a Google Home application and put it in my house. So it could be an amazing thing to import Tidal playlists to Google Home for playback. Is it possible to do that? If not, how to link Tidal to Google Home in order to play Tidal songs on the functional Google Home speakers."
Tidal application is a powerful streaming music service provider and it's well-known for its high quality in the market. So it's very popular among music lovers. Google Home is a great speaker and voice assistant. It can play songs, get answers, set alarms and timers, etc.
Having it placed at your home, you may probably want to add Tidal to Google Home for entertainment. Here we will offer you two approaches to connect Tidal to Google Home/Home Mini/Max.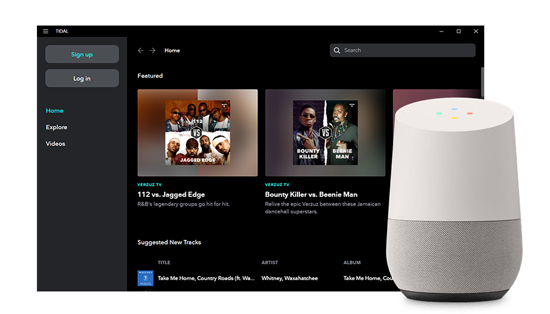 Method 1. Link Tidal to Google Home through Google Cast
It is available to link Tidal to Google Home through Google Cast. As we know, Google Home is equipped with Chromecast built-in, so you can listen to audio files with Google Home speaker on your phone. Moreover, In the list of supported streaming service of Google Home, you can find Tidal easily. Therefore, it is convenient for you to sync Tidal songs to Google Home with the help of Chromecast.
With Tidal connected to Google Home, you are allowed to call Google Home to play audios by voice commands. In this way, you are able to have Tidal played on Google Home. Besides, according to your needs, you can request Google Home to skip, go back, increase or decrease volume and give any other order. The following are the ways for you to add Tidal music to Google Home Mini.
Step 1. Connect your mobile phone with the same Wi-Fi network as Google Home Mini does. Run the Tidal program in your Android or iPhone device.
Step 2. Next, select some music you want to play. At the same time, the basic media controls would launch simultaneously.
Step 3. Click the bar to get a new version of the Now Playing screen. Then you will see an icon which resembles a tiny speak at the bottom-left corner, choose it.
Step 4. As the Google Cast sub-menu shows, you can see all Google Cast devices that work with the same Wi-Fi as your phone. Here you need to make Google Home Mini as the default device to play Tidal music.
Step 5. After connecting your smartphone to Google Home, you are offered access to Tidal music on it. You can play the music by your voice commands or just control the orders with your phone.
Method 2. Add Tidal to Google Home through Google Play Music
As we know, Tidal software offers millions of tracks online for users so it's easy to get the music we like on it. However, songs on Tidal are edited in a format and what you download are cache files. That means you can just play them on a specific device no matter you are premium or free users. In this regard, you may feel it is hard to play Tidal on Google Home and it may considerably upset you.
Fortunately, you can have a tool to figure out this problem. Here I will recommend a professional software - DRmare Tidal Music Converter for you to use Tidal on Google Home.
How to Transfer Tidal Music for playing on Google Home
The following tutorial enables you to realize the steps to save Tidal music as common audio files. After the conversion, you can upload the Tidal playlists to Google Home and then freely enjoy them anytime.
Step 1

Import Tidal Music to DRmare Tidal Music Converter

Download DRmare Tidal Music Converter on your computer and launch it. Meanwhile, the Tidal application would be opened simultaneously which is convenient to add songs. Copy the URL of Tidal tracks, artists, playlists, or albums and put them on the search bar of the interface. Click the "+" button, then the tracks would be showed on the conversion window.
Step 2

Customize Tidal Output Preferences for Google Home

Click the top-right "Preference" icon to define the output formats. You can convert Tidal music to MP3, M4A, M4B, WAV, AAC, or FLAC according to your needs. You are also allowed to customize the parameters - bit rate, sample rate, and channel for quality you want. Besides, setting the conversion speed as 1X could make the process more stable. And if you want the Tidal tracks to be archived by Artist / Album or Artist, remember to select the option on the bottom.
Step 3

Download and Convert Tidal Songs for Playing on Google Home

With all the output parameters customized, you just need to click the "Convert" icon on the interface. Files would then be downloaded and transferred immediately. You can get the converted Tidal songs by hitting the "history" icon.
How to Use Tidal on Google Home via Google Play Music
With the above done, you just need to import the converted Tidal music to Google Home with a few steps as below:
Step 1. Add Tidal to Google Play Music
Run the Google Play Music on your computer and input your account details. Then select the 'My Music' option to set the music folder of Tidal tracks for Google Play.
Step 2. Launch Google Home App
Open Google Home on your device and get into your account. Simply hit the button - 'Settings' > 'Services' > 'Music' so that you can make sure that Google Play Music is the selected service for Tidal playback.
Step 3. Play Tidal on Google Home/Home Mini
Now you can request Google Home to have the Tidal songs played which are uploaded to Google Music account via voice commands.