How to play Tidal music on FiiO? FiiO music player is a portable device for users to enjoy music on the go. Users can move the local music files to FiiO via the USB cable. Then they can listen to their favorite music on FiiO directly.
But how to use Tidal on FiiO? If you don't know how, then you can refer to this post. Here we will introduce the best way for you to get FiiO Tidal to work. For more details, please follow the steps below and see how to do that.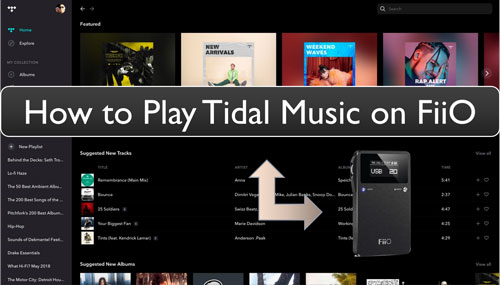 Part 1. How to Make FiiO Tidal Connect - Best Tool
We know that FiiO music player supports to import music via the USB cable. So, we can download Tidal music to computer and then move them to Fiio for use. Yet, you can't download music from Tidal on computer as there is no official way to do that. The download feature is only available for Tidal mobile app now. Besides, Tidal music is in unique audio format which can't be used on FiiO. So, how to download Tidal songs on computer and make them as plain audio files for use on FiiO music player?
No worries. Here we will introduce a third-party tool to help you. It is DRmare Tidal Music Converter. It helps download Tidal music on computer for use on any device and platform like FiiO. And it can save the Tidal music files to plain audio formats. The formats include MP3, FLAC, WAV and more. Also, it can let you adjust the output audio parameters for your Tidal music tracks. So, you can change the bit rate, audio channel and so on you want.
Besides, the DRmare Tidal Music Converter can output original audio qualify of the Tidal songs. And it works at a rapid conversion speed which can save you lots of time. After the conversion, you will get the local music files from Tidal and you can make Tidal FiiO to work.
DRmare Tidal Music Converter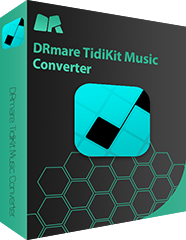 Download Tidal songs on computer for use on FiiO
Convert Tidal songs to FLAC, WAV, M4A, MP3, etc.
Reset Tidal output audio parameters, like channel, etc.
Support to play Tidal on FiiO music player and other devices
Part 2. How to Convert Tidal for FiiO Music Player
Now, you had learned about the DRmare Tidal Music Converter. Then let's go on to see how to convert Tidal music for FiiO music player with it. Before starting, please download and install the Tidal music app and DRmare Tidal Music Converter on your computer first. When is done, check the tutorial below and learn how to download music from Tidal for FiiO M6/M5/M3, etc. on computer.
Step 1

Add Tidal music tracks to DRmare

Open the installed DRmare Tidal Converter from your computer. Next, the Tidal app will be launched at the same time. Then you need to go to the Tidal program to find the songs you want to download for use on FiiO. Once found, hit on the "three-dot" icon and select "Share" > "Copy Playlists Link" to get the URL link of the Tidal audio track. And then put the song's link you got into the search bar on DRmare main screen. Then touch the '+' icon to import Tidal music to DRmare program.
Step 2

Adjust output format for Tidal FiiO

Here you need to reset the output audio parameters for FiiO Tidal music. Please head to the Menu icon. Then click on it to choose the 'Preferences' from the drop list. It will then open a new window, in which you need to click on the 'Convert' tab. Then you will the Output Format, Conversion Speed and more options. Now, you can reset the sample rate, audio format and more at the Output Format section. You can alter these parameters you want for your Tidal songs. After that, don't forget the apply the settings by hitting on the 'OK' button.
Step 3

Convert Tidal for FiiO music player

At last, touch the 'Convert' button on DRmare Tidal Music Converter. The Tidal songs will be then converted at once. You can see the conversion process in the conversion window. Once the process is done, click on the 'history' icon to show the converted Tidal music files on DRmare program. Then you could touch the 'search' icon to locate the files on your computer's local folder.
Step 4

Play Tidal music on FiiO

Now, you had the local Tidal music files. And here you can add Tidal music to FiiO M11/M7/M6/M9 and more for playing. Please connect your FiiO music player with your computer via the USB cable. Then locate the downloaded Tidal songs on your computer. And then drag and drop the music files to your FiiO music player. Or you can do that via the copying and pasting option. Once finished, the common Tidal audio files will be on your FiiO device. Then you can start to use FiiO Tidal offline on the go.
Part 3. The Verdict
From this post, you knew how to get Tidal on FiiO music player for offline playing. By using the DRmare Tidal Music Converter, you can convert and download Tidal music tracks to local audio files on your computer. Then you can move Tidal music to FiiO device for use offline without any limit. Not only that, you can also use the converted Tidal songs on multiple devices for listening.