If you are an audiophile, you will be familiar with HiFi quality. Tidal being famous for its high-quality music, is one of the popular streaming music services to provide HiFi quality under its Tidal HiFi and HiFi Plus subscription. Are you curious about Tidal HiFi and want to learn more about it before using this platform? Then, you are right here. In this article, we will make a comprehensive introduction to Tidal HiFi, including what it is, its costs, quality, data usage, Tidal music download, and more. Without further do, let's get started!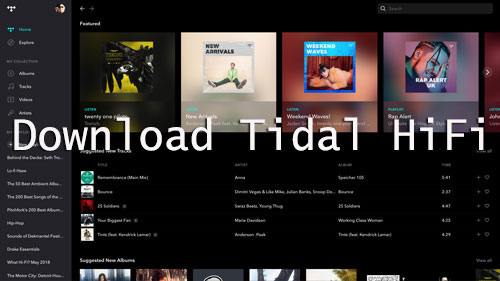 Part 1. Complete Introduction to Tidal HiFi
What Is Tidal HiFi?
Tidal provides three tiers of subscriptions for its members. Tidal HiFi is one of them, which allows users to listen to over 100 million ad-free songs at high sound quality (16-bit, 44.1 kHz) and 650 thousand music videos. Also, with the Tidal HiFi plan, you can explore music offline with unlimited skips, get expert-curated playlists and Tidal Connect features, and track and share your listening habits in the way you want.
What Is Tidal HiFi Quality?
Tidal HiFi music is encoded in FLAC (Free Lossless Audio Codec) format at a bitrate of 1411 kbps (kilobits per second) and a sample rate of 44.1 kHz. Tidal FLAC files with lossless compression can preserve the original Tidal HiFi audio quality without any loss of detail. The quality to stream music is up to CD quality, which means you get the same audio quality as a physical CD.
How Much Does Tidal HiFi Cost?
How much is Tidal HiFi per month? It could vary according to different situations. In general, the cost of Tidal HiFi is $10.99 per month. But it also provides different plans in registration to get the discount. You can check them out below:
Tidal HiFi Plans
Price
Limitations
Tidal HiFi for Individual
$10.99/month
In all regions.
Tidal HiFi for Family
$16.99/month
In all regions.
Tidal HiFi for

Student

From 50% off
In some regions.
Tidal HiFi for Military
From 40% off
Only in US.
Tidal HiFi for First Responders
From 40% off
Only in US.
Part 2. How to Get Tidal HiFi Download on PC via DRmare Tidal Music Downloader
There is a common perception that the download feature of Tidal music is only available for the Tidal mobile app. So upgrading to a Tidal HiFi subscription, you still can't download Tidal HiFi music for offline listening on your computer. So, you need to seek an alternative way to do it. To help you out, in this part, we will introduce a tool for you. It is DRmare Tidal Music Converter.
It can download Tidal HiFi songs and playlists offline on a computer without quality loss. It can also convert Tidal HiFi music to FLAC and other plain audio formats like WAV, M4A, and so on without protection. Also, you can modify the output audio parameters such as bit rate, channel, and more as you like to adjust Tidal HiFi audio quality. What's more, the DRmare Tidal Music Converter can run at a fast speed to get a Tidal HiFi download. With it, you can save Tidal HiFi music offline on your desktop for use anywhere and anytime.
DRmare Tidal Music Converter
How to Download Tidal HiFi Songs on Computer - Detailed Steps
Here is a guide for you to download Tidal HiFi music via DRmare Tidal Music Converter. Just follow the steps below and learn how to perform.
Step 1

Import Tidal HiFi songs to DRmare TidiKit

Please install DRmare Tidal Music Converter on your PC. Then open it. The Tidal app will start also. Then go to the Tidal software and find the Tidal HiFi songs you like to download to your desktop. Then get the link to the target tracks. Put the links to DRmare TidiKit's search bar and click the '+' button one by one. And you will see tracks listed in the main screen of DRmare TidiKit.
Step 2

Set Tidal HiFi output format and other audio quality

Hit Menu icon at the top right on DRmare Tidal Music Converter. Then select 'Preferences' from the drop-down list. And then you can see the setting window. Here you can hit the 'Convert' option to begin to set the output audio parameters of the Tidal HiFi music download. You can choose the audio format as FLAC, WAV, MP3, AAC, etc. as you like. And you can alter the sample rate, channel, etc. for Tidal HiFi music according to your needs.
Step 3

Download Tidal HiFi music on PC and Mac

Now, press the big 'Convert' button on the DRmare Tidal Music Converter program. Then the downloading process will start. A few seconds later, all the Tidal HiFi music will be downloaded offline on the computer. And you can hit the 'Converted' button to check them out on your computer.
Part 3. How to Download Music via Tidal HiFi on Mobile Phones
"Can you download music from Tidal HiFi on mobile phones?" Of course. With a Tidal HiFi plan, users can download tunes from Tidal HiFi on Android phones and iPhones and listen to Tidal offline. But you should note that only albums or playlists from Tidal can be downloaded for offline listening. Let's see how to do it.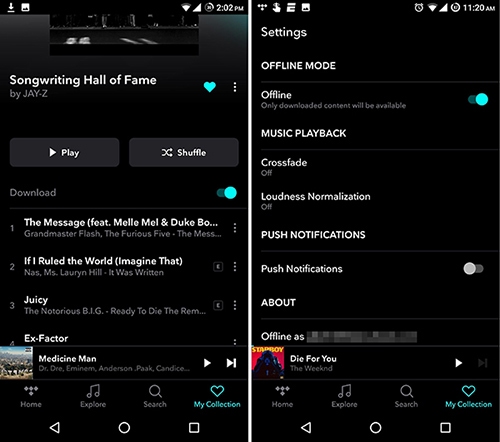 For Tidal Albums:
Step 1. Launch the Tidal app on your mobile phone and log into your Tidal HiFi account.
Step 2. Browse or find the album from Tidal that you'd like to download.
Step 3. Open the album and switch the 'Download' button to blue. Then all the tracks of the target album will be added to the download queue for downloading.
For Tidal Playlists:
Step 1. On your mobile phone, open the Tidal app and authorize your Tidal HiFi account.
Step 2. Touch on 'My Collection' at the bottom bar of Tidal. Then click 'Playlists'.
Step 3. Choose the playlist with HiFi songs that you created before.
Step 4. Turn on the 'Download' button and the Tidal playlist will be ready to download.
When finished downloading, hit 'My Collection' > 'Downloaded'. Then you can listen to Tidal HiFi offline on your smartphones.
Part 4. FAQs about Tidal HiFi
Q1: Tidal HiFi vs Tidal HiFi Plus: Which Is Better?
A: The biggest differences between Tidal HiFi and Tidal HiFi Plus are their price and audio quality. Tidal HiFi plan streams high sound quality (up to 16-bit, 44.1 kHz), while Tidal HiFi Plus streams max sound quality (up to 24 bit, 192 kHz). And Tidal HiFi is priced at $10.99 per month, while Tidal HiFi Plus costs $19.99 every month.
Q2: Is Tidal HiFi Better than Spotify?
A: Tidal HiFi provides high-fidelity audio. Yet, Spotify does not. Also, Tidal HiFi costs as much as Spotify Premium yet offers lossless playback. That's to say, Tidal HiFi is quite better than Spotify.
Q3: What Are the Best Headphones for Tidal HiFi?
A: Here, we will lists top three best headphones for you to fully experience Tidal's HiFi quality, including Beyerdynamic Amiron Home, Sennheiser HD 800 S, and Sony WH-1000XM3.
Q4: How Much Data Does Tidal HiFi Use?
A: The higher the sound quality, the more data usage. Generally speaking, Tidal HiFi needs about 40 MB for a four-minute song.
Q5: How to Get Tidal HiFi for Free?
A: If you haven't already used the Tidal streaming music service, you can get a 30-day free trial of Tidal HiFi by visiting this official website. Besides, Tidal cooperated with many popular companies, like Mercedes Benz, Best Buy, etc. to provide 3-month Tidal HiFi for free.
Q6: How to Cancel Tidal HiFi Subscription?
A: No matter whether you are using a free trial or updating to the full version, you can click the account settings icon to choose "Subscription" > "Cancel Subscription" to cancel Tidal HiFi with ease.
Q7: Is Tidal HiFi Worth It?
A: Yes. Without a doubt, Tidal HiFi is worth it due to its CD quality, extensive music catalog, exclusive content, and affordable price compared to other streaming services.
Part 5. The Verdict
In this post, you have gotten full knowledge of Tidal HiFi and how to download playlists and albums from Tidal HiFi. Now, you can start your Tidal HiFi trip to experience a better music world with HiFi quality. By the way, the DRmare Tidal Music Converter is the best way to stream HiFi on all devices and players without any restrictions.