Amazon Music has millions of songs in its database, and it provides an ad-based experience to around 70 million songs. You must choose a subscription to experience ad-free access to all the content. The downside is you can listen to the songs only on the app.
If you wish to download your favorite songs for later hearing on a computer or any media device, you should convert Amazon Music to WAV. You can then burn the tracks on a CD and carry it forward for future use.
Even if you own a subscription, you can download the songs temporarily and listen to them through the app because of the DRM limitations. Conversion is the best way to override the DRM restrictions and enjoy the music on any media device with a CD drive. Today, you will learn about WAV file format, where you can use it, and the tool that will come to your rescue in converting Amazon Music WAV files.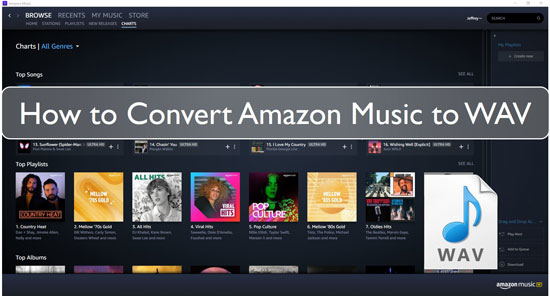 Part 1. Convert Amazon Music to WAV Files - Best Tool
The first question you will have in your mind is how to convert Amazon Music to WAV. As we speak about the best tool today, upon completing the article, you will learn that the software used here is an excellent solution that fulfills the requirement.
DRmare iMazonKit Music Converter is the tool that comes to your rescue. How to save Amazon Music in WAV format to the computer with this tool? The software is not only a downloader but a converter. This professional software helps you download music from Amazon Music and convert Amazon Music to MP3, FLAC, AAC, M4A, and other popular audio formats. With its feature-rich parameters and settings, you can convert HD songs from Amazon Music without losing any quality and retain ID3 tags.
What makes DRmare iMazonKit Music Converter the preferred choice is the user interface, features, and faster conversion speeds without any quality loss. It means that when you add all your favorite songs from Amazon Music to this tool, including playlists, it will begin the conversion at 5X speeds without any quality loss. Therefore, you will be completing the process within a few minutes and have all your collection on your computer.
What's more, you don't need to install the Amazon Music application on your computer. Instead, the DRmare iMazonKit Music Converter has built-in access to Amazon Music, from which you can search for your favorite songs and playlists for quick and easy download.
The tool also helps you convert single songs or in batches, for which you can set the prescribed output settings for a quick conversion process. Therefore, you can skip waiting for a longer period to complete the conversion process.
After completing the conversion, you can burn the WAV files from your computer and listen to them anywhere or on devices that support the WAV file format. You can further choose to save the files in a device-compatible format for quick transfer to iPad, iPhone, Android devices, and other media players.
DRmare iMazonKit Music Converter
Part 2. How to Download WAV Files from Amazon Music
The following procedure will help you learn how to download WAV files from Amazon Music using DRmare iMazonKit Music Converter.
Step 1

Install and sign in DRmare iMazonKit Music Converter

Download and install the software for your computer (Windows or Mac). Click the "Sign In" button to log in with your Amazon Music account. Or, open a new account if you do not have one.
Step 2

Register DRmare iMazonKit Converter

The free version of the DRmare software converts only the first one minute of a song from Amazon Music. If you want complete access, then buy it and register the product is essential. After that, click the "Register" button and enter the purchased license to activate the software.
Step 3

Customize the output format for Amazon Music to WAV

Click the "Preferences" feature from the menu bar. You can alter the output format, country, bit rate, channel, and sample rate here. In addition, you can further archive playlists by album or artists.
Step 4

Import Amazon Music playlist to DRmare

Use the search bar embedded in the software to look for the Amazon Music songs or playlist that you want to convert into WAV format. Click on the tracks and then hit on the "Add Files" button to add them to the interface. You can further choose individual songs from a playlist if you do not want to add an entire playlist.
Step 5

Convert Amazon Music to WAV files on your computer

Press the "Convert" badge at the bottom to download the songs and convert Amazon Music into WAV format. You can see the converted records in the conversion window and check their progress. The tool will retain the original ID3 tags as well as the quality for a better listening experience. You can then open the converted songs folder and burn them onto blank CDs or transfer them to devices that support the WAV file format.
Part 3. Know More about WAV Files
Microsoft and IBM developed Waveform Audio File Format or WAV. The format helps store audio files on PCs in bitstreams. Microsoft uses it as the primary format for uncompressed audio.
Devices that Support WAV Format
1. When used on a computer, you can open a WAV format using any media player, including the Microsoft Media Player.
2. The other devices include Apple iPod, SanDisk Sansa, Microsoft Zune, MP3 players manufactured by Coby, Philips, Sony, Samsung, Toshiba, and many more.
Part 4. Conclusion
Converting Amazon Music to WAV files is a reasonable choice for those who like to listen to favorite music anytime, anywhere, and on any device. WAV is an uncompressed file format and delivers exceptional audio output. In this post, DRmare iMazonKit Music Converter gives you all the support you need to download and convert songs from Amazon Music without having to install the app in a few simple steps. Just go ahead and try it.