Enthusiasts of music find themselves presented with a number of choices to enjoy their beloved melodies. Amazon Digital Music, boasting an extensive collection of songs and albums, provides a user-friendly environment and diversity for music fans to uncover and get their favored tracks. It features a perfect ecosystem to get hold of top-range music without going through extensive playlists.
Amazon's digital music platform provides flexibility that ensures your music library is readily available. However, most people question buying access to this Amazon music platform. In this guide, we will thoroughly go through the step-by-step process of buying music from Amazon Music.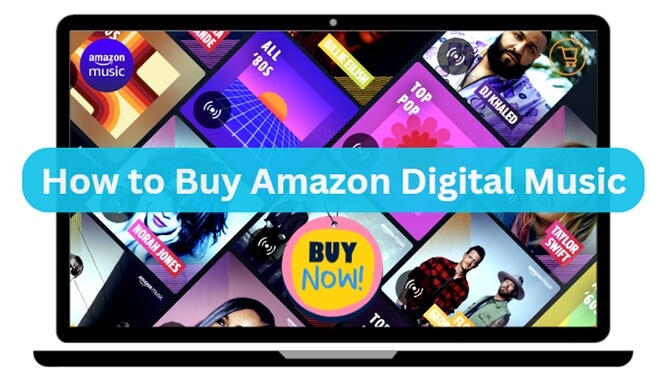 Part 1. Amazon Digital Music Store: Everything You Know
Prior to leading into the distinct methods for accessing Amazon Digital Music on various devices, it is crucial to establish a thorough comprehension of the Amazon Digital Music Store. This platform serves as Amazon's central platform for the complete spectrum of digital music retail and streaming services. It offers an expansive library encompassing individual songs, full albums, and curated playlists.
In addition, Amazon offers a subscription service called Amazon Music Unlimited. This service provides users with access to a vast library of songs available for streaming. Furthermore, Amazon Prime members can fully enjoy Amazon Digital Music and its store services. It features ad-free music streaming, playlists, and a diverse selection of radio stations, all integrated into their membership privileges.

Part 2. How to Buy Amazon Digital Music on All Devices
Having introduced you to Amazon Digital Music and its available options, let's now delve into the systematic procedure for acquiring your preferred music tracks. Below is the process of acquiring Amazon Digital Music purchases across various devices:
2.1 Buy Digital Amazon Music on the Web Online
To buy songs on Amazon Digital Music library easily, simply follow these steps on the Amazon website:
Step 1: Open your web browser, navigate to the Amazon website, and sign in using your Amazon ID. Now, locate the search bar, switch the category to "Buy Music" > "Shop Digital Music," and proceed to search for the song or album you wish to purchase.

Step 2: Select your desired song among the search results and click the three dots in front of it. From the options that appear, select "Buy MP3 song" to buy Amazon MP3 digital music. If you want to buy a whole album, scroll upward near the sharing button, select "Purchase Options," and finalize it by clicking "MP3 Music."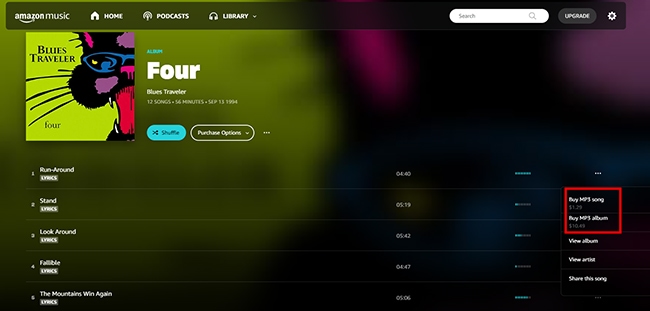 2.2 Purchase Digital Songs on Amazon Music App
The Amazon Music app enables music streaming. It still provides a "Buy Song" option, but it will bring you into the official website in a web browser to finish the purchase process. If you don't mind, you can follow these steps to buy music on Amazon Music app:
Step 1: Open the Amazon Music app on your computer and smartphone. And then search a song and click the "three-dot" icon to choose the "Buy Song" button.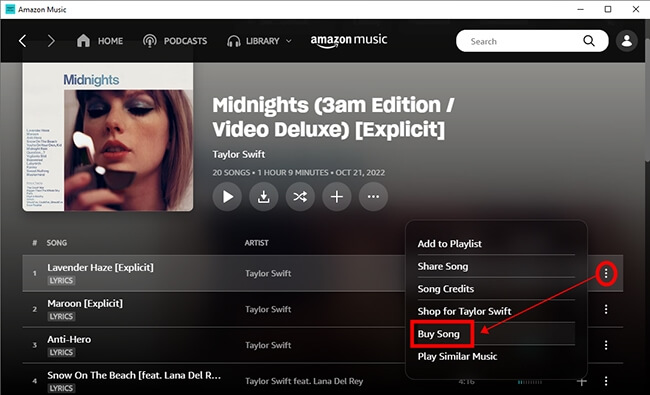 Step 2: It will pop up a window, in which you can navigate and visit Amazon Digital Music page in the web browser on your device. There, you can search for the specific song or album you wish to purchase.
Step 3: Within the search results, locate the required music playlist and select it to proceed. Afterward, tap on "Purchase Options" and choose "Buy MP3 Songs" to buy music from Amazon. You can then finalize your music purchase directly from the ensuing page.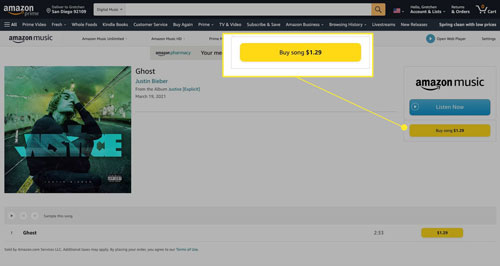 2.3 Buy Amazon Music with Gift Card
Gifting MP3s through Amazon is no longer an option. However, you can offer someone an Amazon gift card as an alternative. It will allow them to purchase music of their choice. To utilize an Amazon gift card, adhere to these instructions:
Instructions: Visit the Amazon website and sign in with your Amazon ID. Now click "Gift Card" and select "Redeem Gift Cards." Here, enter the code from the gift card to redeem it. Use the balance to buy digital music from Amazon.

Part 3. How to Download Amazon Digital Music Purchases
Once you've purchased your favorite music from Amazon Digital Music, you'll want to download it to your devices for offline listening. Here is how to download your Amazon Digital Music purchases:
3.1 How to Get Amazon Digital Music Downloads Officially
If you are downloading songs through online means, follow these steps to download your purchased Amazon Digital Music:
Step 1: With the help of a web browser, access the Amazon Music website and navigate to "Library." Here, select all the songs you have purchased and click "Download."
Step 2: When the website prompts you to install the app, just click "No thanks, just download music files directly." Lastly, select "Save" when your browser asks you to open or save a file.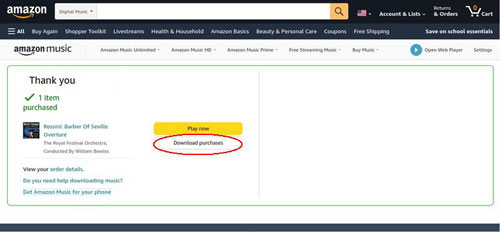 3.2 How to Download MP3 Digital Music via DRmare iMazonKit
If you want to download your Amazon Digital Music in a format that's compatible with various devices and applications, you can use DRmare Amazon Music Converter. This powerful software allows you to convert Amazon Music to MP3, FLAC, WAV, and other popular formats while preserving audio quality. DRmare iMazonKit offers a comprehensive Amazon solution with its integrated conversion technology.
This versatile tool serves as both an Amazon Music downloader and a converter. It is capable of transforming playlists from Amazon Unlimited Music, Free Amazon Music, and Amazon Prime Music into MP3 files. Utilizing cutting-edge technology, it ensures the preservation of 100% lossless audio quality from Amazon Music playlists. Furthermore, it offers the convenience of batch-downloading music from Amazon.
Steps to Download MP3 from Amazon Digital Music via DRmare iMazonKit
You can use the steps given below to download MP3 digital music from Amazon Music via DRmare iMazonKit:
Step 1: Launch DRmare iMazonKit and Choose the Targeted Tracks
Begin with installing and launching DRmare iMazonKit on your computer. As soon as it opens, the Amazon Music app will also open. Find the track, album, or playlist on the Amazon Music app and copy its URL using the "Share Playlist" option.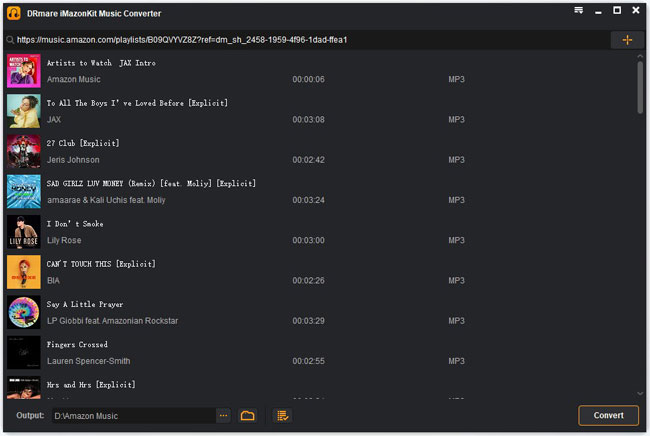 Step 2: Customize the Output of Amazon Digital Music Downloads
Paste the copied link into DRmare iMazonKit, hit the menu icon, and choose "Preferences." Within the "Preferences" window, move to the "Convert" tab, and here choose the output format and output quality. You can also change parameters such as audio channel, sample rate, bit rate, etc.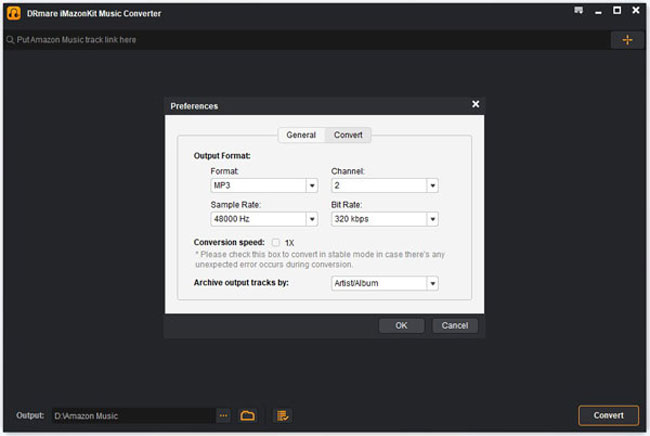 Step 3: Convert and Download the Targeted Amazon Tracks as MP3
Once you have made all the required changes, hit the "Convert" button near the bottom right corner to start the conversion process. DRmare iMazonKit is able to process music tracks in batches, and in no time, you will see your selected songs converted and downloaded.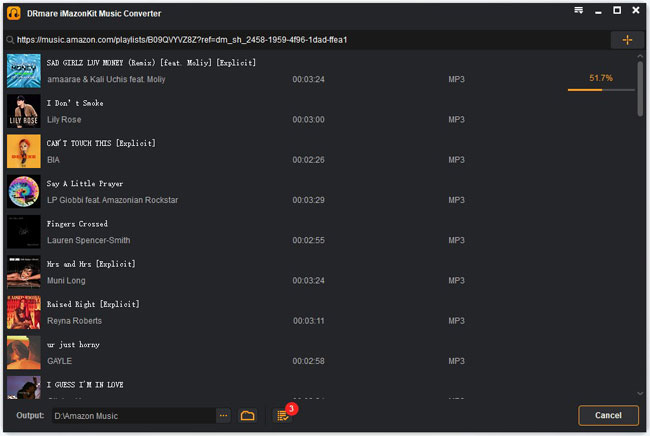 Part 4. FAQs about Purchasing Music on Amazon Music
As you set out on your adventure to purchase songs on Amazon Music, it's quite common to have inquiries. Here, we've put together a compilation of FAQs to provide answers to common queries:
Q1. Why does Amazon Music say digital music is not available for purchase?
The main reason you come across this message is that the Amazon Music app no longer supports digital music purchases directly. If you are facing an issue other than the app, it could be due to geographical restrictions.
Q2. How do you automatically add purchased music to Amazon Music?
Follow these instructions to add purchased music to Amazon Music automatically: Instructions: Access the Settings menu within Amazon Music. Select "Automatic Downloads" on Android or opt for "Auto-download Amazon Music purchases" on iOS. For manual updates, opt for "Refresh My Music" instead.
Q3. Do I need an Amazon account to access the Amazon Digital Music Store?
Certainly! To access and make purchases from the Amazon Digital Music Store, having an Amazon account is a prerequisite. Your Amazon account functions as the key to unlocking the full Amazon ecosystem.
Part 5. In Conclusion
In conclusion, this guide has provided comprehensive insights into purchasing and enjoying Amazon Digital Music across various devices. We explored the official methods to buy and download music from the Amazon Digital Music Store, as well as an alternative solution, DRmare iMazonKit. If you seek greater flexibility and more freedom of exploring Amazon Music, DRmare iMazonKit Music Converter is a powerful solution.