When using Amazon Music, you may experience songs that are grayed out and unplayable. This can be frustrating, especially if you're trying to listen to a specific song or playlist. Songs may be grayed out in Amazon Music for a variety of reasons, including incomplete song downloads, license restrictions, geographic restrictions, account issues, and so on.
In this topic, we explore these possible causes in more detail and provide steps you can take to resolve the issue. By the end of this topic, you should have a better understanding of how to troubleshoot Amazon Music greyed out, and how to prevent this from happening permanently.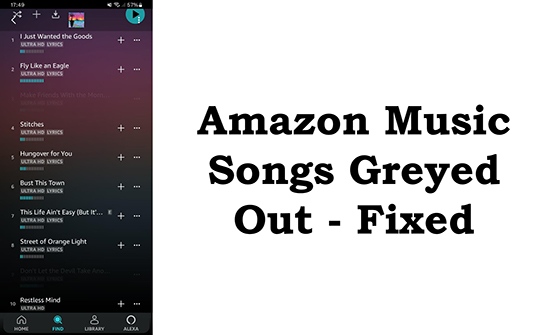 Part 1. Why Are Songs Greyed Out on Amazon Music
Why are some songs greyed out on Amazon Music? If you're experiencing this issue, it's important to identify the underlying issue so that you can take steps to resolve it. Here are some of the most common reasons:
1. Incomplete song download. If a song hasn't fully downloaded to your device, it may appear greyed out and be unavailable to play. This can happen if your internet connection is slow or if there was an interruption during the download process.
2. Licensing restrictions. Some songs may be subject to licensing restrictions that prevent them from being played in certain locations or on certain devices. This can happen if the rights to the song are owned by a different company or if there are regional restrictions in place.
3. Geographic restrictions. Amazon Music may not be available in all countries, and even if it is, some songs may not be available in certain regions due to licensing agreements or other legal issues.
4. Account issue. If there is an issue with your Amazon Music account, such as an expired subscription or an incorrect login, you may not be able to access certain songs or playlists.
5. Device compatibility issue. Your Amazon Music app may not be compatible with your device system. In these cases, the song may appear greyed out and be unavailable to play.
6. Application updates. If you have recently updated the Amazon Music app, you need to re-download your music to access them.
Part 2. How to Fix Amazon Music Greyed Out
The steps to fix greyed out songs on Amazon Music will depend on the underlying cause of the issue. Here are some troubleshooting steps you can take. If you think they are a little complicated, skip to Part 3 for a permanent solution.
Way 1. Check Your Account Status
If you're having trouble accessing certain songs or playlists, make sure your Amazon Music account is active and you're signed in with the correct credentials. Maybe your Amazon Music subscription has expired or been downgraded, and the grayed out songs are only available with your previous subscription. If this is the case, you will need to restore your previous subscription.
Also, if you use an Amazon Music Prime account and notice that Amazon Music download greyed out, there's not much you can do. Because now Amazon Music Prime subscribers can only download All-Access playlists, and songs you previously downloaded will not be available now.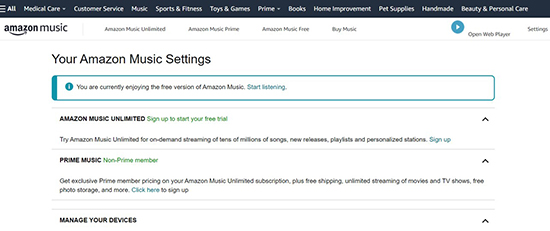 To check your account status, open a web browser and visit your Amazon Music settings page. You'll then see the Amazon Music subscription you're using. You can also upgrade your subscription to fix Amazon Music songs greyed out.
Way 2. Check for Licensing Restrictions
If a song is subject to licensing restrictions, it may not be available in certain regions or on certain devices. So, you can check the licensing restrictions to see if the song is available in your region. To do that, follow these steps.
Step 1. Open the Amazon Music app or website.
Step 2. Find the song or album you're having trouble accessing.
Step 3. Look for a message that the song or album is not available in your region or on your device. This message may appear next to the song or album title, or in the description or details section.
Step 4. If the song was removed from the Prime or Unlimited catalog, then you can do nothing. If the song is not available in your region, but is available in another region, you can change your account region on your Settings page.
Way 3. Re-download Amazon Music Songs
If you haven't used the Amazon Music app in a few months or recently updated the app, previously downloaded songs may be greyed out. You will need to re-download them to access them again. You can delete grayed out songs from your Amazon Music library first, then search for and download them again.
Step 1. Launch the Amazon Music application and go to your 'Library'.
Step 2. Locate the greyed out songs and tap on 'Three Dots' > 'Remove from Library'.
Step 3. Back to the home page and search for the songs. Once found, tap on 'Three Dots' > 'Download'. Then you should listen to them again.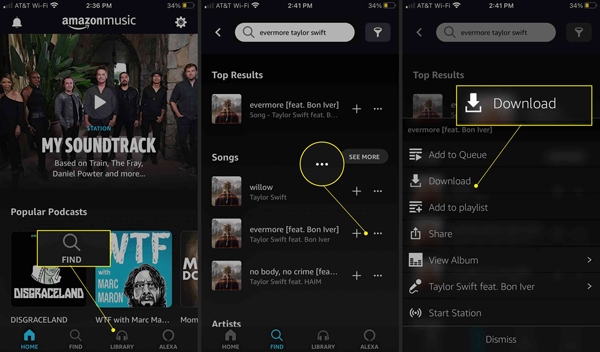 Way 4. Use a Different Device
In some cases, a song may be restricted differently on different devices. If you're are experiencing Amazon Music greyed out, try accessing Amazon Music from another device, such as a smartphone, tablet, or computer. This can help determine if the problem is device-specific or related to the application itself.
Way 5. Update Amazon Music App
The outdated Amazon Music app may have compatibility issues with your device, causing some songs to be grayed out. So, head to the app store on your device and search for Amazon Music. Once found, check if there are any updates. If so, install the latest Amazon Music app on your device. This can sometimes help you solve the problem of Amazon Music songs greyed out.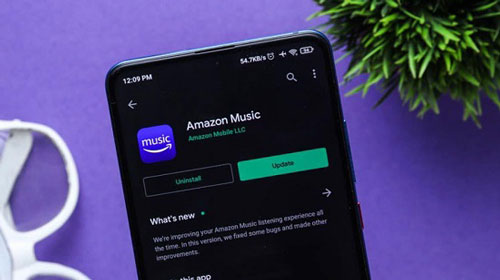 Part 3. How to Save Amazon Music Songs Forever [Ultimate Solution]
Are you an Amazon Music Prime user and don't want to upgrade to Unlimited to fix grayed out songs? Don't worry, you can use DRmare Amazon Music Converter to download greyed out songs. It's available to all Amazon Music users, including Free, Prime, and Unlimited. Once downloaded, you can keep the song playing forever. You don't need to worry about the problem of Amazon Music songs greyed out or lost.
Plus, it can convert Amazon Music to common formats, including MP3, FLAC, AAC, etc. After conversion, you can easily listen to Amazon Music songs with other music players. You will have a wonderful listening experience as it preserves lossless sound quality and full ID3 tags.
Key Features of DRmare Amazon Music Converter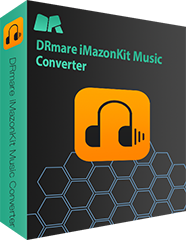 Convert Amazon Music to MP3, AAC, FLAC, M4A, M4B, WAV
Download Amazon Music greyed out songs without Unlimited
Batch convert and download Amazon Music songs
Preserve 100% original sound quality and ID3 tags
How to Use DRmare Amazon Music Converter to Fix Amazon Music Greyed Out
Step 1

Add greyed out songs to DRmare iMazonKit Music Converter

Please first download and install DRmare Amazon Music Converter on your computer. Then open it and you will notice that the Amazon Music pops up. Head to the Amazon Music app and search for the greyed out songs. Then drag and drop them to this converter. Or you can copy and paste the song's link into the top search box and then click on "+" to load songs.
Step 2

Reset Amazon Music output audio parameters

You are allowed to change the output audio format if you want. Click on the "Menu" icon at the top right and select "Preferences" > "Convert" to open the settings window. Then you can customize all the output parameters including output format, channel, bit rate, and so on.
Step 3

Save Amazon Music songs forever

Click on the "Convert" button and this converter will automatically download and save Amazon Music songs to your computer. To find the downloaded Amazon Music files, you can click on the "History" icon at the bottom of this converter or the "Output" destination folder on your computer.
Part 4. Final Words
The problem of Amazon Music greyed out is very annoying but you can easily solve it with the above solutions. If you don't want to repeat the steps from time to time, use DRmare Amazon Music Converter to download and backup your songs. With it, you can keep your Amazon Music playlists and songs playable permanently. You can access them with any music player anytime you want, thus avoid the issue from happening again.