"Why are songs greyed out on Spotify?" Many Spotify users may have encountered this issue. And they want to know how to fix greyed out songs on Spotify.
To bring you a more satisfying music experience while using Spotify, we have done some research. And we have concluded a few solutions for the Spotify songs greyed out issue. If you have met the same problem, then keep on reading this post. Here you will find out the reasons why are some songs greyed out on Spotify and solutions on how to solve them.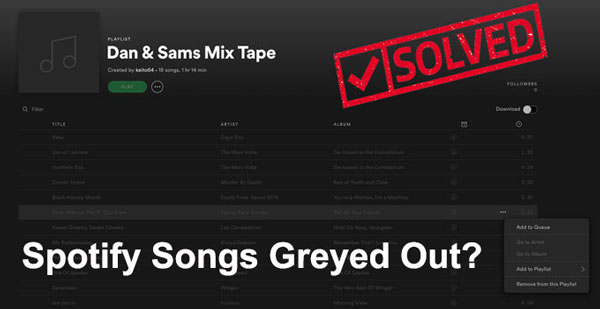 Part 1. Why Are Some Songs Greyed Out on Spotify
Many Spotify users sometimes got the feeling that their playlists are shrinking somehow. Or a few songs they often listen to disappear. Haven't found any greyed out songs on Spotify yet? Maybe Spotify hides songs that are no longer available for you without notifying the user. But you can still find the songs greyed out on Spotify. You can check the guide below.
Go to Settings on the Spotify app. Under the Display Options section, turn on "Show unavailable songs in playlists". Then, you will see the playlist of all the Spotify songs greyed out. Now that you can see what is hidden in your playlist. Those songs are with grey titles and maybe say "track unavailable".

Yet, Spotify has not given specific answers on why are Spotify songs greyed out. After doing some research, we found that there are several main reasons behind this. Please find more below.
1. Connection Error. The situation could be caused by the poor network connection. Or you turn on the offline mode. Besides, if you are using the Spotify mobile app, please make sure it has access to the internet.
2. Country/Region Restrictions. It might be new to many Spotify users that not all Spotify songs are available in all countries or regions. If you recently traveled to another country, it could be possible that some Spotify songs are greyed out even if you have downloaded them. It is restricted by individual music companies and has nothing to do with Spotify.
3. Licensing Agreement Changes. It could also be possible that some tracks quietly "slipped away" from Spotify due to some changes in the licensing agreement. You will be surprised to see the list on which some popular hits are no longer available on Spotify.
4. Format Error. If you have imported local audio files to Spotify, those audio files might not be the format that Spotify supports. So there will be songs greyed out on Spotify problem. Moreover, some songs could be DRM protected and could not be played on Spotify.
5. Longtime Downloaded Songs. Had downloaded some songs on Spotify and don't tune in to them for a long time will also cause the songs greyed out issue.
6. Premium Plan Expires. If your Spotify Premium subscription ends, the music you downloaded can't be accessed. Those music is cache files in a special audio format and with protection.
Part 2. How to Fix Spotify Songs Greyed Out - Best Solution
Above are the possible reasons that may cause the Spotify song greyed out issue. So, here you may ask: how do I fix greyed out songs on Spotify? Please don't worry. In this section, we will show the best way for you to solve it.
Here we recommend DRmare Spotify Music Converter. It is an easy-to-use tool designed to help users download Spotify songs without limitations. You can use it to download any content from the Spotify platform with Premium. And it supports to rip Spotify music's restrictions. Also, it supports to change the Spotify special audio format to plain audio formats.
What's more, you can modify the output audio parameters for the Spotify files you want. After that, you can fix the Spotify downloaded songs greyed out issue. And then you will learn how to listen to grey songs on Spotify offline anytime on any device.
DRmare Music Converter for Spotify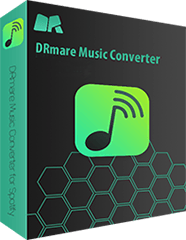 Download Spotify music in batches at 5X speed
Unencrypt Spotify music from the right protection
Preserve original music quality and ID3 tag
Download Spotify playlists to MP3 and other common formats
How to Play Greyed Out Songs on Spotify Offline by DRmare Music Converter
Now, we will show you how to use DRmare Music Converter to get Spotify greyed out songs fix. Here you will see how to download greyed out songs on Spotify. And then you will see how to listen to greyed out songs on Spotify without the internet.
Before that, please download the DRmare Spotify Music Converter on your computer. Then you can download your music on Spotify within 3 simple steps. After that, there will be no more Spotify greyed out songs in your Spotify playlist.
Step 1

Load Spotify songs you want in DRmare

Run DRmare Spotify Music Converter on your computer, and it will launch Spotify at the same time. You can add the greyed out songs on Spotify by dragging them into the DRmare software's interface. Or by copying the link of any track, album, or playlist from Spotify. Then enter the link to the search bar on DRmare's main screen. Next, click on the '+' icon and the audio tracks will be added to DRmare Music Converter.
Step 2

Configure the output format for Spotify songs

Go to 'Preferences' under 'Menu' in DRmare software. Then you can customize the output audio settings for your Spotify music as you like. Here you can reset the bit rate, audio format, and more. After then, apply the settings by hitting on the 'OK' button.
Step 3

Download greyed out Spotify songs

Click on the 'Convert' button, the software will start to download Spotify music at 5X fast speed. After the downloading process, you can find the downloaded Spotify music in the converter list. Then you are free to add them to the Spotify music library for listening even without an Internet connection.
Part 3. How to Fix Greyed Out Songs on Spotify - Troubleshooting
In this part, we will show some common solutions for you to fix Spotify songs greyed out issue. Please check them out here.
Solution 1. Fix Your Internet Connection
When meet the Spotify greyed out songs issue, you need to check the internet connection first. Here please see how to ensure the network connection on your devices to fix Spotify all songs greyed out issue.
On Mobile Phones:
Go to the 'Settings' app on your phone. Then find and touch the 'Cellular' option. Check whether the Spotify mobile app option is turned on or not. If not, please turn it on.
On Mac Computers: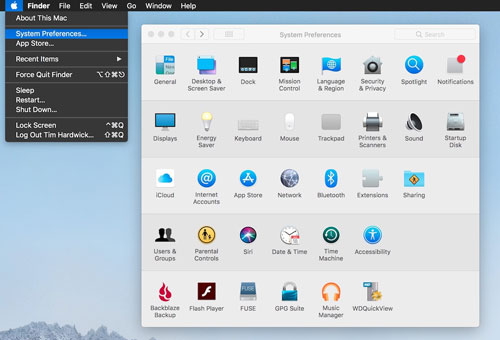 Select the Apple menu > 'System Preferences' on your Mac computer. Then hit on 'Network'.
Choose the network connection that you want to connect at the list on the left side. When you see the green signal, it means the connection is active.
On Windows Computers: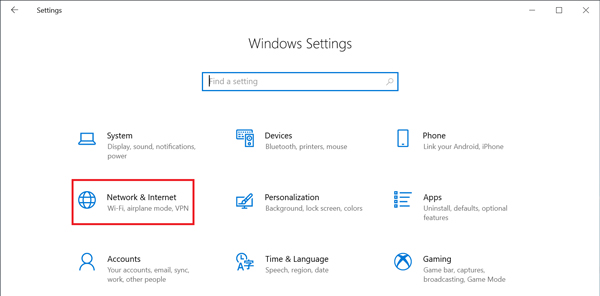 For Windows 10, click on the 'Start' button. Then choose 'Settings' > 'Network & Internet' > and then 'Status'.
For Windows 11, hit on 'Start' and type 'settings'. Then select the 'Settings' > 'Network & internet' option. And then you will see the status of the network connection at the top.
Solution 2. Change Your Network Settings via a VPN Service
In most cases, the greyed out songs on Spotify are caused by country/region restrictions. So, we recommend you use a VPN service. And then you can connect to a stable line such as American or European servers. That's because Spotify in these two areas provides streaming music with the greatest amount. Now follow the tips below to check your VPN network to fix the Spotify songs greyed out issue.
If you are using a VPN service with premium, please ensure that it is still valid.
Try to connect your VPN to American or European services.
Use another VPN service to try to fix Spotify greyed out songs issue.
Solution 3. Clear Spotify App Cache
Sometimes a great number of caches on Spotify could cause bugs or overload. And it will lead to Spotify songs greyed out issue. To solve this issue, you can try to clear Spotify cache.
On Android and iOS Devices: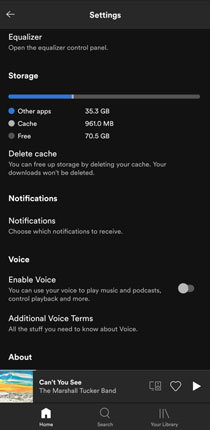 Go to the Settings on the Spotify app on your Android or iOS devices.
Click on the 'Storage' option and choose 'Delete cache'.
On Computers: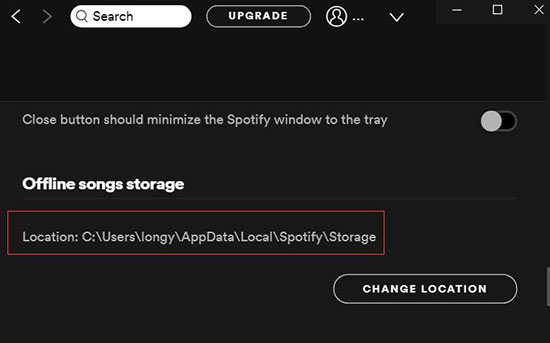 Head to the Settings section on the Spotify desktop app.
Scroll down at the list and choose 'SHOW ADVANCED SETTINGS'.
Find the Offline songs storage to check where the Spotify cache is saved.
Locate to the target folder on your computer.
Choose and delete all the files in the folder.
Solution 4. Re-import Songs to Your Spotify Playlist
Check if Spotify supports the file format of the music you download elsewhere. If they still show up as grey and you can't play them, they may be encrypted by the DRM technique. You will need a DRM removal tool to unencrypt the protected music. If your downloaded audio files come from iTunes or Audible, you can remove DRM protection via DRmare Audio Converter. Later you are free to re-import songs to your Spotify playlist.
Go to the Settings option on the Spotify app on your computer. Then find the Local Files section. And then go on to add converted music files to the Spotify playlists that have the greyed out songs. After that, you will see how to access greyed out songs on Spotify.
Solution 5. Uninstall and Reinstall Spotify App
Reinstalling the Spotify app will fix many common Spotify issue. Here let's learn how to solve the Spotify playlist greyed out issue by reinstalling the Spotify app.
For iOS Devices: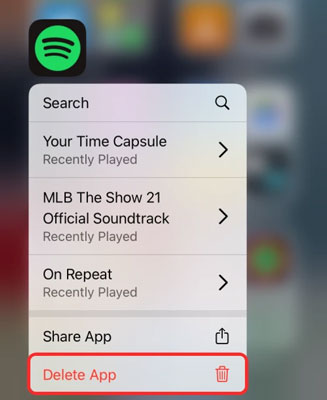 Power on your iOS devices. Then touch and hold on to the Spotify music app's icon.
Choose the 'Delete App' option and then click 'Delete'.
Head to the App Store app to install the Spotify app again.
For Android 6.0+ Devices: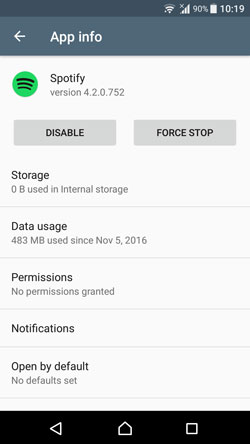 Access the Settings app on your Android devices.
Choose 'Apps'. Then locate the Spotify app on the list and click on it.
Then hit on 'Storage' > 'Clear Data'. And then press on the 'Uninstall' option.
Enter the Google Play app to reinstall the Spotify app.
For Windows: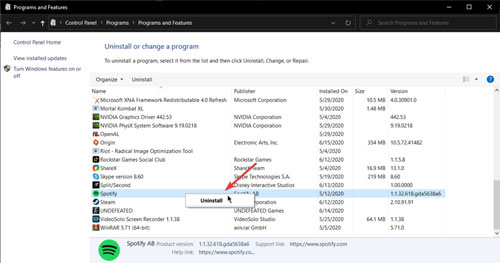 Force close the Spotify app if you are using it now.
Go to the Control Panel and hit on 'Programs and Features'.
Choose the Spotify app option in the list and hit Uninstall.
After that, download and reinstall the Spotify application.
For Mac: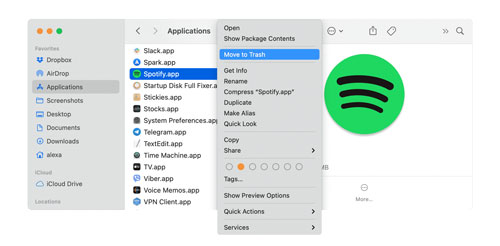 Exist the Spotify app. And then open the Finder.
Hit on Go in the menu bar at the top. Then hold on to the Option or Alt key and choose Library.
Open Caches and then delete the com.spotify.Client folder.
Press on the back arrow. Then launch the Application Support and delete the Spotify folder.
On the Finder, go to the Applications in the sidebar menu.
Locate the Spotify app and drag it to Trash. Then you need to empty Trash to delete Spotify app.
At last, download Spotify from its official website and then install it again.
Solution 6. Log out and Log in Spotify App Again
You can also try to log out and log in to your Spotify account to fix the Spotify songs greyed out problem. If your Premium plan expires, then you can't enjoy Spotify music offline. And you will find downloaded songs greyed out on Spotify. Also, if your Spotify account is banned, you can't access the music library and enjoy music.
Part 4. To Sum Up
This article has concluded a few reasons why are Spotify songs greyed out and given some solutions. Of all the solutions, we will recommend you use the best tool - DRmare Spotify Music Converter. With it, you don't have to find a suitable VPN server or worry about the Internet connection. If you want to see how to listen to greyed out songs on Spotify, try it out here.
With this tool, you can download Spotify greyed out songs with ease without Spotify premium. And you can save the songs to multiple audio formats. And then you can listen to Spotify music offline without an internet connection.