To download Traxsource music is easy if you have the right tool in hand. Although users will find unlimited devices that can help you do all the challenging work for you, choosing the best option isn't an easy task. If you are an expert and from the IT field, then it must be easier for you to pick a suitable device, but if you are new, then it would be tough to select the best option.
Are you looking for such a tool that assists you in every single step that lets you download Traxsource tracks free? If so, then read this article till the end, and you will find all the answers to your questions in this detailed guide here.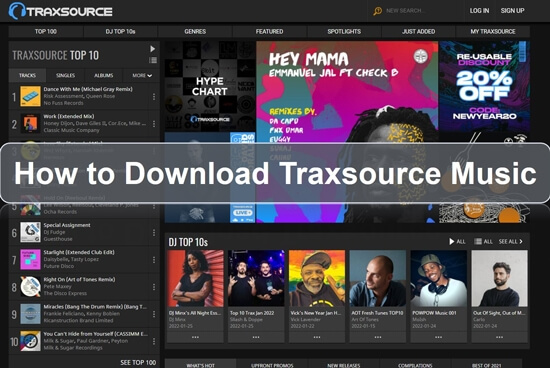 Part 1. How to Download Traxsource Music - Official Way
Buy and Download Traxsource Tracks via Browser
Before we go to download Traxsource music via the official way, we need to buy the music first. Please check out the following steps to find out how to get Traxsource free downloads.
1) At the start, log into your account on Traxsource and include your chosen Traxsource songs in your carts.
2) Now go to your carts and pick to purchase Traxsource tracks in the format of WAV, MP3, AIFF.
3) Just go to the Traxsource logo head and select the option of Downloads.
4) In the end, press the blue Download button you will find close to the track you need to download.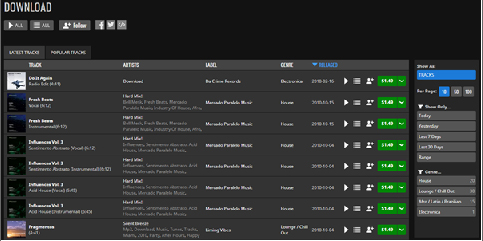 Download Music from Traxsource with Traxsource Download Manager
Want to know how to download from Traxsource by Traxsource Download Manager step by step? Then go for the following steps and find out how it can be done.
1) Just open the Traxsource Download Manager, login with your registered username and password on your PC before you choose your download options.
2) One of them is Download All New. So if you need to choose the new tracks, then press it. The other one is Download Order, so you can download your tracks in order.
3) Now tap on the left box of any particular track to download Traxsource music separately.
4) Users can also re-download order up to 7 days after buying the subscription.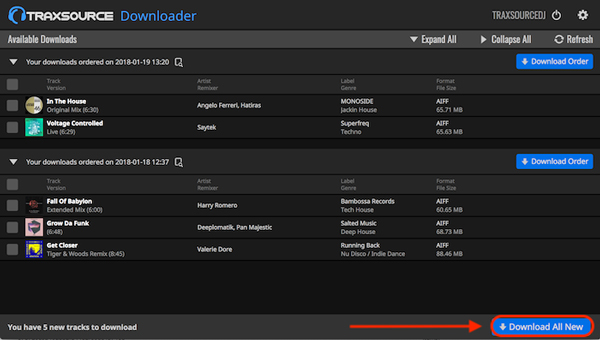 Download Music from Traxsource to Dropbox
Follow the below steps on how to download Traxsource music to Dropbox on computer and mobile devices. Follow the tutorials below and start now.
On Computer:
1) Create a free Dropbox account if you don't have one and sign up for Dropbox.
2) Move to the Traxsource icon and press the option that says Downloads.
3) Now tap the option of Send to Dropbox.
4) In the end, login to your Dropbox account, and press the Save button.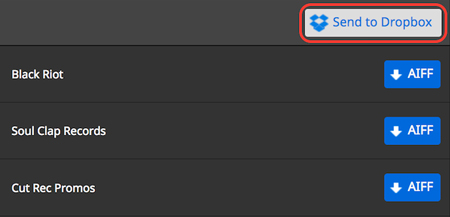 On Mobile Phone or Tablet:
1) At the start, create a Dropbox account and install the Dropbox application on your mobile phone or tablet.
2) Now go to the website of Traxsource and log in to Traxsource on your chosen device.
3) In the end, visit your Traxsource Downloads Page and click the option of Download to Dropbox.
Part 2. How to Download Traxsource Tracks Free
Any way to download music from Traxsource for free? Of course. Here we will introduce the DRmare Audio Capture to you. It lets you capture and download from Traxsource music and numerous other streaming audio and video websites without losing the original quality.
With it, you can convert audio tracks into many different formats, such as MP3, M4A, and others. It can be used as an audio editor. You can complete the ID3 tags based on the cover, genre, and artist's name with it. Apart from that, you can trim, cut, and merge your favorite audio tracks if you need to.
Key Features of DRmare Audio Capture
How to Download Traxsource Music with DRmare Audio Capture
Are you eager to know how to download music from Traxsource for free by using DRmare Audio Capture? If so, then follow the below steps.
Step 1

Install DRmare Audio Capture and open it

At the start, install and launch the DRmare Audio Capture program on your PC. Then you will see some apps' icons in the program interface. From here you are supposed to check if there is a browser that you can use to enter to Traxsource website in the list. If it is not, then press on the "+" button to add the web browser in.
Step 2

Select output formats for Traxsource music

Click the "Format" icon and you will see a setting window from where you can select the output format for Traxsource music. You can also let DRmare set the output format as MP3 by default as it is of high compatibility with lots of devices. If you need to make Traxsource music better, you can also change the channel, codec, etc. as you want.
Step 3

Start to record and download music from Traxsource

Tap the web browser to enter Traxsource website. Now select the songs from Traxsource that you want to capture. Just play the Traxsource music after finding them and the DRmare Audio Capture will open a recording window. It will start to record and download Traxsource music via automatic processing.
Step 4

Edit and trim recorded Traxsource music

After the recording, you can edit the recorded Traxsource tracks, trim the songs and edit the tags before you are about to click the option of "OK" to save your Traxsource music.
Step 5

Download and save music from Traxsource

In the end, press "Save" to store Traxsource music on the computer. You can now locate them on your PC and stream them to any other devices for offline playback.
Extra Tips: Traxsource vs Beatport
Traxsource is similar to Beatport, but it's a little pricier as well. Traxsource tracks tend to be $1.99, though you will find huge discounts on the compilations of its albums. Users will find many perks here that they will not find on Beatport, so it's worth it if you are looking for something with unique features.
Both apps are used worldwide and have unlimited customers. In Beatport, you will find big releases from all over the famous labels and a fantastic selection of excellent and other smaller releases in a massive variety of genres. If your main concern is to choose something that offers you the options for underground music, then it is best to pick a Traxsource downloader.
Final Words
In the post here, we had given you tips on how to download Traxsource music. Besides, if you want to download Traxsource tracks free, you can try DRmare Audio Capture. It is a tool that not only can download music from Traxsource but also other music streaming services, like Tidal, Spotify and more. After that, you can listen to any music you want offline.