The pleasure of listening is doubled if you and your friends/family share the same audiobooks. For one thing, it saves your spending on audiobook enjoyment. The second is that it let you stay connected with your friends or family better so that to learn more about each other.
As the largest audiobook reseller, Audible has already offered some ways to share Audible audiobooks with family/friends. Also, some third party firms developed great tools to simplify the sharing process too. Here I will show you the top 3 ways to do that.
View also: Tips to Share Spotify Songs with Friends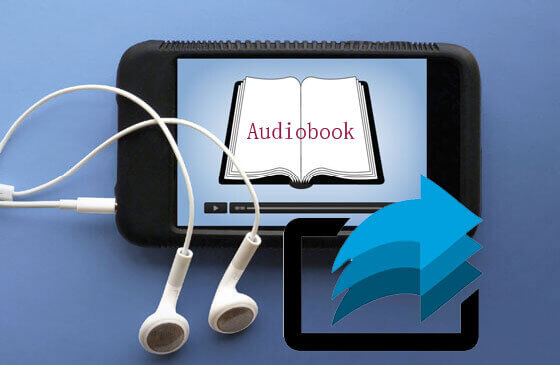 #1. Give an Audible File via "Send this Book" Feature to Your Friend
Audible has the biggest audiobok category to date from fiction to non-fiction to best sellers. If you find some books which are too good to keep to yourself, you can simply one click to share it to your friends who are interested in. This works well on the Audible app for Android or iOS only, not the website page. Take the Android Audible app for example, you can refer to the steps.
Step 1. Launch the Audible app from your Android phone. If it is the first time you use it, it will prompt you to sign in with the Audible account name and password.
Step 2. Find the books you have already purchased from the library page, player screen or review window.
Step 3. Click "Send this book" menu, it will show you the option to share by "Email", "Message" or "WhatsApp".
Step 4. Input the recipient's contact information and press "Send".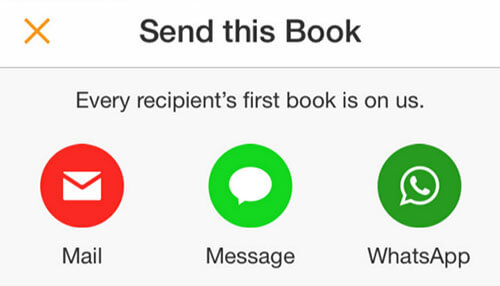 Verdict
A friend is the person who understands you best. With the "Send this Book", it does offer an easy way for us to discovery and pick up new audiobooks for our friends. Your friend who accept this gift will receive 1 credit to buy the book for free. But this won't work if your friend has already initialized the 30 days free trial before.
#2. Share Audible with Family by Setting Up Amazon Household Sharing
If you have the common hobbies like your family members, then it is most likely your family will enjoy listening to the same books. So why not share the audiobooks directly instead of buying them repeatedly? And Amazon Household Sharing will grant you this power. It supports to share video games, movies, apps, music, audiobooks, ebooks and much more. Just like the iTunes Home Sharing or Google Family Library.
Step 1. Set Up Amazon Household Sharing.
Go to the Manage Your Household page and login with the amazon account and password. Then you can click "Add an Adult" to invite one adult to join the Household. When the recipient accepts the offer, you can start to create your family library. Besides, you can add your Teens/Children to the Household too.
Step 2. Manage Your Content and Devices.
On the family library page, you can navigate to find all the contents such as books, Audible audiobooks, games, music you want. And then select them and tap "Add to Library" to share them within your family members.
Step 3. Access the Shared Content.
When it is done, your family members who on the Household sharing will find the shared contents from all the compatible apps and devices. Such as Kindle app, Fire tablet, Kindle Paperwhite, Amazon Echo and much more.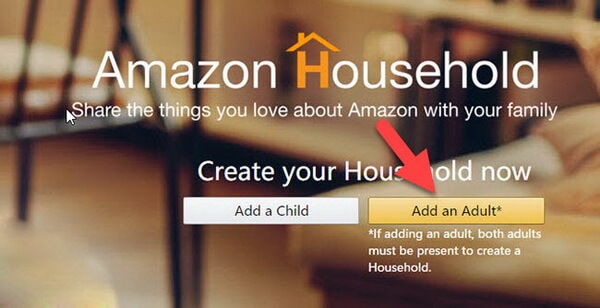 Verdict
Amazon Household Sharing offers a workable way to share the Audible audiobooks to another account. You can share as many books as you want.
Originally, it requires at least one member who has the Prime membership to enable the Amazon Family Sharing, but now you don't need that any more. This means you can use it for free.The only drawback is that sometimes the shared content may not work such as they don't show up on some devices according to the publish forum.
View also: Share iTunes Movies with Home Sharing
#3. Share Audible Audiobooks with Anyone by Removing DRM
The "Send this Book" and "Amazon Household Sharing" methods do work well to some extent, sometimes it just can't meet our requirements. For example, you can't send multiple books to your friends by email or transfer them via USB. That is because Audible audiobooks are in AA/AAX formats which are DRM protection. They are impossible to play elsewhere without authorization with account and password.
So is there another way around? Yes, sure. Many third party companies have discovered this requirement of users to share audiobooks. So they roll out many kinds of tools to strip DRM protection from Audible audiobooks. And turn them to common contents.
DRmare Audible Audiobook Converter is a second to none software in the list. It doesn't require iTunes to run and you don't need the original Audible account and password as well. In addition, if you want to make it easier to navigate the books, you can choose to convert Audible to M4A/M4B. It will keep the intact chapters or split Audible to multiple chapters.
Just drag & drop to import the Audible files and click "Convert", it will be ok. That is it. For more details, you can visit: How to Remove DRM from Audible Audiobooks. Wanna try it out by yourself?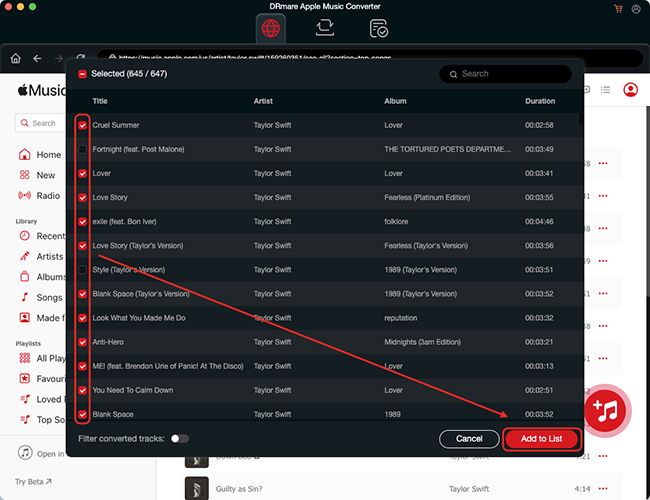 Verdict
DRmare Audible Audiobook Converter makes it easiest ever to convert and share any Audible audiobooks to anyone in a easiest ever way. I just can't compliment it too much. You can download it to have a try and you will see how wonderful it is. It costs $49.95 for a lifetime though. But that makes sense considering its highest performance and features. Will I recommend it? Of course.