Audible is a great platform for audiobook lovers to find their favorite books. You can buy, stream, and download audiobooks on Audible. You can even send Audible book as gift if you want to share a book with your friend or someone else. So, how can you gift Audible books? Read on to learn how to gift an Audible book in four ways.
See also: How to Share Audible with Friends/Family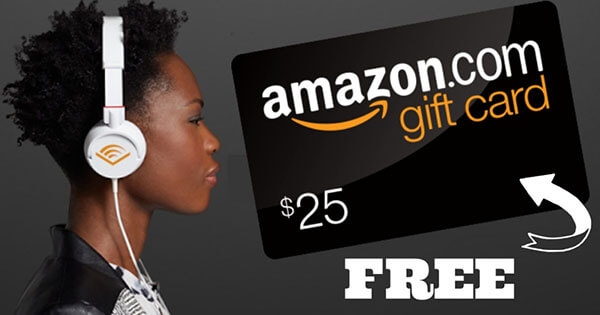 Way 1. How to Gift a Book on Audible
Audible's gifting feature is easy and seamless. If you have an audiobook in mind and want to send it to your friends, you can simply gift an audiobook to them. All they need is the Audible app to listen to your audiobook gift. Before gifting an Audible book, there are a few things you might want to know.
You and your recipient don't have to be Audible members.
You can gift an audiobook with your credits.
You cannot give away Audible books from Amazon.com or the Audible app for iPhone.
Step 1. Navigate to Audible.com and then search for the book you want to gift.
Step 2. Click on the book and then click on the 'More options' button.
Step 3. Select the 'Give as a Gift' button.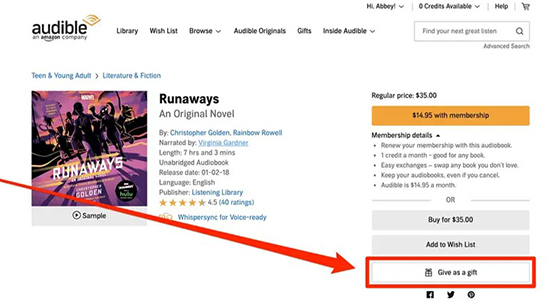 Step 4. You can choose how to send this book, by 'Email' or 'Print'. Then fill in the recipient information.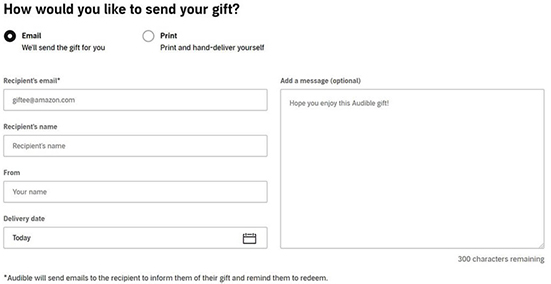 Step 5. After that, you can click 'Buy' to pay with a credit card or your Audible credits.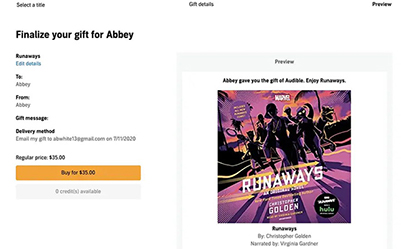 Way 2. How to Gift an Audible Subscription
If you're not sure about your friend's reading tastes, or have no idea what book to gift, you can gift an Audible membership. Membership earns you one credit per month, and the Audible Plus catalog. You can choose from 3, 6, and 12 month memberships. Here are the steps on how to do this:
Step 1. Navigate to Audible.com and then go to the Audible Gift Center.
Step 2. Select the subscription length you want to give to your friend and click 'Gift membership'.

Step 3. Fill in the gift info such as the recipient's email/name, your name, delivery date, and click 'Continue'.
Step 4. Select a card from the following page and then click 'Continue'.
Step 5. After that, you can click the 'Buy Now' button and pay for the gift.
Step 6. Your friend will receive the gift card and use the Audible gift code to redeem the membership from the gift center.
Way 3. How to Gift an Audible Audiobook CD
Audiobooks are owned by Amazon. You can search and buy a CD version from Amazon. When placing an order, you can mark it as a gift, let Amazon's after-sales team gift-wrap the CD, and enter the address to send it to your loved ones. Friends who receive this CD can play it directly on the CD player, or import the audiobook into Windows Media Player, iTunes and other players for listening.
Plus, if you just want your friend to grab the audiobook for themselves, you can just mail an Amazon gift card. Your friends can use them to directly buy any audiobook CD they want.
Step 1. Visit Amazon.com and sign in to your account.
Step 2. Search for the book you want to send to your friends. Then click on it to go to the buy page.
Step 3. Click on 'Audio CD'.
Step 4. Fill in the recipient information and then tick the 'gift' option.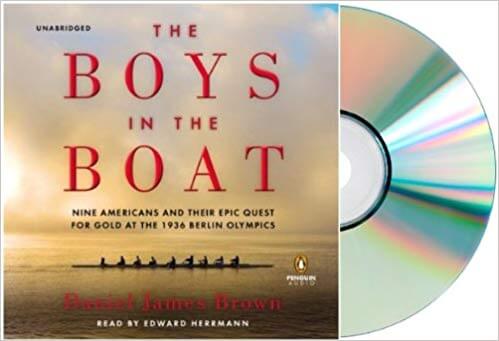 Note: You can also burn Audible audiobooks to CD and then send it to someone else.
Way 4. How to Gift an Audible Book You Already Own as MP3
If you have purchased audiobooks and want to send them to your friends or family, you can use DRmare Audible Converter. It lets you unprotect Audible books and convert them to MP3 or other popular audio formats. After conversion, you can simply send Audible book as gift to others without limitation. Recipients don't need to be Audible members, or even have the Audible app installed. They can use any media player to listen to your gifted Audible audiobook.
With DRmare Audible Converter, the lossless audio quality and all ID3 tags will remain intact. The conversion speed is up to 30X so you can get original Audible files quickly. You can listen to Audible audiobooks anywhere, or share them with anyone.
DRmare Audio Converter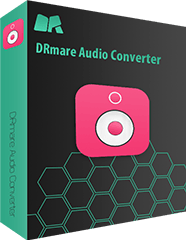 Convert Audible to MP3, AAC, M4A, M4B, WAV, and FLAC
Keep 100% original sound quality and all the ID3 tags
Unprotect Audible books, Apple Music, etc. at 30 times faster
Gift Audible books to others without purchasing them again
Step 1. Click on the 'Download' button above to install the DRmare Audio Converter and then launch it. You can import the Audible books you want to gift by clicking on the 'add audio' button at the bottom right. You can also drag & drop files to the its main screen.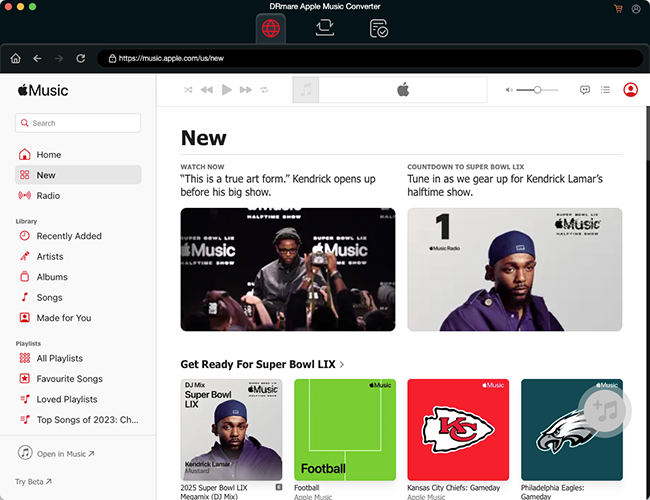 Step 2. Click the 'format' icon to change the output format, codec, channel, and more. Remember to click on the 'OK' button to save the changes. If you don't have such needs, simply skip this step.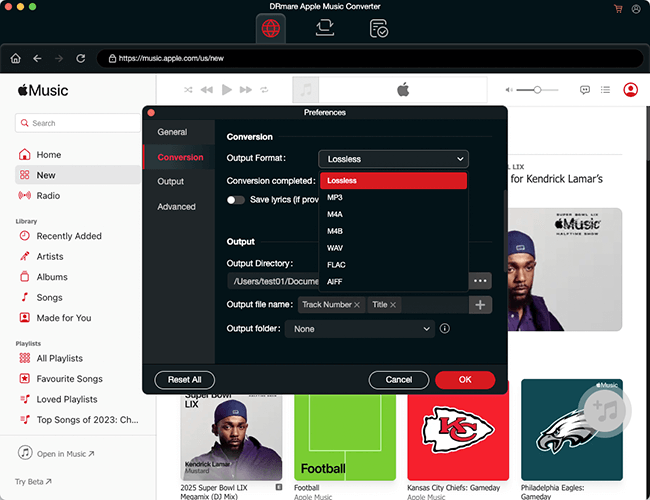 Step 3. Click 'Convert' to start converting your Audible books. After conversion, all your Audible books are plain, unprotected files that are free to use. You can send the converted audiobooks to others without limitation using any messaging platform. They can listen to these using any media player.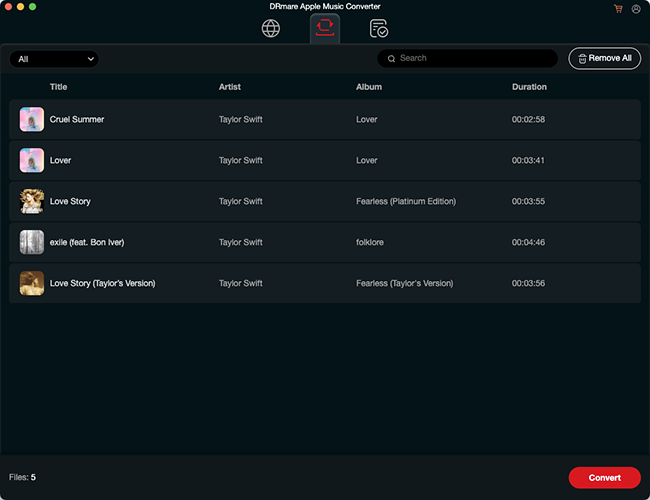 View also: Remove DRM from Audible Audiobooks
FAQs about Gifting Audible Books
Q1: Can I Gift a Book on Audible with Credits?
A: Yes. You can pay for a gift Audible book with your credits or with your credit card.
Q2: Can I Send Credits as a Gift?
A: No. You may not gift credits. But you can gift Audible books with credits. You can also gift Audible subscription and they will receive credit each month.
Q3: What Happens If I Gift an Audible Membership to an Existing Member?
A: No effect. The gifted membership will be automatically added to his or her existing account.
Q4: How Do You Gift an Audible Book You Already Own?
A: You can gift Audible books using the official methods shown in Part 1. Or you can use DRmare Audible Converter to convert Audible books to normal files and send to others. The difference is that the official way requires you to repurchase the book, while the DRmare software does not.
In Summary
Wondering how to gift Audible audiobooks? The above 4 methods can help you. Honestly, the best way is DRmare Audible Converter, which lets you gift Audible books without buying them again. It is also the best tool you can use to help you enjoy Audible audiobooks anytime anywhere.