"Can I share a Spotify playlist with someone who doesn't have Premium?"
Yes. Spotify's sharing feature is available to both free and premium users. Any user can easily share and receive playlists. You can share a variety of items in the Spotify app, including songs, albums, artists, playlists, and even your profile. You can share your music directly to social media platforms like Facebook, Instagram, and more. You can also share your playlist through messaging apps like WhatsApp, Messenger, etc. Overall, Spotify provides a convenient way to share and discover music with others, making it easy to spread the joy of music. Now read on and learn how to share Spotify playlists with Spotify users or non-users.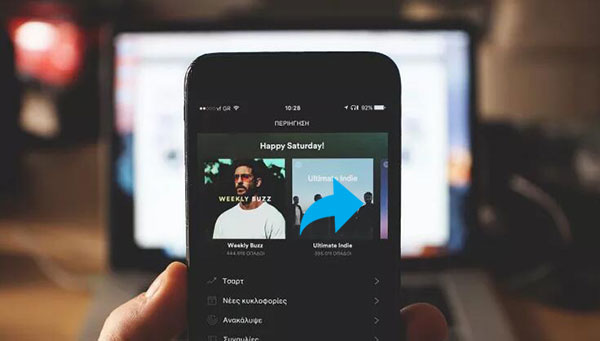 Part 1. How to Share a Playlist on Spotify with Spotify Users
You can share Spotify playlists directly to social media, or by copying and pasting the link or getting a Spotify code. The steps for sharing a playlist on your phone or computer are similar. Here are the steps for you.
Step 1. Launch Spotify on your device. Then sign in with the account name and password if you haven't done that yet.
Step 2. Check and find the playlist you want to share with others. You can choose the playlist from your own library or create a new playlist.
Step 3. Right click on the playlists and then choose the "Share" menu. Or you can click open the playlist and click on the "Three-Dots" icon.
Step 4. It will pop up the option to share via social media, copy playlist link, embed code, or Spotify URL. Just pick up the option you want and then follow the screen instruction to send it.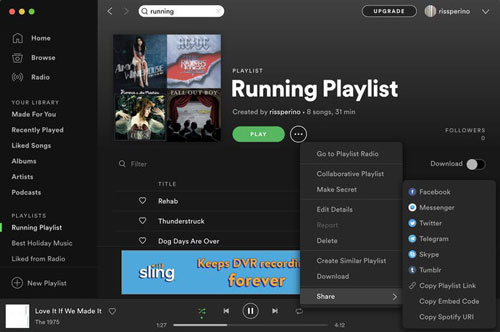 Now, let's learn more details of the sharing options on Spotify.
Option 1: To Social Media
When you choose the 'Share' menu, you can choose to share a Spotify playlist using social media. There are Facebook, Twitter, Skype, Tumblr, Messenger, and so on for you to choose. Each platform will open the target website with a pre-formatted text and a link to the playlist.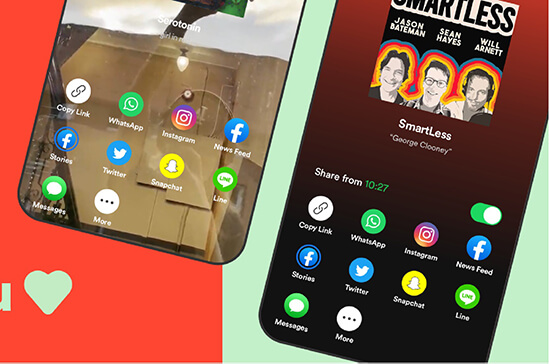 Option 2: By Spotify Links
From the 'Share' menu list, you can see three types of links you can share on Spotify.
Playlist Link: It is a common URL for your Spotify playlist. You can open the link on browser and you can see the playlist in Spotify Web Player. Or you can put the link to the search bar on Spotify desktop app and open it.
Embed Code: You can use this code to embed a widget of your Spotify playlist on a forum post. And you can alter the its size, color and so on of the widget if you edit the HTML.
Spotify URI: URI refers to Uniform Resource Identifier. It is a special link of your Spotify playlist. When others click on it, it will open the playlist in Spotify's desktop app.
Note: On Spotify Web Player, you can only copy a playlist link or an embed code when sharing.
Option 3: By a Spotify Code
View also: Share Spotify Music with Code
Spotify code is quite similar to a QR code for your Spotify playlist and other Spotify contents. Please choose the 'Spotify Code' from the 'Share' menu list. Then you can see an image with a code of your Spotify playlist's art. You can screenshot the code and save it on the desktop.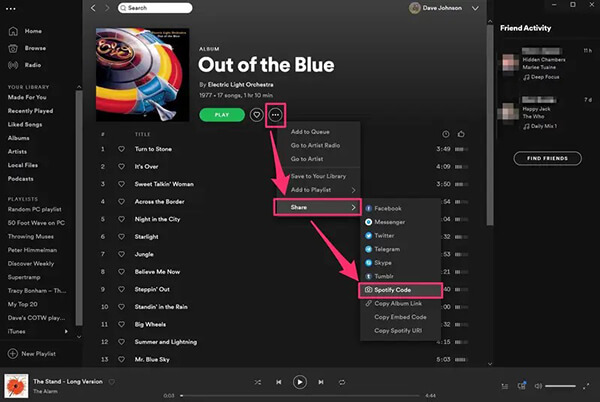 TIPS: Other Ways to Share Spotify Playlists
All playlists you create yourself will be marked private by default. If you want other Spotify users to view your playlists, you can right-click on the list and then click the "Make Public" option to make your music available to anyone. Your friends can then easily find your profile and see all your playlists.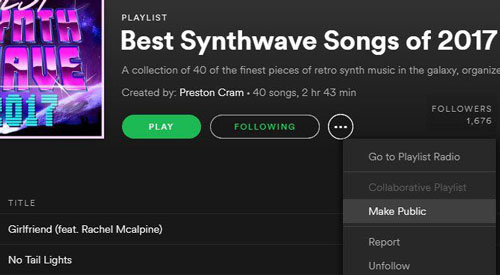 Spotify also has a Collaborate Playlist feature that lets you and your friends to add, remove, and listen to the same playlist. You can right-click on your playlist and click on the 'Collaborative Playlist' option to enable it and then authorize others to edit it.
Part 2. How to Share Spotify Playlist with Non User
The above methods of sharing Spotify playlists requires that the friends you share also need to have a Spotify account to view and listen to the songs. Can you share a Spotify playlist with someone who doesn't have Spotify?
Certainly. DRmare Spotify Music Converter is a great helper for unlimited sharing of Spotify playlists and songs. It lets you download Spotify playlists and convert them to MP3 or other popular audio files. The downloaded playlist is yours and saved to your local computer. So you can send them to anyone you want via any chat application or any application that can send audio files. The people you share with can listen to Spotify music files directly using a local music player. They do not need to install the Spotify app or create a Spotify account.
You can also keep the downloaded Spotify files if you wish or transfer them to a portable device for offline listening. And it can maintain 100% original quality and metadata, such as album cover, title, etc. With the DRmare program, you can share Spotify playlist with non user of Spotify and listen to Spotify playlists anywhere you want.
DRmare Spotify Music Converter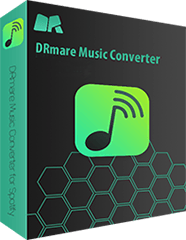 Losslessly download hundreds of Spotify tracks at a 5X faster speed
Download Spotify playlist to MP3, M4A, M4B, AAC, WAV, FLAC and so on
Keep 100% original sound quality and full ID3 tags
Share a Spotify playlist to anyone, play Spotify playlist anywhere
Anyway, you can try DRmare Spotify Music Converter for free on your Windows PC or Mac computer. Just click the "Download" button above to install. The software has a simple interface and optimized design. Anyone without technical knowledge can use it without any problem. Now, let's see how to share playlist on Spotify with someone who doesn't have the Spotify app.
Step 1

Add Spotify playlists

DRmare program is designed to extract Spotify songs without Spotify Premium. Go to the Spotify app to find the playlist you want to share with others. Then drag and drop it to the main screen of the DRmare software. Or you can right-click on the playlist and choose 'Share' > 'Copy Playlist Link' and then paste the link into DRmare's top box and click '+'.
Step 2

Choose an output format for sharing

MP3 is a most widely supported audio format. It can maintain the best sound quality while keeping the size as small as possible. Of course, other formats such as M4A, etc. are OK too. You may pick up the one according to your requirements and preferences. To do that, click on the 'Three-Lines' icon at the top right and choose 'Preferences' > 'Convert'.
Step 3

Download and share Spotify playlists

Finally, you need to click "Convert" button from the bottom right and wait some time for it to download the tracks. When it is done, you will see a red tip with numbers occuring in the 'History' list. Click on it and you can view all your downloaded songs. Or you can click on the 'Output Converted' folder to find them. You can then send the downloaded Spotify playlists to someone who doesn't have the Spotify app by using any messaging app. You can also copy Spotify to USB, burn Spotify to CD or move Spotify music to any device you want. These Spotify music files are yours to keep forever.
Part 3. FAQs about How to Share Playlists on Spotify
Q1: Can I Share a Spotify Playlist with Someone Who Doesn't Have Spotify?
A: Yes. You can share music on Spotify with people who don't have the Spotify app by copying the link to the playlist and sending it to them. They can then open the link in their web browser and listen to the playlist on the Spotify web player. Or you can use DRmare Spotify Music Converter to download Spotify playlists as local music files and send them to your friends. They can then listen to the Spotify music files with any music player.
Q2: Can You Share a Private Playlist on Spotify?
A: Yes. When you share a private playlist, the recipient will need to have a Spotify account and be logged in to access the playlist.
Q3: How to Share Spotify Account?
A: If you want to share a Premium subscription with family or friends, you can sign up for a Spotify Family plan, which allows up to six people to use the same subscription at a discounted rate. Each person will have their own individual account and personalized recommendations.
Conclusion
Now you know how to share Spotify playlists using Spotify app or DRmare Spotify Music Converter. If you are considering DRmare Spotify Converter, don't hesitate. It must be your best helper as it allows you to download Spotify music without Premium, share Spotify playlist with non users, play Spotify music on any device you want, etc.