"Can I share a Spotify playlist with someone who doesn't have Spotify?" For most Spotify users, you may want to share playlist Spotify with your friends. In Spotify, you can share Spotify song on social platform and so on. If you don't know how to share a Spotify playlist, then please don't worry.
Today, in this post, you can get all ways on how to share Spotify playlist with ease. Please check out the post below and see all the details.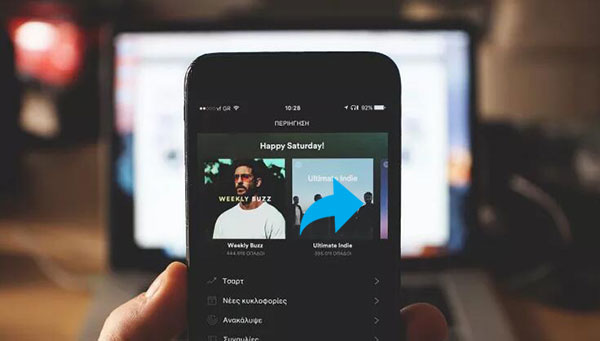 Part 1. How to Share Spotify Playlist on Desktop
Sharing music on Spotify is quite easy. Here we will move on how to share a playlist on Spotify on desktop. Here are the steps for you.
1. Share Spotify Playlist via Sharing Options on Spotify
Step 1. Launch Spotify from your computer. Then sign in with the account name and password if you haven't done that yet.
Step 2. Check and locate the playlist you want to share with others. You can pick up an album you want from the Spotify library or your own library. Also, you can structure a new playlist by right clicking on the sidebar under "Playlists" menu.
Step 3. Right click on the songs or playlists and then choose "Share" menu.
Step 4. It will pop up the option to share via social media. Or copy playlist link, embed code, Spotify URI to send via email, share online and so on. Just pick up the option you want and then follow the screen instruction to send it.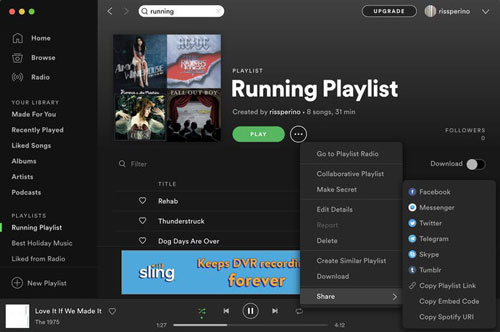 Now, let's learn more details of the sharing options on Spotify.
* How to Share Spotify Playlist to Social Media
When chose 'Share' menu, you can choose to share a Spotify playlist using social media. There are Facebook, Twitter, Skype, Tumblr and so on for you to choose. Each platform will open the target website with a pre-formatted text and a link to the playlist.
* Share a Spotify Playlist using Spotify Links
From the 'Share' menu list, you can see three types of links you can share on Spotify.
Playlist Link: It is a common URL for your Spotify playlist. You can open the link on browser and you can see the playlist in Spotify Web Player. Or you can put the link to the search bar on Spotify desktop app and open it.
Embed Code: You can use this code to embed a widget of your Spotify playlist on a forum post. And you can alter the its size, color and so on of the widget if you edit the HTML.
Spotify URI: URI refers to Uniform Resource Identifier. It is a special link of your Spotify playlist. When others click on it, it will open the playlist in Spotify's desktop app.
Note: On Spotify Web Player, you can only copy a playlist link or an embed code when sharing.
* Spotify Share Playlist via a Spotify Code
Spotify code is quite similar to a QR code for your Spotify playlist and other Spotify contents.
Please choose the 'Spotify Code' from the 'Share' menu list. Then you can see an image with a code of your Spotify playlist's art. You can screenshot the code and save it on the desktop.
2. Share Spotify Playlist by Making Playlist Public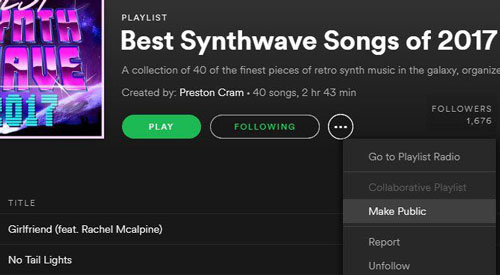 All the playlists created by yourself will be marked as private by default. If you just want your songs viewable by others besides your friends, you can right click on the list. Then click "Make Public" menu to make your music public to anyone.
Also, if you want others to add new songs to it, you can click "Collaborative Playlist" to authorize others to edit it.
Part 2. How to Share Spotify Playlist on Mobile
Similarly, you can share Spotify songs just like what you do on desktop computers. You can share a Spotify playlist via social media or a playlist link.
In addition, there is a better way to share with the Spotify code. This is a unique tag to mark every song, album and playlist. The instruction is same across the iOS and Android devices.
Step 1. Launch Spotify app on your phone and open the playlist you want.
Step 2. Tap the three-dot icon and find the code underneath the cover art.
Step 3. Tap the artwork and choose "SAVE TO PHOTOS", you can send it to your friend.
Step 4. Your friend who receive the code can simply click the search icon. Then tap the camera icon to scan the Spotify playlist code to listen to it.
Part 3. How to Share Spotify Playlist with Someone Who Doesn't have Spotify
The methods above need to have to have Spotify accounts and enjoy the songs online. It is not so convenient sometimes. Besides, not everyone is a subscription member of Spotify. Thus, can you share a Spotify playlist with someone who doesn't have Spotify?
Sure. There are free streaming recorders online or professional Spotify recorders to help you. But if you cares about the output quality, DRmare Spotify Music Converter is a nice choice.
Unlike the free tools, it can import hundreds of songs and remove DRM from the Spotify tracks. And it can keep 100% original quality and metadata such as album cover and so on. With the DRmare program, you can share Spotify playlist with non user of Spotify as well.
Best Tool to Share Spotify Playlist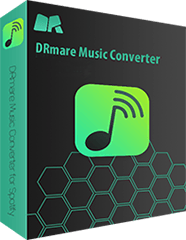 Break DRM scheme from all kinds of Spotify music within clicks
Losslessly download and convert hundreds of Spotify tracks at a 5X faster speed
Download Spotify playlist to MP3, M4A, M4B, AAC, WAV, FLAC and so on
Tidy your Spotify music library, archive the songs by artist or album
Anyway, you can try it out for free either on Windows PC or Mac computers. The software comes with clean interface with optimized design. Anyone who have no technical knowledge will be able to use it without problems.
Now, let's see how can you share a Spotify playlist with someone not on Spotify via DRmare program.
Step 1

Add Spotify tracks

DRmare program is designed to extract Spotify songs online. All you need to do is to let the software know what files you want to convert. You can either copy the link of the songs. Or simply drag the playlists, artists to the main screen of the software.
Step 2

Choose an output format for sharing

MP3 is a most widely supported audio format. It can maintain the best sound quality while keeping the size as small as possible. Of course, other formats such as M4A, etc. are OK too. You may pick up the one according to your requirements and preferences.
Step 3

Download Spotify songs offline

Finally, you need to click "Convert" button from the bottom right and wait some time for it to process the tracks. When it is done, you have more options to share your Spotify songs with friends and others. You can copy Spotify to USB, burn Spotify to CD or attach the converted MP3 files by email.
Conclusion
In this post, you got the ways on how to share Spotify playlist on desktop and mobile. Also, you learned how to share Spotify playlist with someone who doesn't have Spotify.
If all of your friends are users of Spotify music, the ways in Part 1 and Part 2 will be good. You won't have problem to share a Spotify playlist with them.
But how can you share a Spotify playlist with someone who doesn't have Spotify? Then you need to use the DRmare Music Converter to download Spotify music offline. Then you can see how to share a playlist on Spotify with a friend or others freely. Besides, you can use Spotify on multiple devices offline with ease.