Computers play a very important role in our everyday lives. Right from school to the work-place, you cannot miss a computer on a desk. That best said some people have even replaced their TVs with computers. Even though computers are better known for work, most people use them to watch the news, read Ebooks, study and to listen to music among other duties. It is at those moments when you suddenly feel exhausted amidst such activities that you may need a great audiobook player. Listening to audiobooks will leave you refreshed and packed with lots of energy. Feel free to peruse through our list for your perfect match.
View also: Top 5 Best Audible Audiobook Converters
#1. Trout
Trout is actually an audiobook player for Mac that is quite simple to use. Its capacity is manageable, letting you save some good space on your PC. This app has advanced features that you can use for various functions. You can sync your audiobooks with any of your accounts, import CDs and even transfer your files to another storage device. Furthermore, it is compatible with almost all formats like OGG, WAV, MP3, among others.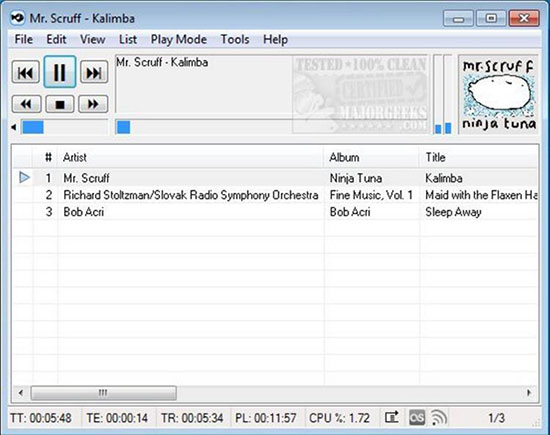 Pros:
* It enables you to sync with your account.
* It is easy to use.
* This app also supports various file formats.
Cons:
* It does not support equalizer.
#2. MusicBee
This audiobook player can be used to play MP3, WMA, and WAV files among other file formats. It enables you to search for titles or artists by using filters. Besides, the presence of its audiobook player button enables you to play audiobook files, create playlists and even add them to your library. What makes this player quite convenient is the fact that you can pause, rewind, view equalizer and also stop whenever you need to. With its lockdown option, you are sure that your pieces of stuff are safe no matter who may have access to your computer as a password will definitely be needed for any activity.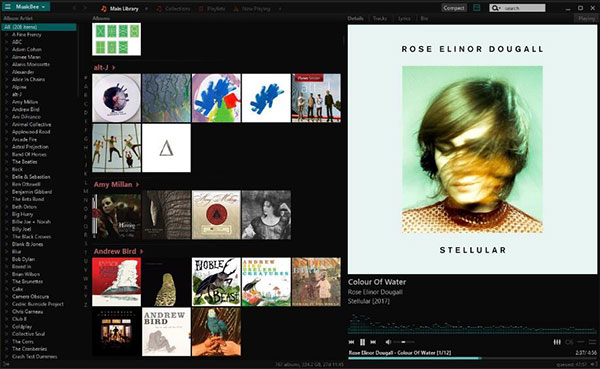 Pros:
* It enables you to view equalizer, forward and rewind, among others.
* It has filters that you can use to search filename and artists.
* It also doubles up as a music player.
Cons:
* Its scan speed lowers with increased audiobook quantity.
#3. Angel's Vox
It is purposely for audiobook player Windows, supporting numerous file formats like MPEG-4, MP3, OGG, among other formats. This player comes with quite a nice user interface that anyone can comfortably use. Besides, it has a tutorial that enables you to learn various foreign languages in such a simple manner. You can use it to speed up playback and make use of its sleep timer feature as well. Better still, use it to export and import any of your playlists and transfer them for further usage.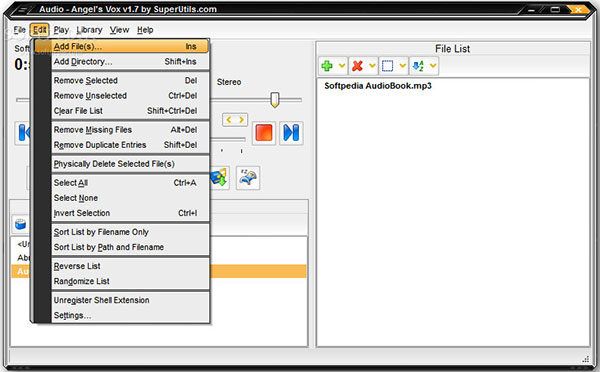 Pros:
* You can use it to learn foreign languages.
* It is easy to use.
* It encompasses a sleep timer feature.
Cons:
* It doesn't support so many operating systems.
#4. WorkAudioBook Player
This player is ideal for those willing to learn foreign languages. Its many features also make work easy for any user. You can use it to split audio files into phrases, pause between those phrases, split folders and much more. Besides, use it to edit your subtitles as well as auto-save your work. Among other features that give this best audiobook player tons of credit is the ability to bookmark your files and play the bookmarked files. Nonetheless, it does not support many file formats as the other players.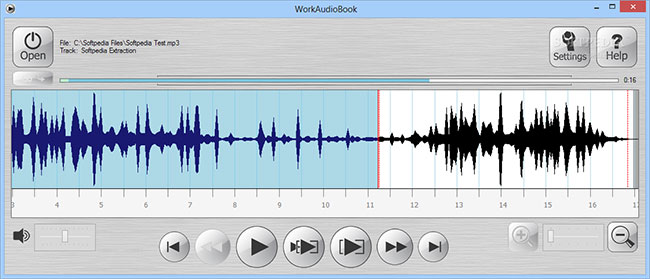 Pros:
* You can use it for various functionalities like auto-save and splitting audio files.
* It enables you to learn other languages.
* You can pause and resume your audiobook play at any time.
Cons:
* It does not support many audio formats.
#5. Free Audio Reader
What makes it loved by many users is that it is simple and lightweight. Furthermore, you don't need any installation in order to use this player. Once you click on the file button, you will be able to select your audiobooks from your computer. You can then pick them from the playlist column, specifying the track number, title and so forth. Free Audio Reader also has the capacity to bookmark your audiobooks, giving you an easy time when you need to continue with your list. It supports various file formats like WAV, FFS, TXT, WMA, and MP3 among others. Its only drawback is that your playlist will vanish the moment you close the program hence you have to add them each time you run this player.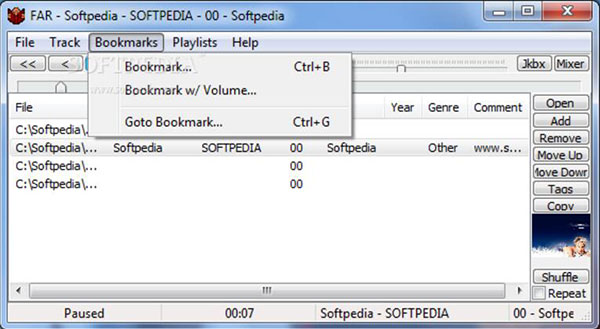 Pros:
* It is lightweight.
* There is no installation that is needed.
* It enables bookmarking of your audiobooks.
Cons:
* Your playlist is bound to disappear each time you close the program.
View also: Top 5 Free Streaming Audio Recorders
#6. MP3 Book Helper
As its name suggests, this MP3 audiobook player will help you carry out lots of activities. In fact, you can use its FreeDB database from the web to gather information about artists and audiobook narrators. It is ideally suitable for computers because besides using it to organize your audiobooks, it also lets you export and import tags. Other functionalities like previous, stop and pause are made possible with this audiobook player. If you feel the need to generate playlists, then this player got you covered.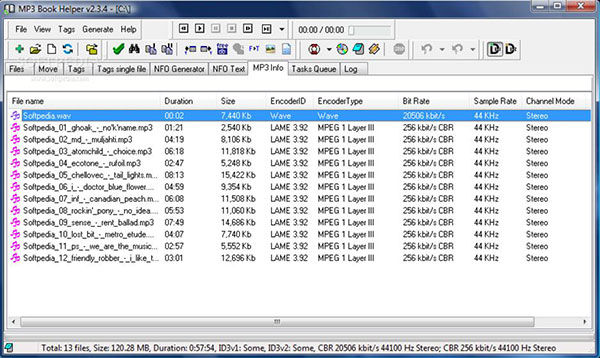 Pros:
* It enables you to import tags from other file formats like CSV.
* It gives you the option to generate playlists.
* You can also use it to edit file tags and swap fields.
Cons:
* It doesn't support other operating systems like Android and iOS.
Conclusion
There are so many functionalities that you can achieve with these audiobook players. From creating your own playlist to bookmarking and even editing of tags, best audiobook players are out there to walk you every path. The bottom line is that they will make work easier for you and enable you to enjoy every bit of your audiobook player session.