Q: How to play Audible in the car? With 1 hour+ total commute every day, I realize listening to audiobooks is a fantastic use of that time. My car is a real old ford expedition and it does not have Bluetooth or an audio jack (I think), so what is the best cheap option for this? Portable speaker?
Many listeners may face the same situation as this Audible user. Audible itself has offered a few methods to help listening to audiobooks in the car get easier and better. After comparing to different methods, here in this article, we generate the top 5 ways to listen to Audible in the car for you. Keep on reading to find out the method that works best for you.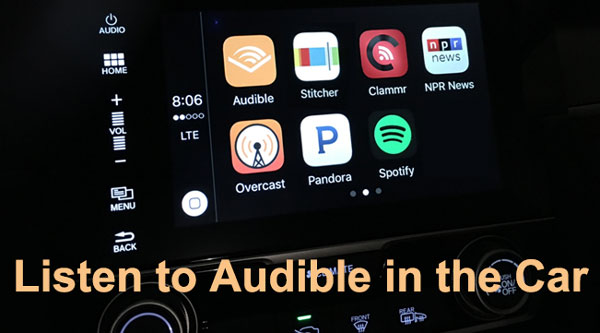 Method 1. Play Audible in the Car via Apple CarPlay/Android Auto
If you have a newer car that comes with an in-dash system, it might come with Apple CarPlay or Android Auto. With this technology, you can control your listening directly from the dashboard. If your car works with Apple CarPlay or Android Auto, we will give a step-by-step tutorial on each to show you how to listen to Audible in the car.
Also, please make sure you have the available mobile devices. Your iPhone needs to be iPhone 5 or later models with iOS 7.1 or above to support Apple CarPlay, and only Android device running Android 5.0 or above version is compatible with Android Auto.
Apple CarPlay
Step 1. Plug your iPhone into the USB port of your vehicle. (Some cars support CarPlay via Bluetooth).
Step 2. If the CarPlay Home screen does not appear, select the CarPlay logo on the display.
Step 3. Tap the Audible app or swipe right to find it.
Step 4. Tap "My Library" and select a title from the 'My Library' to play.
Step 5. The title will begin to play and the player screen will be displayed.
Android Auto
Step 1. Launch the Audible app on your Android phone.
Step 2. Connect your phone via USB to your Android Auto-compatible stereo.
Step 3. If Audible is already playing on your phone, it will continue to play through your car stereo. If not, launch the Audible app on your display and select an audiobook from your library.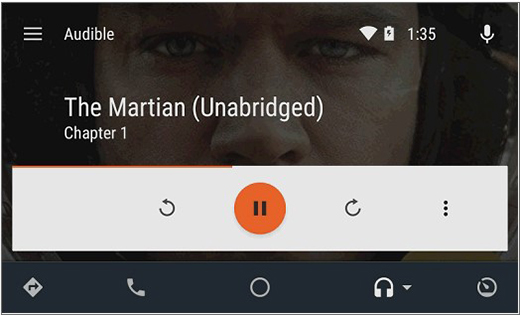 Car Mode
If your car does not support either Apple CarPlay or Android Auto, don't worry. You can connect your mobile phone to the car via Car Mode. Select your audiobook and tap the car icon. Then you can play, pause, or bookmark your audiobook on your phone while listening in the car.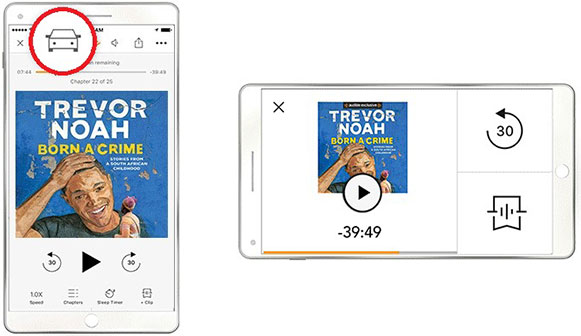 Method 2. Stream Audible to Your Car through Bluetooth
Most of the car system is available for Bluetooth functionality, likewise, mobile devices. Pair your car with iPhone via Bluetooth and then you can easily stream Audible books from your phone to car for playback.

Step 1. Go to your Settings on your phone and turn on Bluetooth, make your phone "discoverable".
Step 2. In your car, turn on Bluetooth. Your car will detect your phone and select to connect.
Step 3. Cars send across a code that you need to verify on the phone to pair your phone with the car.
Step 4. When connected, open the Audible app on your phone and start playing an audiobook.
Method 3. Use Audible in the Car via FM Transmitter
An FM transmitter can turn your music device into a mini radio station. They plug into your device's charging port or headphone socket and then transmit the audio being played across a chosen FM radiofrequency. You can find an FM Transmitter on Amazon.
However, some users complained that audio quality can be spotty as you move around. Besides, the longer the drive, the more difficult it may become, as stations coming in and out on various frequencies.
Step 1. Plug the FM transmitter into the music device within the car. This connection is generally possible through Bluetooth or via a USB cable.
Step 2. Choose a radio frequency on the transmitter transmit your audio across (choose a frequency that isn't occupied by a local radio station).
Step 3. Tune your radio to the same frequency and turn the volume up.
Step 4. Open the Audible app on your phone and play your audiobook or Channel to listen to Audible on that FM frequency.
Method 4. Listen to Audible in the Car via USB
USB Cable
Some cars come equipped with the ability to connect your device to your stereo through a USB Cable. If your car has a USB port built-in, you can plug your device into it to play whatever is on your phone or device.
Step 1. Plug your phone in the USB port of your car to connect.
Step 2. Then, select the USB option in your car's entertainment system.
Step 3. When you're connected, navigate to Audible from the root folder and play the audiobook you want.
USB Drive
Download Audible audiobooks to USB is considered to be the most stable way, and you can play Audible in the car offline without using cellular data at all. You won't be interrupted when you have driven to someplace with a poor Internet connection or no signal at all. You might already know that the Audible books you download to your computer are encoded in AA/AAX formats, which can be played within the Audible app only.
To transfer Audible books to a USB drive, you will need the help of the DRmare Audible Converter, which is a professional tool designed to convert Audible audiobooks into other common audio files including MP3, FLAC, AAC, WAV, M4A, and M4B. After you finish the conversion, you can later transfer the Audible books to USB. With a simple plug, you will be able to start to enjoy Audible books in your car.
Method 5. Burn Audible to CD to Play in the Car
Though CDs are not as popular as before, many old car models still have a CD player. This can be very satisfying to some CD lovers because CD provides good audio quality. You can burn Audible audiobooks to CD via iTunes or with the DRmare Audible Converter we mentioned in Method 4.

Step 1. Import Audible files to iTunes. The Audible books should have been already in your iTunes. If not, you can find your downloaded Audible books from the Audible Download Manager and then import them to iTunes by clicking the 'File' menu > 'Add File to Library'.
Step 2. Create a playlist for Audible books. Right-click on the Audible books you want and choose 'Add to Playlist' > 'New Playlist' to generate a playlist.
Step 3. Burn the Audible playlist to a CD. Put a new CD into your computer and then right-click on the playlist and choose 'Burn Playlist to Disc'.
If you finish converting Audible books on your computer, Windows Media Player also supports to burn a playlist to CD or you can resort to some free CD burning tools on the market.
Final Thoughts: There are also other alternative ways to help you get audible in the car, such as connecting your device to the car via Auxiliary Cable. We haven't covered all in this post, considering some are not a popular or user-friendly option. Out of the top 5 ways we introduced on how to listen to Audible in the car, which one is the most satisfying for you? Comment below!
Lastly but most importantly, SAFETY COMES FIRST. Please always connect your device and start playing Audible before driving. Other than listening, avoid using your device while driving, and never let it distract you from driving.