In today's digital world iTunes is considered the biggest online digital media stores as it offers a huge amount of audiobooks from across all genres including most popular romance, mystery, fiction, and non-fiction plus many more. However, at times you would find it difficult to choose one that suits you from the list of the huge selection. That's why we have narrowed down our list to the top 10 best audiobooks on iTunes to avoid confusion. To listen to your favorite iTunes audiobooks you will have to install Apple's iTunes in your PC, iPad, iPhone or tablet with iOS as this will allow you download any of the most popular audiobooks on iTunes.
View also: Top 10 Best Audiobooks for Sleep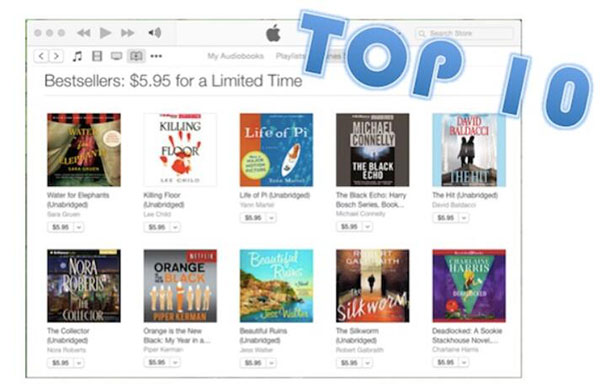 No. 1. Water for Elephant - Fiction

This is the most popular historical best iTunes audiobook written by Sara Gruen. The novel talks about a 93-year-old man identified as Jacob Jankowski living in a nursing home. With a series of memories, Jacob reflects back on his life full of depression, where he encountered freaks, felons as well as misfits that make this world. The author also introduces the equestrian act star called Mariena, and Rossie, an untrainable elephant. Water for elephant novel is beautifully written with a luminous sense of place and time where everything involves love and luxury.
No. 2. Killing floor - Mystery

This is another bestselling audiobook written by Lee Child. It was first published in 1997 by Putnam. King floor book boast of bagging the Anthony Award and Barry Award as the first book and novel to feature the character Jack Reacher. The novel narrates the story of Jack Reacher who is arrested for murder in a local diner. It is later revealed in the story that Mr. Reacher and his new friends had a plan to destroy Margrave, a home to multibillion-dollar fake operation.
No. 3. Life of pi - Fiction

The book became among the top audiobooks after it was adapted into theatric feature film seven years ago, a film directed by Ang Lee. This Canadian fantasy book was written by Yann Martel, published in 2001. In the novel, an Indian boy known as Piscine Molitor 'Pi' Patel hailing from Pondicherry explores spiritual and practical life at a tender age. The author notes that the minor survives in a lifeboat for 227 days in the Pacific Ocean after a shipwreck. In short, the adventurous life and survival tactics of Pi automatically makes someone believe in God.
No. 4. The black echo - Mystery

The American crime author Michel Connelly's 'Black Echo' is considered a 1992 debut novel. This book was in 1992 crowned the Mystery Writer of America Edgar Award. The novel story is centered on a Vietnam star Harry Bosch who worked as a tunnel rat during the war before he became an L.A police officer and turned into the robbery-homicide division. In the novel, Billy Meadow's demise draws Bosch's attention since they were best buddies and fellow tunnel rat from the war. The Vietnam star realizes that his friend's death might have come as a result of a spectacular bank robbery where a subterranean tunnel was used. Bosch chooses to team up with the FBI to stop the next attack.
No. 5. The Hit - Mystery

This is a thriller book written by the bestselling audiobooks authors in America David Baldacci. The Hit is the most popular novel read worldwide. The novel features top skilled United States assassin Will Robbie for the second time after appearing in Baldacci's piece (The Innocent) in 2012. It was first published on April 23, 2013 by Grand Central Publishing. The author's top-notch skills in storytelling make you love the piece and read it to the end.
No. 6. Wishful drinking -Arts and Entertainment

The novel is an autobiography written by an American actress who doubles up as author Carrie Fisher. It was published in 2008 by Simon and Schuster. The storytelling is about an author's one-woman stage show, which she built with Joshua Ravetch, a director and writer. In the book, Fisher spends much of her time fighting addiction and depression. She plays the role of a single mother, having her step-mother Elizabeth Taylor and her husband who abandons her for another man. The mystery tale is where she wakes up in the morning and finds a friend lying lifeless beside her in bed.
No. 7. The collector - Romance

This is the leading New York Times best audiobooks on iTunes written by Nora Roberts. This romantic novel's story is centered around a woman who needs nothing but with a man who is able to see anything, the web of deception, greed, and danger that finally brings them together which could break their relationship. The author introduces a professional babysitter and freelance writer Lila Emerson whose life does not depend on one job. In where she lives her life takes a dramatic turn after witnessing a possible murder. She then decides to assist Ash to conduct an investigation that will see them find the killers of Ash brother and for what reasons. But their investigations lead them to a complex circle all over sudden.
No. 8. Orange is the new black – Memoir

Written in 2010 by Piper Kerman the memoir tells about the story of the author's life how she ended up in women's prison after becoming a victim of money laundering and drug trafficking. In prison, she meets different women who are generous, accommodative and seem wise. The novel provides an unusual look into women's lives in jail. The nature of activities they engage in while in jail. This memoir novel stands tall as the best iTunes audiobook currently because it is the basis of Netflix television series.
No. 9. Beautiful ruins – Fiction

Written by Jesse Walter, Beautiful Ruins is a social fictional book critiquing Hollywood culture. Since its publication in 2012, this novel has never lost its glory as among the top audiobooks globally. Walter's cutting-edge writing style showcase in the novel as it constantly remains fascinating and engaging. It also tells about some people who navigate rocky shores of their lives as they cling to their dubious dream. This is Walter's sixth novel.
No. 10. The silkworm – Mystery

This is the last best audiobooks on iTunes. It was written by J.K.Rowling in 2014 but was published under a pseudonym Robert Galbraith. The silkworm is a crime fiction novel being the second book in the Cormoran Strike. According to the author, it takes a unique mind to disentangle a unique crime. He talks about a detective strike who is asked to find a writer Owen Quine who is missing. In his investigation, he finds Quine already written a whole manuscript featuring pen portraits of every individual knowing each and everyone that would destroy lives of many individuals. But, with several twists in the story novelist Quine is found dead under an unclear circumstance. His murder leaves Cormoran Strike and his deputy Robin Ellacott with no option but to find the heartless killers.
More Tips: Audible vs iTunes Audiobooks
Do you find any audiobook you are interested from this list? If so, you can buy them from iTunes store directly or from Audible which is the largest audiobook platform.
The main difference between Audible and iTunes audiobooks is that you don't need to subscribe to any subscription but also buy any audiobooks at a relatively low price in iTunes. If you are a new user, it is advisable to start from iTunes audiobooks. Else if you are a big fan of audiobooks already, you should definitely switch to Audible which can offer you much more priviledges with the Audible membership.
At last, I want to point out that no matter where you buy the books, they are combined with DRM protection. In order to copy audiobooks anywhere, you'd better use the DRM Audiobook Converter for Windows/Mac to help you remove DRM quickly. Just click the "Download" button to try it out for free.