Do you know Billie Eilish? She is a young American singer-songwriter who is only 17 years old. Her debut studio album "When We All Fall Asleep, Where Do We Go?" was released on March 29, 2019 and positioned at No.1 on the Billboard 200 chart, making Billie Eilish the first artist born in the 2000s to hit No.1.
Also, songs from the album rule the entire Top 5 of the daily US Spotify chart. "bad guy" leads the list with 2.931 million streams. "wish you were gay" follows at second with 2.039, "all the good girls go to hell" with 1.818 million, "Xanny" with 1.794 million and "bury a friend" with 1.719 million.
To learn more about Billie Eilish and download her best songs from Spotify, you can check the following page.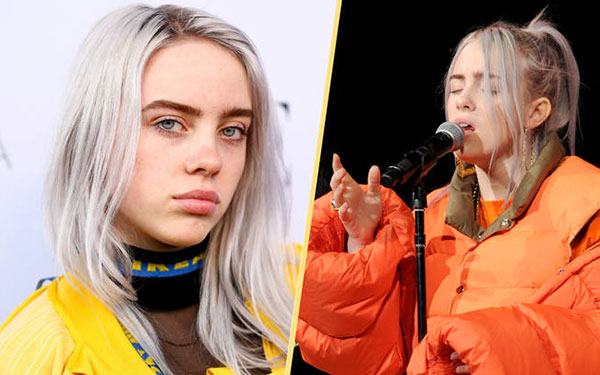 Part 1. Music Career of Billie Eilish
Eilish has mainly Irish and Scottish ancestry and was raised in Log Angeles by a family of actors and musicians. She begin to write and sing her own songs at 11. In 2016, released her first single "Ocean Eyes" on SoundCloud which went viral quickly.
Don't Smile at Me EP
On July 11, 2017, Billie Eilish announced her debut EP "Don't Smile at Me". Every week on Friday during July, Eilish added a new single to the EP and it was finally released on August 11, 2017.
As the title warns "Don't smile at me", it is a powerful declaration from the mouth of a young girl who knows who she is. This EP shows the confidence and boldness of Billie Eilish and has propelled Eilish to be the next big thing in popular music.
When We All Fall Asleep, Where Do We Go Ablum
In April 2018, Eilish collaborated with American singer Khalid for the single Lovely. Later, she released the singles "Bitches Broken Hearts", "You Should See Me in a Crown" and "When the Party's Over". The debut album "When We All Fall Asleep, Where Do We Go" was finally released on March 29, 2019.
This album is recorded with the help of her older brother Finneas in their family home. Eilish's sound is hyper-modern, classic and the lyrics are beautiful. It is a great album sounds like no one else.
Part 2. Best Billie Eilish Songs & Lyrics
Eilish is becoming more and more popular. This is not only because she pours her heart into the lyrics but also because her songs are poetic.
Best Billie Eilish Lyrics
"If I love you was a promise, would you break it if you're honest?" - from "I don't wanna be you anymore"
"Call me friend, but keep me close." - from "When the Party's Over"
"You got your finger on the trigger, but your trigger finger's mine" - from "Copycat"
"I just wanna make you feel okay, but all you do is ok the other way." - from "wish you were gay".
"If we were meant to be we would have been by now." - from "Watch"
"Stitches into all your bitches broken hearts." - from Bitches Broken Hearts"
Top 5 Best Billie Eilish Songs
Bad Guy - This is a playful, bass-heavy song from which we can see Eilish taunting her lover. It is at 7 on Billboard 100 list.
Bury A Friend - one of the latest singles from the Eilish. In this song, Eilish offers details on her rapidly ascending career and how it harms the relationships. This song is currently at 25 on billboard 100 list.
Lovely - This is a song cooperated by Billie Eilish and Khalid. The song is sort of really freaking depressing. Listening to this song seems like witnessing a relationship dissolving in real time.
Ocean Eyes - When Eilish releases this single, she was only 15. From this song, she show the wisdom of someone who maybe twice of her age. It was uploaded to SoundCloud and generated over a million plays.
Bellyache - It is a song recorded by Eilish in early stages of her career about handing with her friends.
Part 3. How to Listen to and Download Billie Eilish Playlists
Billie Eilish music are available on YouTube, Spotify, SoundCloud, Apple Music, Amazon music. Among them, Apple Music and Amazon Music don't offer free tier service, but you can sign up the 3-month or 30 days free trial surely. For other streaming service, you can listen to the songs you want with free account.
If you'd enjoy streaming music from Spotify, there is a bonus tip for you here. You can get the Spotify music offline without subscribing to the premium subscription. What you need is a Spotify Album Downloader for Mac. This software provides a one-stop solution to import songs from Spotify, change the output format and export to new MP3 files. You can try it out to download Billie Eilish new album and playlist directly by clicking the "Download" button. For more great tools, you can also take a look at the DRM removal software website.