Spotify is the undisputed giant in music streaming industry, which offers two tiers: Spotify Free and Spotify Premium ($9.99 per month). Generally speaking, Spotify's free and paying users both have the ability to access to the same music library of 'over 40 million songs'. But what are the differences between two Spotify plans and should you upgrade to Premium for listening to music from Spotify? Let's find out.
See Also: Spotify vs Apple Music: Which Is the Best Music Streaming Service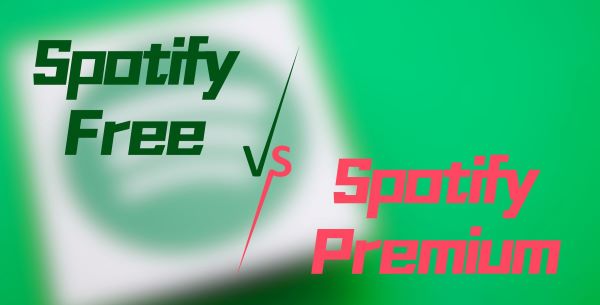 Part 1. Price Affordability: How Music You Should Pay for Different Plans
As the name suggests, Spotify Free means that users can listen to songs, playlists or albums at no cost. In order to start using Spotify, you need to sing up a Spotify account with your email or you can log in with FaceBook. Anyone can use Spotify app on Windows, Mac, and Apple or Android devices along with a web player available for all platforms.
There are three different ways to subscribe Spotify Premium. The common way is to get an individual plan for $9.99 per month or a $99 per year option with a $20 discount. If you have family members who also love to enjoy Spotify streaming music, you can get the family premium plan allowing six users' participation for 14.99 per month. Besides, if you are a student (with proof), don't miss the wonderful Spotify Student, you can get the Premium for $4.99/month. And if you are a PlayStation gamer, the good news is you can get Spotify's two months for $2 deal, which is only available for users of Spotify on PS4 or PS3.
If you think it's acceptable to play Spotify music with a free account, there is no need to update your plan. Otherwise, you can choose the right Spotify plan according to your special situation. By the way, there is a 30-day free tiral of Premium that you can see whether the Premium subscription is suitable for you. Once the expiry date comes, Spotify will cancel the subscription automatically.
View also: Tricks to Get Spotify Premium for Free
Part 2. Audio Quality: What Kind of Spotify Track You Are Listening
Spotify applied OGG Vorbis format in all Spotify tracks and there are three different quality settings for streaming Spotify music. In general, Spotify free users can listen to 160kbps on desktop and standard quality on web player and select Normal quality for 96kbps and High quality for 160kbps on mobile devices. When you pay subscription fee for Premium, you can enjoy 320kbps on desktop and Extreme quality for 320kbps on mobile. If you would like to experience high quality audio, you might wish your subscribed the Spotify Premium.
Part 3. Listening Experience on Different Devices with Spotify Free and Premium
No matter you are using a free or premium account, you can easily listen to music tracks from Spotify on your Mac or Windows computer, Android or Apple smartphone, paired devices, Xbox, PS3 or PS4, smart TVs or in the car equipped with Android Auto or Apple CarPlay. But there are some differences from listening experience as below.
Regardless of what platform you are using, free Spotify users are not able to download music for offline listening and need to tolerate the interference of adverts when enjoying any content from Spotify. On Mac or Windows computer, you will feel less limitations using Spotify Free, since you can freely choose favorite artists, playlists, albums or songs and use social features. But things will be different when you are using Spotify app on mobile devices. You will have got less control o your tunes. Using an iPhone or Android phone, you are restricted to play any Spotify tracks in Shuffle Mode. Put it another, you can't choose a specific audio track to play. Plus, you are also limited to skipping six songs per hour.
With the purpose of getting rid of these restrictions, upgrading to right Premium plan seems a great choice. With subscribing Spotify Premium, you can listen to ad-free any song, playlist or album with no limit. Premium can break all limits on mobile devices, like Shuffle Mode. That means you can play any music at any time on your mobile device in the same way that you enjoy Spotify tracks on desktop. Of course, the huge benefit of Premium is that you have the ability of downloading Spotify music to up to three different devices for offline playback. What's more, the exclusive feature restricted to Spotify Premium is Spotify Connect that allows you to control Spotify songs across different devices.
View also: Spotify Free vs Spotify Premium
Top 4. Spotify Free vs Spotify Premium: Should You Update to Premium or Keep Free
Before we make a final conclusion, let's have a glance at the table including the differences between Free and Premium service on Spotify.
| | | |
| --- | --- | --- |
| | Spotify Free | Spotify Premium |
| Monthly | Free | $9.99 (or $4.99 for students or $14.99 for a 6-account family deal) |
| Annual Price | Free | $99 |
| Music Library | Over 40 million songs | Over 40 million songs plus newly issued songs |
| Avaliability | PCs, smartphones, connected devices, smart TVs, PS3 & PS4, Android Auto, Apple Carplay | PCs, smartphones, connected devices, smart TVs, PS3 & PS4, Android Auto, Apple Carplay |
| Special Features | Mobile streaming | Ad-free and Offline listening; Unlimited skips; Mobile streaming |
| Audio Quality | 96kbps and 160kbps | 96kbps, 160kbps and 320kbps |
Our verdict is that if you have experienced Spotify Free and think you don't mind letting Spotify take control of music playback and you can accept the music quality and listening experience, Spotify Free could still be the smart option for you. In fact, the biggest advertisement of using free account is that you can only listen to Spotfiy music online. To make the Spotify experience more enjoyable, there is an effective workaround to help you download songs from Spotify. Please visit the following source page: How to Download Spotify Music with Free Account.
However, if you are a music lover who has high quality requirements for music, and would like to take a full control of playlist and album and get rid of ads, Spotify Premium is a wonderful investment for you to getting good listening experience. If you think the price is a little experience, you can use DRmare Music Converter for Spotify to download and convert Spotify DRM songs to common MP3, WAV, FLAC, AAC, M4A, M4B formats, and then you can keep Spotify Premium for free forever.