Spotify to MP3 converter is powerful online website or software, which allows users to do Spotify music format conversion, including converting Spotify to MP3 . And then, all converted offline Spotify tracks can be recognized and played on any devices that even don't support the Spotify app.
As a big and popular music streaming service, Spotify allows free user to enjoy Spotify music online with ads and premium users to download ad-free Spotify music and playlists for offline listening. But all Spotify songs can only be readable and playable through the Spotify app on selected platforms and devices. Therefore, a Spotify MP3 converter can break this limitation and have full control over Spotify music playback. In this post, we will list the top 10 best free Spotify to MP3 converters online for your reference. No matter which device you use, you can find a professional program to work with it.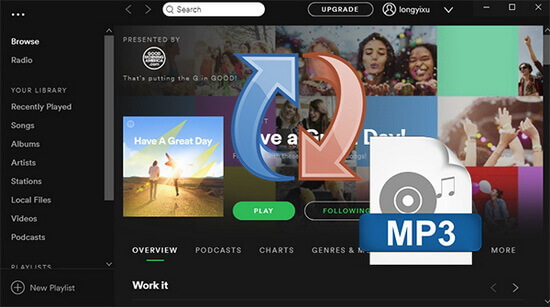 Part 1. Why Do You Need a Spotify to MP3 Converter Online
With the help of an excellent and reliable Spotify converter, there are some benefits you can get below:
✔️Offline Listening: Only Spotify Premium subscribers can listen to Spotify songs offline via the Spotify app. But now, no matter which accounts you have, you can access Spotify content without the need for an internet connection.
✔️Unlimited Devices: There is no limited number of playing Spotify songs at the same time. And converted Spotify tracks are now compatible with various devices, including MP3 players, USB flash drives, SD cards, car audio systems, and more.
✔️Use Freely: You can import converted Spotify MP3 songs to any personal projects for use, such as DJ apps, video editing apps, etc. for the remix.
✔️Keep Forever: Once your subscription expired, you will lose access to offline Spotify content. But now, you can keep Spotify songs on your local devices for forever backup.
Part 2. What Factors Should You Consider When Choosing a Spotify MP3 Converter
Before choosing the best Spotify to MP3 converter, we need to know how to choose it. In fact, you can evaluate them from sound quality, audio format, conversion speed, ease of use, and costs. Below you can check the details.
✅Output Audio Quality
The higher the output quality, the better listening experience you will get. A good converter, like DRmare Spotify Music Converter can not only maintain the lossless sound quality of 320 kbps Spotify songs with ID3 tags preserved but also adjust the audio parameters.
✅Output Audio Format
The more output formats supported, the more devices Spotify can play. Almost all programs can support MP3, which has the high compatibility. A converter is more highly recommended if it can support more output audio formats.
✅Conversion Speed
The faster the conversion speed, the less time you will spend in converting Spotify albums and playlists to MP3. To save lots of your time, you need to look for a music converter with higher conversion speed and supporting batch conversion.
✅User-friendly Interface and Ease of Use.
The user interface is a paramount factor that greatly influences the overall user experience. So an intuitive and friendly main interface can help users convert Spotify songs to MP3 with ease.
✅Costs
The last aspect is the price of the tool. If you can't afford the fee, you can choose the free tools. But please keep in mind that the output quality is lossy.
Part 3. Comparison Table of Best Free Spotify to MP3 Converter Online
Before learning more about the key features of each online Spotify to MP3 converter, you can have a quick glance at the comparison table. It will help you find the most suitable Spotify MP3 converter.
Easy to Operate
Supported
Input
Supported
Output Format
Conversion Speed
High Quality
Batch Conversion
No Ads
Price
Ratings
DRmare Spotify Converter
✔
Spotify songs, podcasts, playlists, albums, audiobooks, etc.

WAV, AAC, M4A, M4B, MP3, FLAC

5X
✔
✔
✔
$14.95/month
$29.95/quarter
$79.95/lifetime
⭐️⭐️⭐️⭐️
Soundloaders
✔
Spotify tracks only
MP3
1X
✘
✘
✔
Free
⭐️⭐️
Spotify-Downloader
✔
Spotify playlists, songs, and albums
MP3
1X
✘
✘
✘
Free
⭐️⭐️
SpotifyDown
✔
Spotify music, albums, playlists
MP3
1X
✘
✘
✘
Free
⭐️⭐️
SpotifyMate
✔
Spotify tracks only
MP3
1X
✘
✘
✘
Free
⭐️⭐️
SpotiDown
✔
Spotify songs and playlists
MP3
1X
✘
✘
✘
Free
⭐️⭐️
SpotiSongDownloader
✔
Spotify songs, playlists, albums
MP3
1X
✘
✘
✔
Free
⭐️⭐️⭐
Audio Capture
✔
All streaming music services
MP3, WAV, FLAC, etc.
1X
✔
✘
✔
$14.95/month
$29.95/quarter
$34.95/lifetime
⭐️⭐️⭐️
AudFree SpoDable
✔
All Spotify content
WAV, M4A, MP3, etc.
5X
✔
✔
✔
$14.95/month
$29.95/quarter
$79.95/lifetime
⭐️⭐️⭐⭐
Deezify
✔
Spotify songs
MP3
1X
✘
✘
✘
Free
⭐️⭐
With talented innovation and the routine update, DRmare Spotify Music Converter could be the best Spotify MP3 converter in 2023. This software not only has the most concise UI but also the highest performance. It supports downloading all kinds of Spotify content offline at a faster speed. It works well to convert Spotify songs, playlists, podcasts, albums, audiobooks to MP3, M4A, AAC, FLAC, WAV, and M4B in batch. Because of its effectiveness, it can save you a great amount of time.
Part 4. Complete Introduction to Top 10 Best Spotify to MP3 Converter in 2023
No1. DRmare Spotify Music Converter🔥
DRmare Spotify Music Converter uses the most advanced downloading technology to download and convert Spotify music at lightning-fast conversion speed. During the conversion process, it will keep the lossless audio quality of Spotify songs for you. If necessary, you can also try to customize the output audio parameters of Spotify tracks, such as bit rate (128 kbps to 320 kbps), bit depth (16 bit or 24 bit), sample rate (44.1KHz to 192KHz) to bring a wonderful listening experience. Also, ID3 tags, Meta Data such as the year, album cover, and song title will be retained in Spotify MP3 downloads well. With the easy-to-use interface, you can easily use it to play Spotify tracks on any device offline.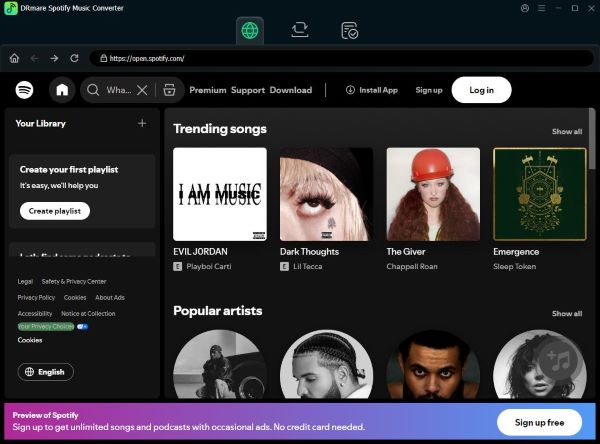 Price: $14.95/Monthly
Supported platform: Windows & Mac
🙆‍Pros:
Clean and brand new design, making it easiest ever to use
Work at a 5X faster speed, batch convert Spotify songs
Support to output Spotify songs as MP3, FLAC, AAC and so on
Retain the ID3 tag info, 100% original and lossless quality
Support to play Spotify music on any device offline
🙅Cons:
The paid version costs $14.95
No 2. Soundloaders Spotify Downloader
Soundloaders is a new third-party tool released currently. It serves as a music downloader for Spotify, YouTube Music, Napster, SoundCloud, Deezer, Apple Music, and other popular streaming services. Each downloader has an exclusive built-in page to download music from corresponding streaming music platforms and introduces the key features and user guide of this music downloader.
It claims that Soundloaders Spotify Downloader is 100% free, fast and secured to download Spotify tracks to MP3 in 320 kbps best quality with all the metadata saved. But sometimes, it will download wrong Spotify music or just fail to retrieve and download the Spotify song you want. Also it's also worth mentioning that it can't support adding and downloading Spotify playlists and albums but single Spotify tracks.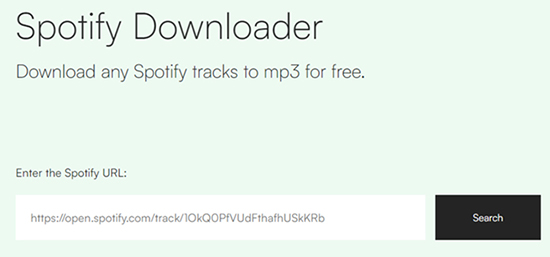 Price: Free
Supported platform: Windows and macOS
🙆Pros:
It's easy to get MP3 from Spotify Web Player for free online
🙅Cons:
The conversion process is unstable. Sometimes, it exports the wrong songs
Not any Spotify songs are available for download
Need to convert Spotify tracks one by one
No 3. Spotify-Downloader
As the name suggests, Spotify-Downloader serves as a brilliant Spotify to MP3 downloader to download individual tracks, entire playlists and albums to MP3 online. Apart from MP3, it also supports exporting ZIP format for all downloaded files with cover image, artists, year, and other metadata kept. But Spotify podcast and shows are still not available to download yet. Another drawback of this online free tool is the website has many Spam ads. When you use it, please be careful of them.

Price: Free
Supported platform: Online
🙆Pros:
Support Spotify playlists, albums, and songs online
🙅Cons:
It might occur some technical issues
The output audio quality is not ideal
It doesn't support podcasts and shows
No 4. SpotifyDown
SpotifyDown is another online Spotify to MP3 converter for all users to save Spotify songs to MP3 on computers and mobile devices. It doesn't need users to install an extra app on devices and even doesn't need a Spotify account, including a free one. And you can find all the metadata such as artists and more in the converted MP3 tracks.
But it's also not available for converting Spotify artists and podcasts. You have to click the 'Download' button one by one to convert Spotify tracks online. The user interface on its official website is not friendly. There are a lot of ad distractions.

Price: Free
Supported platform: Online
🙆Pros:
It's free of charge and no need to install any app.
🙅Cons:
The output quality is not 100% lossless
Require to watch ads for exporting MP3 files
No 5. SpotifyMate
SpotifyMate is a free online tool to download and convert new-released Spotify songs and albums to MP3 in high quality kept. The advantage of this website is that it provides an easy way to operate. You just need to copy and paste the Spotify links to its website and then click the Download button, it will start to download Spotify tracks in MP3 or ZIP files. Similar to other online software, the audio quality of Spotify tunes is a little low and sometimes it fails to work normally.

Price: Free
Supported platform: Online
🙆Pros:
Download MP3 from Spotify at no cost online
It's easy to use.
🙅Cons:
Limited output audio formats and low quality
No quality editing function
No 6. SpotiDown
SpotiDow is a great option for users who want to download Spotify songs online on various devices, including smartphones, tablets, laptops, and desktops. No need to subscribe to Spotify Premium and authorize your Spotify account, it provides a simple and straightforward way to download your favorite tracks to MP3 effectively. Although it won't keep the original audio quality, it will keep all the metadata of your Spotify music automatically, including artists, cover images, release dates, and so on. One thing better than other free Spotify to MP3 converters online is that its website is very simple and clean, without any advertising interference.

Price: Free
Supported platform: Online
🙆Pros:
When using it there is no ad distraction
Download and convert Spotify tracks without paying any penny
🙅Cons:
The success rate is not very high
Bring not ideal listening experience
No 7. SpotiSongDownloader
SpotiSongDownloader is a class-platform and clean website, which can convert Spotify audio formats quickly without installing any software or random APK apps. You can access to this software on Windows, macOS, Android, and iOS devices. It also doesn't need a Spotify account to download the most-loved tunes. But the best quality it supports is only 256 kbps. Although it claims that high audio quality (320 kbps) is now available to choose from, it requires you to visit another third-party platform and pay for it to get higher quality.

Price: Free
Supported platform: Online
🙆Pros:
Download Spotify songs as much as you can
Retain all metadata in downloaded songs
Cons:
Limited to 25 songs per playlist to download
Conversion speed depends on internet speed
No 8. DRmare Audio Capture
DRmare Audio Capture is well-designed to record audio files streaming on your computer. It offers a legal way to capture music from all kinds of audio streaming sites. It includes Spotify, Pandora, BBC radio, Last.fm, and so on.
It has smart audio recording and converting features. You can use it as the best Spotify to MP3 recorder on Windows and Mac. It also allows you to trim and cut Spotify songs to delete unwanted parts and merge some Spotify audio clips into a whole file with one click. It features a built-in ID3 tags editor, which enables you to easily customize ID3 tags of Spotify files. There are a few other apps that can act as great as this one.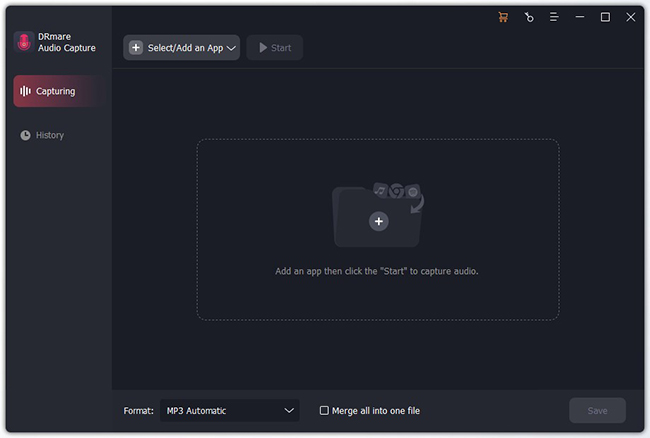 Price: $14.95/Monthly
Supported platform: Windows & Mac
🙆Pros:
A legal way to record songs from Spotify and other music streaming services
Save full ID3 tags and original sound quality
Powerful editing and cutting features after recording
Batch record and convert audio tracks
🙅Cons:
You need to use web browser to play many Spotify songs to record multiple tracks at the same time.
No 9. AudFree Spotify Music Converter
Another best Spotify to MP3 converter we can meet here is AudFree Spotify Music Converter. With this tool, you can not only download single Spotify songs but also entire Spotify playlists or albums as local files on your computer and keep them forever. It also supports converting Spotify music to MP3 and other common audio formats as you like. Plus, the output audio parameters of Spotify downloads can be altered. In this case, you will get a better listening experience with Spotify music on your device.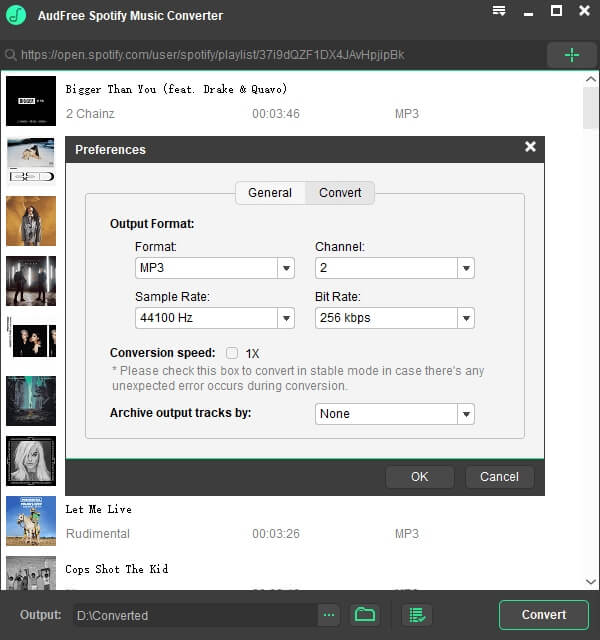 Price: $14.95/Monthly
Supported platform: Windows & Mac
🙆Pros:
Download and keep Spotify music as local files forever
Convert music from Spotify to M4B, WAV, MP3 and so on
Save original quality of Spotify songs after converting
Support to enjoy Spotify tracks on any device and platform
🙅Cons:
Offer a free trial version but has limits
No 10. Deezify
Deezify was the best free Spotify MP3 converter extension for the Chrome browser. It used to work on Mac & Windows & Linux computers. You can use it with Chrome once you install this plugin. It also was a nice Spotify music converter Linux before.
But now, it turns out to be a Spotify to MP3 converter for Android as the desktop version doesn't work anymore. You can get this app in Google Play Store. And you can use it to access your favorite songs and playlists from different sources in one place for free. Besides, it allows you to upload your local own music to its music library for listening together. But there is no option to change audio quality and conversion speed.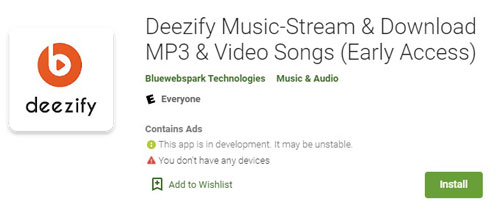 Price: Free
Supported platform: Android
🙆Pros:
It's free
Download Spotify songs at fast speed
🙅Cons:
It is still in development and not stable
Output audio quality is not lossless
Part 5. Not Working Spotify MP3 Converters (Don't Waste Time)
Spotify Deezer Music Downloader
Spotify & Deezer Music Downloader is the most famous Spotify to MP3 converter Chrome extensions. It is only compatible with the Google Chrome browser. So, you could find this extension from Chrome Web Store and add it to your web browser. Users can search and download Spotify songs from its online MP3 libraries or download Spotify link to MP3 with ease. But now, you can find a website to download this online extension anymore.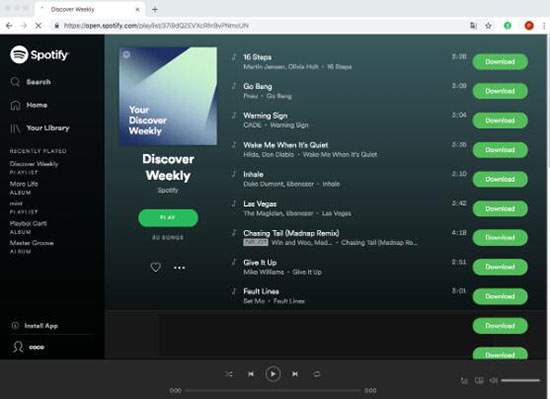 Spotiload Spotify VK Downloader
Spotiload is also known as Spotify VK Downloader. It is another extension for the Chrome browser. This excellent Spotify to MP3 converter free works as well as Spotify Deezer Music Downloader. But it has a different implementation way while converting Spotify songs to MP3 free. It is bundled with VK.COM. You don't download music from Spotify Web Player but from the VK website music library. Currently, it's not available.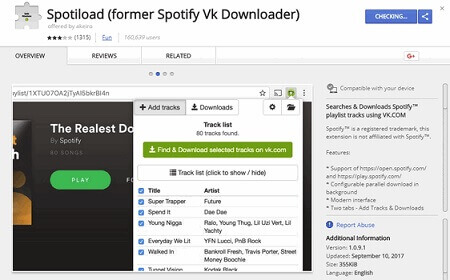 Playlist-converter.net
Playlist-converter.net is a free and online audio playlist converter. You can convert audio files between couples of music services and file formats. Spotify is one of them. That's to say, it's not only a free but also an online Spotify converter. It helps a lot if you want to share your Spotify playlist with your friends. But the drawback is that it does not yet have an MP3 export option. Now, playlist converter is currently off.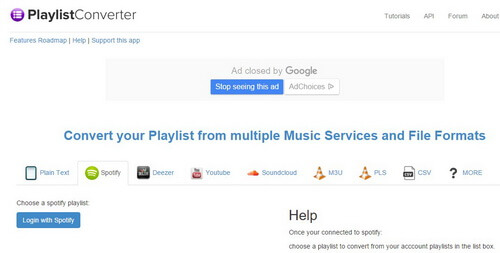 AlltoMP3
AlltoMP3 is the music converter, which is compatible with multiple operating systems like Linux, GNU, Windows, and Mac operating systems. By employing effective link identification techniques, it has the ability to download MP3s from not only Spotify but also YouTube, Deezer, and SoundCloud. The core feature of this product is that it doesn't require a Spotify account but can download and convert Spotify files at a faster speed. Although the quality is lossy, it's very easy to operate. But now, when you click the 'Download' option, it doesn't work anymore.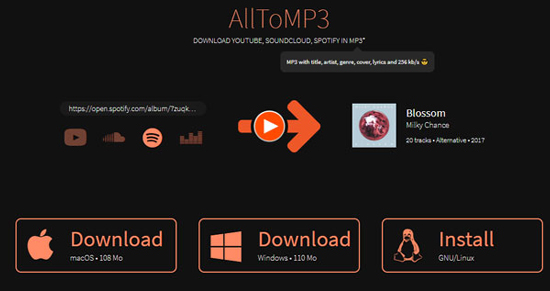 Part 6. The Verdict
Now you can select one from the top 10 Spotify to MP3 converter above to extract Spotify MP3 files. They are paid, free, and online tools on Android, iPhone, Windows, Mac, and Linux devices. With them, you can store Spotify music on your device forever for offline listening
Obviously, DRmare Spotify Music Converter is the throne winner of this top list with the features of lossless output quality and converting efficiency. Other products on the list have more or fewer disadvantages. But they do offer extra wonderful features like recording audios from many streaming music sources. If you have enough time, it is not a bad idea to try other tools one by one.