Began as a simple music player in 2001, iTunes has rapidly developed to a sophisticated multimedia content manager and one of the most popular online media stores around the world as time goes on. Apple's iTunes serves an overwhelming variety of digital entertainment, including music, movies, TV shows, books and applications.
In order to prevent unlicensed sharing, iTunes adopts an authorization system with Digital Rights Management (DRM) to ensure that only authorized computers are allowed to access to your iTunes purchased or rented content. Besides, iTunes users can authorize up to five computers with their iTunes-linked Apple ID, which means that you can playback your iTunes content on five different computers.
However, is it difficult for iTunes users to manage so many iTunes authorizations? Not really! If you want to sync or play your iTunes content on different computers, you can authorize them firstly. While you run out of all permitted authorizations, the easy way is to deauthorize computers that you don't use any more.
Here, in this article, you can discover some tricks and best practices to help you authorize or deauthorize iTunes on Mac and PC.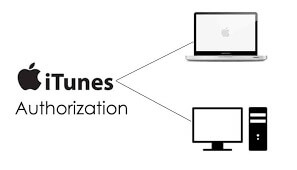 Part 1. How to Authorize Your Computers with iTunes Account
When it comes to authorizing your computer, there are some particular rules you should understand in advance. Please be well noted that you can't authorize a computer from another computer or from your iPod, iPhone or iPad Touch. Also, after you finished the authorization process, and iTunes asks you to do it again next time, it won't use a new authorization but the same authorization for the same computer.
Step 1

Launch iTunes from the computer

Before you begin to authorize your computer, make sure that you download the latest version of iTunes on your computer.
Step 2

Start to authorize your computer

For Mac: Click the "Account" from the menu bar at the top of main screen of your Mac, and click "Authorizations" -> "Authorize This Computer".
For Windows: You can find the "Account" from the menu bar at the top of your iTunes windows. After that, you need to choose "Authorizations", and then, you can see "Authorize This Computer".
Step 3

Enter your Apple ID and password

After you click "Authorize This Computer", it will turn up a new windows automatically, in which you are required to input your Apple ID and the password.
Part 2. How to Deauthorize iTunes on Your Mac or PC
Do you meet such situation that you want to authorize iTunes on your new computer, but you are informed that you ran out of all authorizations? The best way to solve this issue is to deauthorize iTunes on old computers. There are also some other conditions that you should deauthorize iTunes. For example, you would like to sell or get rid of an old computer. Or you need to send your computer away for repair or update. Therefore, follow the tutorial step by step to deauthorize iTunes on your Mac or Windows easily.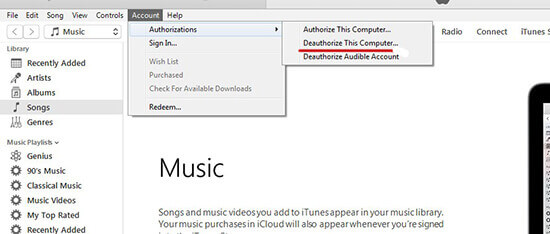 Step 1. Run iTunes on the computer that you want to deauthorize.
Step 2. Deauthorize iTunes on your computer
For Mac: you can click the "Account" menu, and click the "Authorizations" to select "Deauthorize This Computer"
For Windows: you need to click the "Account" menu, and then choose "Authorizations" -> "Deauthorize This Computer".
Step 3. A new windows will present you to enter into your Apple ID and password.
How to Deauthorize iTunes on Your All Computers
If your computer was broken down thoroughly, and you want to deauthorize this computer, you can achieve this goal by deauthorizing iTunes on all computers connected to your all iTunes account.

Step 1. Open iTunes. Sing in iTunes with your Apple ID and password.
Step 2. Click your name, and choose account info from the menu.
Step 3. Enter into your password again, and then click the "Deauthorize All Computer" in the account information selection.
More Tips: Best Solution to Play iTunes Videos Without iTunes Account Authorization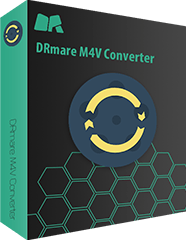 You must be prevented from playing iTunes videos on your mobile phone if you don't have iTunes account authorization. In order to avoid unlicensed sharing, videos purchased and rented from iTunes store are encrypted by FairPlay DRM technology, which limits iTunes users to play and share them freely to non-Apple devices and platforms. Therefore, how to play iTunes movies and TV shows without iTunes account authorization? Don't worry. It can be resolved easily if you turn to utilize DRmare M4V Converter for Mac/Windows, an ultimate solution to remove DRM restriction from iTunes videos. It's also able to convert iTunes DRM movies and TV shows to multiple formats, such as MOV, MPEG, MP4, AVI, etc. What's more, it can work at a faster speed with lossless quality. All audio tracks,subtitles, AC3 Dolby 5.1 surround can be retained 100%. For the simple tutorial on how to get rid of DRM losslessly with using this smart M4V DRM removal tool, you can visit this source page: How to Remove DRM from iTunes M4V Videos.