The most excellent thing about getting a new computer is that this new computer can bring you into a completely different world with faster speed and unique features.
But if you are an iTunes user, you must have pretty large iTunes library including thousands of feature-length movies, TV shows, as well as songs. When you are changing a computer, you will meet the obstacle that you are not able to enjoy your iTunes purchases on your new computer at once, since movies, songs and TV shows purchased and rented from iTunes store are stored in the old computer.
Plus, although iTunes store is one of the biggest online digital stores managing your digital files, due to the FairPlay DRM technology and iTunes' design, it's obviously focused on managing your files in the applications rather than in computer.
Therefore, you may be confused when copying iTunes DRM purchased from one computer to another at first without a good tutorial. Actually, it's really easy to do that. Here, in this article, we'll introduce the top 4 best way to help you to transfer purchased iTunes DRM files to your new machine with ease.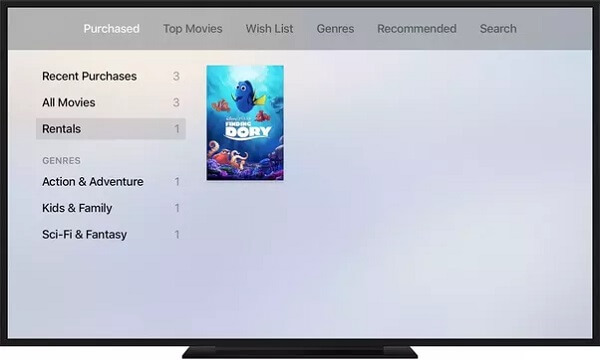 Part 1. Using iTunes Home Sharing
As one of the extraordinary features of iTunes store, Home Sharing is an easy way to sync media files purchased from iTunes to other computers over your home network. You can select this nifty feature from the left sidebar within iTunes. Besides, with Home Sharing, your family can easily copy not only videos but also songs and more among computers in your home with iTunes-linked Apple ID.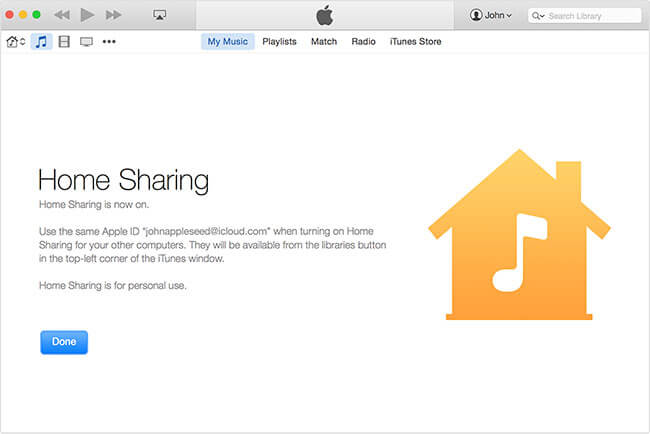 Step 1. Launch iTunes store on both computers. Please download the latest version of iTunes, and keep them connected with the same home network.
Step 2. Choose the Home Sharing on the older computer. You can discover the Home Sharing icon in the left menu where your Music Library is. Then, you need to touch the "Turn on Home Sharing" button.
Step 3. Sing in your iTunes-linked Apple ID. Once you have clicked the Home Sharing icon, it will show a new windows, in which you should put into your Apple ID and password. And then, you can tap the "Create Home Share" button.
Step 4. Authorize your new computer. With the same Apple ID and password, you can authorize your new computer by clicking the "Account" option on the main menu bar and choosing the "Authorize This Computer".
Step 5. Copy iTunes purchases to new computer. Click the "Home Sharing" on the second computer and then choose the purchased media files according to your needs. Or touch the "Edit" and choose "Select All" to copy everything.
Part 2. Using External Hard Drive
Nowadays, you can purchase a very large external hard drive at an affordable price. When you don't the luxury of having a home network, using the external hard drive is a simple option for you to transfer iTunes purchased media files to the new computer, especially if the iTunes library is larger than the store capacity of iPod. But it will take more time to finish the copying process than Home Sharing. Now, let's have a look at transferring and moving iTunes purchases to your other computers with an external hard drive.
Firstly, when you use a Mac, you can find out the iTunes destination folder by going to the "iTunes" -> "Preferences". If you have a PC, you can click the "Edit", and then "Preferences". The location of target folder will see by touching the "Advanced" button. Now, you can start to back up wanted iTunes purchased content to your external hard drive. And then, you need to connect the same hard drive with the second computer that you would like to convert iTunes files to. It's time to copy and move your iTunes backup from the external hard drive to the new computer.
Part 3. Using iTunes Match
With iTunes Match, it's not the speediest method for you to copy iTunes purchases and won't move all types of files from one computer to another, but it's a smart choice to copy iTunes songs to the new one that you need to pay for it. If you want to use iTunes Match, you can follow these steps at below.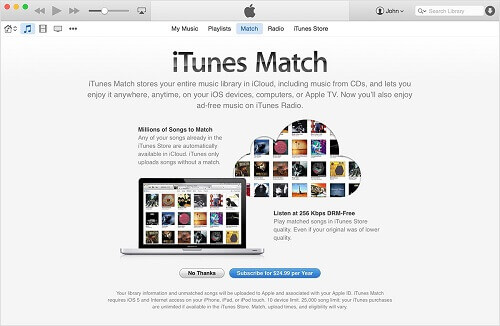 Step 1. Click the Store menu and select the "Turn on iTunes Match", in which you will be required to sing in your Apple ID with your password. Then you are able to subscribe iTunes Match.
Step 2. Your library will be matched the songs to your iCould account. These unmatched songs will be automatically uploaded to iCould. (The time spending in this step depends on how many songs need to be uploaded).
Step 3. Once the listing of music will be finished, you can go to your computer and sing in your iCould account and open iTunes. The songs will be streamed by default to your new computer from now on.
Part 4. Using iTunes DRM Removal Tools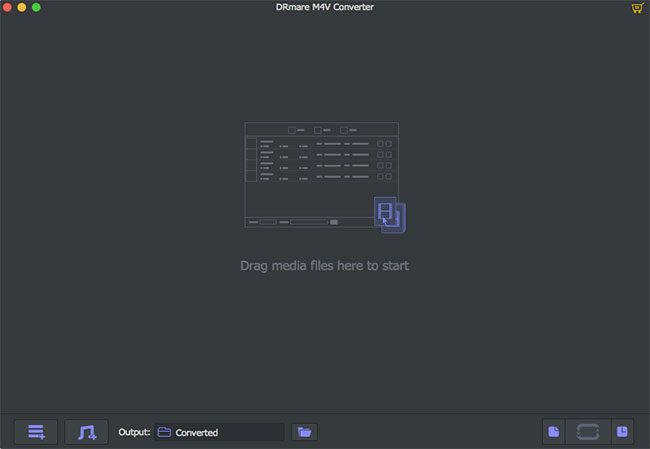 Although you use the above approaches to move digital content purchased from iTunes to your new computer, please be well be well noted that iTunes purchases are still protected by FairPlay DRM technology. As a result, you can only authorize up to five computers to manage and enjoy your iTunes library. If you are looking for the simplest and easiest way to copy iTunes purchased files to any other devices without any limitation, such as quantity and types of devices, the only tool you need is a third-party software to remove DRM restriction from iTunes purchases. Here, we'll highly recommend DRmare M4V Converter. Developed and designed by DRmare Studio, it can strip DRM protection from purchases and rentals losslessly and convert iTunes M4V files to almost all common formats, such as MP4, MOV, MPEG, MKV, AVI, and so on. For the detailed tutorial to get rid of DRM restriction with DRmare, you can visit this page source: How to remove DRM protection from iTunes purchase.