It's well known that iTunes store is one of the largest online digital stores, which devotes itself to managing and organizing overwhelming digital content, including music, audiobooks, movies, TV episodes, and more. If you are an iTunes addict, you must have purchase and rent thousands of digital files from iTunes store.
When you consider the investment of time and money spent in controlling your iTunes library, you will realize that a backup of your iTunes files is particular important for you, since you never predict when the crash or hardware failure occurs.
The other crucial reason to have a recent backup of your iTunes movies is that a large and growing iTunes library can gradually swallow hard disk space of your computer.
Luckily, there are several effective approaches to bake up your iTunes library so that you are never apprehensive of the loss of any iTunes file. In this article, we'll introduce the top 4 best solutions for you to back up your iTunes movies and TV shows, including Cloud storage, USB drive, DVD, as well as external hard drive. You can choose the most suitable way to back up your iTunes videos on the basic of destination folder.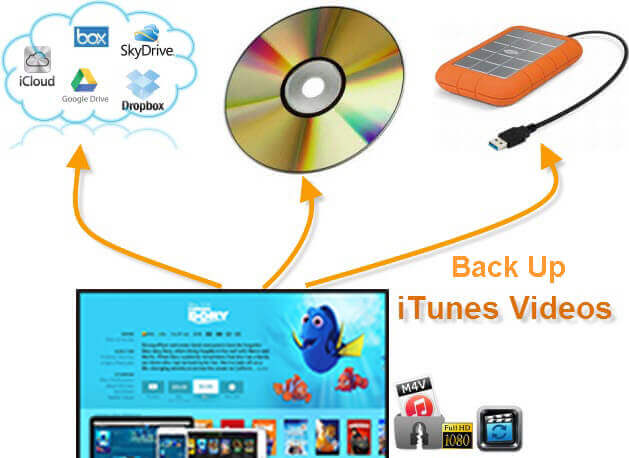 Part 1. How to Upload iTunes Movies to Cloud Storage
Just like the slogan of iCloud, "For Safekeeping. And Easy Sharing", iCloud storage can securely and safely saves your digital content with ease, especially for iTunes library. You are able sync any movies and TV shows purchased from iTunes store to iCloud storage with a Wi-Fi network. With the use of iCloud, you have something to be noted that you need to consolidate your iTunes library before you start to back up your media files.
Besides, when you set up iCloud, you can automatically get storage of 5GB in iCloud for free. If you need more space, you should pay for it to choose a plan for up to 2TB. Apart from iCloud storage, there are also some other great Cloud storage services that allows customers to sync and back up digital content, such as Dropbox, Google Drive, OneDrive, and Amazon Cloud Drive.
Due to these excellent Cloud storage services, you are able to take digital files to a safe place and it would be easy to sync them on all devices for you to visit anytime and anywhere so that you don't need to worry about the happen of a crash or other accident.
Part 2. How to Save iTunes Movies on USB Flash Drive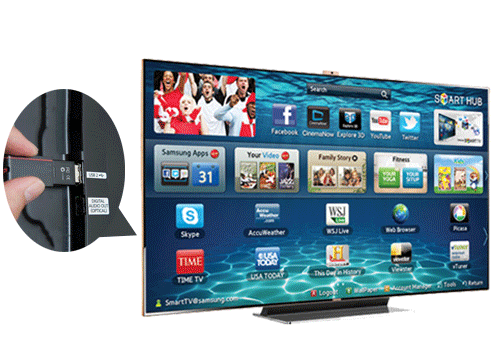 Featuring with an integrated USB interface, USB flash drive, also known as a USB drive, thumb drive, and USB memory, is a data storage service that contains flash memory. It's also an ideal method to back up your iTunes movies to USB drive.
But when talking about saving iTunes videos to USB flash drive, things would be totally different from Cloud storage. As everybody knows that movies and TV shows purchased and rented from iTunes are encrypted with FairPlay DRM technology, which are limited to play on Apple ecosystem and iTunes rentals need to finish watching within 48 hours once you start to watch it. That's to say, you have no rights to convert iTunes DRM videos to other non-Apple devices and players for playback, also including USB flash drive and you can't keep your rented iTunes videos once they have expired. The only solution to get rid of this dilemma is to find out a third-party iTunes DRM removal tool to break the DRM lock from iTunes movies and TV episodes.
Here, we'll highly recommend DRmare M4V Converter for Mac/Windows, one of the most professional iTunes DRM crackers, which can strip DRM protection from iTunes purchases and rentals with lossless quality by doing a few clicks. And then, you can transfer iTunes videos to USB flash drive without any limitation and keep iTunes rentals permanently.
See also: Complete Guide to Transfer iTunes Movies to USB Drive
Part 3. How to Back Up iTunes Movies to External Hard Drive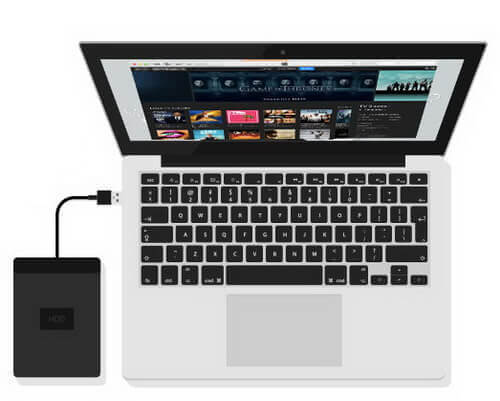 In order to avoid the trouble of losing your own iTunes library after a hard drive crash or virus infection, a backup of iTunes movies to external hard drive is a sensible choice. When you start to move iTunes videos to external hard drive, you will meet the same problem as transferring them to USD flash drive due to the FairPlay DRM copyright protection and the restriction of iTunes rentals. You are not allowed to sync your iTunes library to non-Apple ecosystem unless you already remove DRM limitation from these iTunes videos firstly.
With the purpose for keeping iTunes rentals forever and backing up all iTunes videos to external hard drive, DRmare M4V Converter comes here to help by adopting extraordinary DRM decryption technology. For how use DRmare M4V Converter to bake up iTunes movies to external hard drive, you can visit the detailed tutorial as below.
See also: Complete Guide to Move iTunes Movies to External Hard Drive
Part 4. How to Back Up iTunes Movies to DVD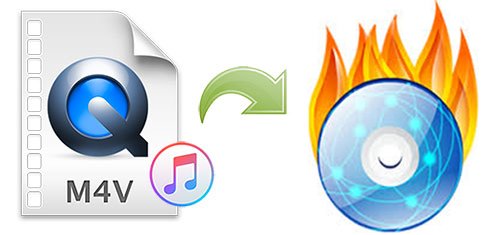 The last but also popular way to back up iTunes movies is to burn iTunes movies to DVD. When choosing this method to save your iTunes library, the first thing you need is a powerful DVD burner. It would be nice, if you have one DVD burner. If not, you can search them online to choose the wanted one according to your special needs since there are various DVD burners for free or paid, such as DVD Flick.
When you get the suitable DVD burner, it's time to burn iTunes movies and TV shows to DVD for backups with the help of DRmare M4V Converter for Mac/Windows, which will help you to remove the DRM restriction from your iTunes files. Also, you can visit this following source page to learn how to burn iTunes movies to DVD with ease.