"My Macbook Air is 7 years old, I have successfully downloaded an iTunes rental movie from iTunes and authorized it. But when I try to play it, it all I see is a black screen with no sound. My computer plays other videos well, so it is not the Macbook fault, I feel it is an iTunes error." - Question from Apple community.
"I have just imported an M4V movies from a DVD into iTunes. When I click the play button, it quickly initializes the playback process but after a seconds it prompts me that 'iTunes has stopped working'. Have tried multiple times, the error never goes away. " - Question from Macrumors forum.
That is a painful experience to encounter this problem. To ease the pain, in this post, I will help you troubleshoot the iTunes movie playback errors and offer the solutions to solve them thoroughly.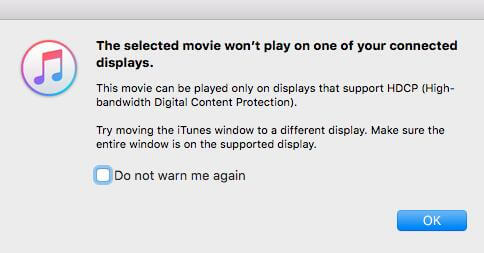 Part 1. Why Movies on iTunes Not Playing
There are a lot of circumstances we might encounter the iTunes video playback errors. Sometimes we can easily tell what causes the issue from the errors, sometimes we have no ideas about that. Generally, since iTunes movies are DRM protected, some criteria required to meet. Here are the top 4 reasons why iTunes videos won't play well.
1. You don't have a good internet connection. On the initialization process, iTunes movie needs to connect to the DRM server to verify the authorization. For the iTunes Extras, if you have a low internet speed, it won't show up.
2. Your iTunes rentals are expired such as you don't start watching it within 30 days or you have already start to play it but don't finish it within 48 hours.
3. The display doesn't support HDCP while you download the 720P or 1080P HD movies or TV shows from iTunes store.
4. The movies are not authorized on the iTunes or you didn't sign in iTunes with your right Apple ID and password.
Part 2. Remove DRM from iTunes Movie to Solve Playback Problem Forever
Apart from the reasons we mentioned above, the error of iTunes movie won't play is mostly caused by the DRM limitations. As long as the DRM protection still exists, it is not a surprise to see these errors on iTunes. If you want to solve the problem once and for all, then here we'd like to strongly recommend you to remove iTunes movie DRM protection.
DRmare M4V Converter for Mac/Windows is designed to convert all kinds of iTunes videos in the forms of iTunes movies, TV shows, Extras. After multiple update and optimization, it supports to convert videos at a pretty fast speed while keeping the 1:1 original quality. Typically, you just need to throw your movies to it, DRmare will help you get the rest job done. The only drawback is that it only works for videos from iTunes only. If your movies are from other resources such as Amazon, Google, Hulu, NetFlix, YouTube, DRmare may not help you. Now let me show you how does it work step by step.
Step 1

Import iTunes video files

Please download the iTunes purchases or rentals to your computer first. When it is done, you can launch DRmare and then drag & drop to import the digital media files from iTunes software to the DRmare.
Step 2

Choose an HD movie format

DRmare will remove DRM encryption as well as preserving the original high quality. You can select one of the formats you want such as MP4, M4V, AVI, MKV, MOV, MPG, TS, TRP and so on. But don't just think DRmare can only do this. Actually it is much powerful than you can think of. There are a lot of customization features hidden in the sleek interface. You can easily change the subtitle, audio track, codec, bit rate and so on.
Step 3

Start removing DRM protection

The last step is to click 'Convert' button and wait for the DRmare software to output the DRM-free movies. When it is done, you should never encounter the iTunes video playback problem anymore.
Part 3. How to Troubleshoot iTunes Movie Won't Play
In Part 1 we had learned top 4 reasons that caused movies on iTunes not playing, thus, we'd better make sure to have good internet connection, HDCP compatible displays, authorize the iTunes rentals and watch them before they are expired. Let's check the error in details below:
No 1. Check Your Internet Connection
If you can't play the iTunes videos without WiFi, then you need to check your Internet connection first. You should ensure that the Internet connection is stable so that the movies can be played well from iTunes. If the Internet is not good enough, then you could try to turn off WiFi and turn it on again for several times to see whether it can work.
No 2. Download the Purchased Movies
You need to check whether the downloads are available from purchased and re-download them when you iTunes movie won't play. Please reinstall and open the latest version of iTunes program and hit on "Account" ("Store" on Mac) option to select the "Check for Available Downloads" option.
Tip: Please download the iTunes movies in 720P or 1080P HD as the display might not support to play the videos with the higher resolution sometimes.
No 3. Re-login Your Apple Account
Try to log out and log in your Apple Account, then re-authorize your computer to iTunes to check whether iTunes videos can be played or not.
No 4. Check the Expiry Date of iTunes Rentals
Please go to check the iTunes movies that you rented is still valid. If it is expired, then you can't play them and you need to re-rent the movies.
If we have checked all these options to confirm they are good, the playback problem might still appear time from time without any obvious prompts. That is because iTunes is so bloated and buggy. You can follow the steps to troubleshoot the error:
Step 1: Reinstall the latest version iTunes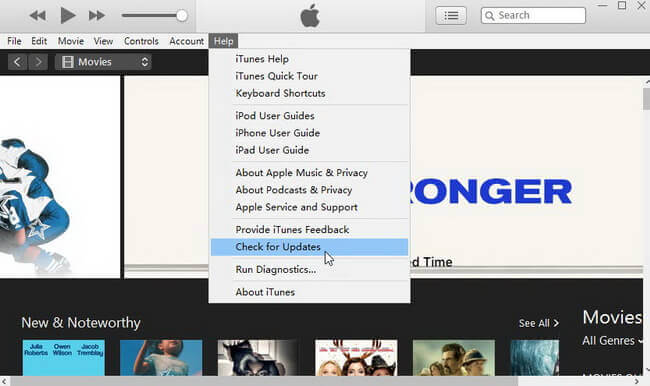 The old version iTunes don't run so stable or simply won't support some of the latest iTunes movies or TV shows. To update to the latest version, please click 'Help' menu > 'Check for Updates' to get the latest version.
Step 2: Try again to sign in iTunes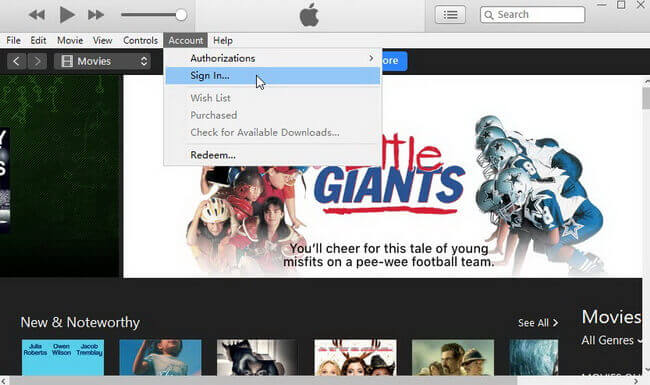 Sometimes iTunes will just sign out automatically after a specific time, making it impossible for the DRM server to verify the authorization, so just click 'Account' > 'Sign In' and then input the info to log in your account.
Step 3: Open the MiniPlayer window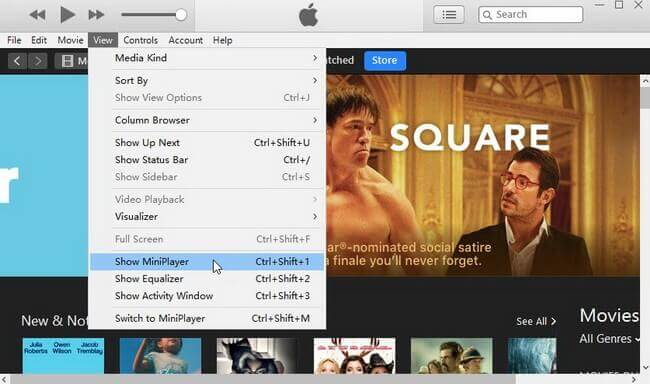 iTunes runs slow especially for low-performance computers, sometimes the video playback maybe just stuck on a specific progress. By clicking 'View' > 'Show MiniPlayer', the iTunes movies should play more smoothly.
Step 4: Check if QuickTime player runs well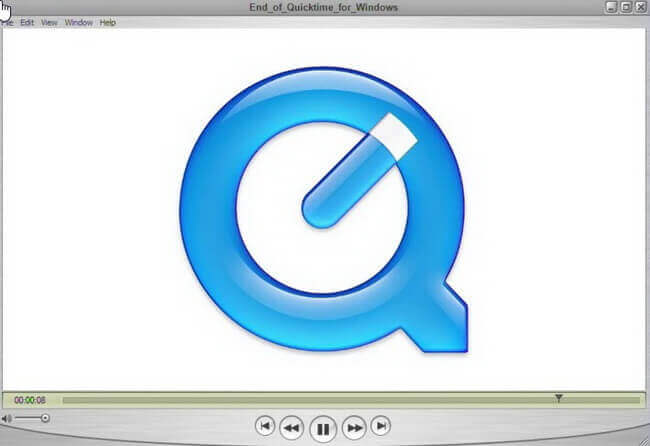 iTunes depends on the QuickTime Player to play digital media files, if there is error with the QuickTime Player, iTunes won't work either.
Step 5: Restart iTunes/computer
If you have tried the 4 steps above but still can't fix it, the last shot is to restart your iTunes and computer. Some settings can only take effects after reboot.