Most of us know about Spotify, the kind of streaming music, but may not hear about Tidal before.
Spotify has over 70 million paying subscribers worldwide.
As the unique lossless music service, Tidal is supported by a lot of the super stars and celebrities like Jay-Z, Beyonce, Rihanna, Drake, Kanye West, Nicki Minaj and known as the artists' streaming music. The biggest selling point of it is the high fidelity music with up to 1411 Kbps bit rate which is same to CD.
However it has only 3 million subscribers. This means Tidal will have to attract new streaming users or lure the already registered users to switch from other platforms such as Spotify, Apple Music, Deezer.
Giving the situations that Spotify work perfectly for most people, do we really need higher quality music? Is Tidal is better than Spotify? Do you want to download Tidal music for offline listening? What is the best streaming service of 2018? To answer this questions, we will do an depth review of the Spotify and Tidal.
View also: Spotify Music vs Google Play Music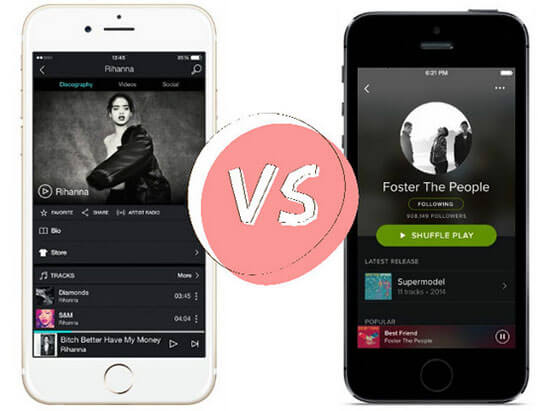 Overview of Tidal and Spotify: Comparison List
Sameness pervades all the popular streaming music services, but there are still lots of differences if you take a deeper look at them. Now you can take a look at the parameters between the two music platforms.
| | | |
| --- | --- | --- |
| | Tidal | Spotify |
| Founded | October 2014 | October 2008 |
| Cost | personal license:Tidal Premium $9.99/month, Tidal HiFi $19.99/month | personal license: $9.99/£9.99/AU$11.99 |
| Free trial time | 1 month | 1 month |
| Number of paid users | around 3 million | over 60 million subscribers |
| Audio quality | up to 1.4 Mbps | up to 320 Kbps |
| Catalogue | 40 million | 30 million, adds 20,000 new songs per day |
| Offline listening | yes, with paid subscription | yes, with paid subscription |
| supported platforms | Windows/Mac/Android/iOS | Windows/Mac/Android/iOS |
| Special features | audio search | weekly music discovery |
| Offer free tier service | no | yes |
Tidal vs Spotify: Sound Quality
Spotify tested a new lossless audio version of its streaming service in 2017, but as of now, it is still not released. Spotify free tier service now supports 160 Kbps music with random ADs. If you paid $9.99 to upgrade to the Spotify, you will not only block ads from Spotify, but also get access to 320 Kbps streams. On the mobile devices, the music quality is compressed to 96 Kbps and 160 Kbps accordingly to guarantee smooth streaming.
Tidal puts lots of its bet on the audio quality. The music from the Tidal Premium subscription is same to Spotify with 320 Kbps. Besides, it has an exclusive high fidelity music plan which supports to stream at 1411 Kbps in FLAC format. The quality is undoubtedly best, but you may not hear the difference compared to other streaming music if you play it on common phones, computers.
Verdict: Tidal Wins
Tidal vs Spotify: Music Library
As a veteran streaming music, Spotify doesn't officially offer the exact number of songs, it is expected that it has a large library with over 30 millions songs. Also, they added about 20,000 new sounds everyday. We can find most popular songs there, but it does lack of some exclusive songs such as the Beyonce's lemonade album. Some artists like Taylor Swift protested over Spotify for it doesn't offer copyright fees to musicians during the 3 month's free trial.
Tidal was acquired by Jay-Z in 2015. It has a surprising big music catalogue with 40 millions songs. In addition, it has over 175,000 music videos. It is well known for its exclusive contents. Usually it is the first platform to release albums from the super starts like Beyonce, Drake, Rihanna, Kanye West.
Verdict: Tidal Wins
Tidal vs Spotify: Price Difference
Spotify music charges $9.99 in the US, £9.99 in the England, AU$9.99 in Australia. The family license starts at $14.99 for two users per month, $19.99 for three, $24.99 for four and $29.99 for up to five users. There was a student's plan which charges only half of the price, but it seems it doesn't exist any more.
Tidal premium streaming music charges the same for the high quality 320 Kbps songs, but it charges double at $19.99 if you want to listen to the lossless HiFi streaming tracks. Unless you have a powerful audiophile playback device, you may end up paying expensive price without hearing the difference.
Verdict: Spotify Wins
Tidal vs Spotify: Design
Spotify's interface has been updated multiple times since its debut in 2018. It is clear and easy to navigate like discovering music, exploring songs.
Tidal has been criticized for its complicated design for a long time. But on the latest version. It copied the design from Spotify and changed a lot. Anyway, it is still not as intuitive as Spotify.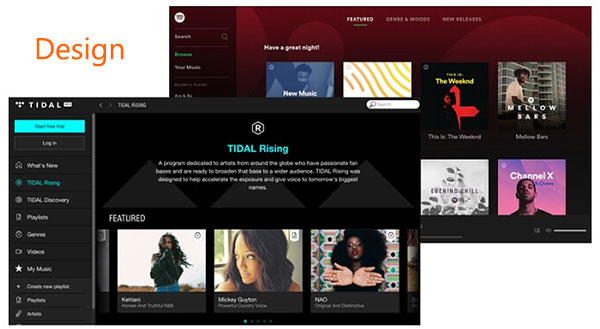 Verdict: Spotify Wins
Spotify vs Tidal: Other Features
As the most popular streaming music service, Spotify app offers a best user experience while the Tidal music app not be satisfied for some users because it constantly freezes or crashes. To avoid the unnecessary glitch, you'd better to use DRmare Tidal Music Converter to convert Tidal songs and playlists to common lossless audio files.
Spotify has powerful music discovery features including the daily music playlist, weekly music playlist. Tidal doesn't have this but it supports audio search which is so convenient to use.
Tidal enables subscribers to enjoy the privilege to buy concert tickets first but there is not such a feature from Spotify.
Both have offline playback features for subscribers and the social feature to share your songs with your friends on Facebook etc. for anyone. The difference is that the features seem more mature in Spotify.
Verdict: Tidal Wins
What Is the Best Value Music Streaming Service of 2018
From the side by side review above, we can see that each streaming services has its own advantages. Tidal is well known for its exclusive contents and lossless songs while Spotify dominates the streaming music market for its user friendly interface, affordable price and free trier of services.
If you'd enjoy music from the super stars such as Jay-Z, Beyonce, Kanye West etc., obviously Tidal streaming music is your best choice. Else if you are a standard user who enjoy the popular music, Spotify will be good enough to help you. In my option, Spotify is the music with best value.
Finally, no matter what service you are subscribed to, you can't download the songs for offline playback unless you subscribe to the premium service.
To thanks for your support, I'd like to share a bonus features for Spotify users here. You can simply use the DRmare Spotify Music Converter for Windows/Mac to download the Spotify songs to your local devices for free if you don't want to pay for the subscription fee. It is the software with best quality in the market. Are you interested in it? If so, why not download and try it out yourself?