Online streaming service is keeping increasing at a rapid speed while the digital music sales drop year by year. One of the key factors to this is the convenience of it. As long as you have access to the cellular data or Wifi, you can technically play countless music anywhere.
Among the competitive steaming music industry, Spotify is the undisputed kind with over 75 millions of users, 55 millions of free tier subscriptions and 20 millions of paid memberships. Apple Music and Tidal are the two rising stars well known for their high level exclusive releases. Besides, Apple Music has full integration with iTunes and Apple Music while Tidal has high fidelity lossless audio.
Do you want to switch to Apple Music or Tidal? In order to make it easier for you to make the decision, we'd glad to do a side by side review of the 2 best streaming music services.
View also: Amazon Music Unlimited vs Spotify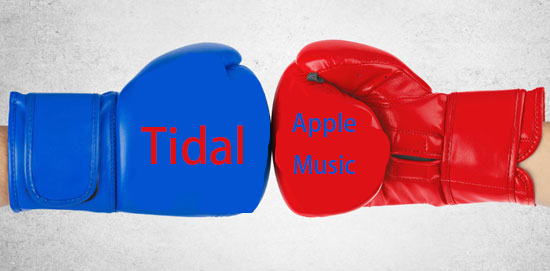 Tidal and Apple Music Parameter Comparison List
Both music are not created for a long time compared to the veteran audio streaming service Spotify. But with their special selling points, both are expanding quickly especially the Apple Music of which the paid users exceed Spotify's in the USA. Now let's take an overview of the two services.
| | | |
| --- | --- | --- |
| | Tidal | Apple Music |
| Founded | October 2014 | June 2015 |
| Monthly fee | personal license:Tidal Premium $9.99/month, Tidal HiFi $19.99/month | personal license: $9.99/month |
| Free trial period | 1 month | 3 month |
| Number of paid users | over 3 millions | over 15 million subscribers |
| Audio quality | 320Kbps in AAC for Tidal Premium and up to 1.4 Mbps in FLAC, ALAC, MQA for Tidal HiFi | up to 256 Kbps in AAC |
| Music library | 40 million | 43 million |
| Offline listening | yes, with paid subscription | yes, with paid subscription |
| supported platforms | Web/Windows/Mac/Android/iOS | Windows/Mac/Android/iOS |
| Special features | Lossless songs with CD quality | Sync with iTunes |
| Offer free tier service | no | no |
Apple Music vs Tidal: Sound Quality
Apple Music streams at a flat 256Kbps which is a little low than the industry such as Spotify Premium, Tidal Premium which offers up to 320 Kbps quality. But it is most likely that you can't discern the difference between 256Kbps and 320 Kbps in general mobile phones, computers or portable speakers.
Tidal offers two membership tiers. The Tidal Premium streams at a standard AAC 320Kbps and Tidal HiFi streams at 1411Kbps (CD Quality). This is highest bit rate of music you can get nowadays.
Verdict: Tidal Wins
Price Comparison: Tidal Is More Expensive and Compensates Artists Better
Apple Music charges $9.99/month for personal license and $14.95 for family license with up to six people. There is not a free, ad-supported version. But you can access to the Beats 1 radio with a limited number of skips for free. Tidal offer similar $9.99 Tidal Premium and the lossless audio service Tidal HiFi $19.99. Both have the student plans which cut the price in half.
Dubbed as the artists' music platform, Tidal pay artists $0.007 per stream which is significantly higher than Apple Music's $0.0013 per stream. But the total payment also depends on the popularity of the songs.

Verdict: Apple Music Wins
Tidal vs Apple Music: Catalog
If you are looking for the most music, Apple Music is your best bet. According to the official report recently, Apple Music has over 43 million tracks. Tidal doesn't fall behind much with a little over 40 million songs.
Regarding to the exclusive contents, usually Apple Music will be the first source to get the albums from Drake, Taylor Swift, DVSN, Future, Pharrell Williams while Tidal will get the releases from Jay-Z, Beyonce, Kanye West, Rihanna, Prince and a bunch of HD music videos. But no matter what platforms you choose, it is a matter of time to for other music platforms to get access to all the exclusive contents.
Verdict: Draw
Music Streaming Comparison: Special Features
Interface
Tidal App has a similar appearance like Spotify, but it is more bulky and constantly crashes with errors. On the other hand, Apple has revamped its Apple Music app with bright colors, making it easiest to use from any devices such as iOS, Android, Windows, Mac.
Music Discovery
Apple music provide many ways to discover your favorite songs. You can listen to your favorite artist from Beats 1 radio, find new music from the "For you" and "New Music Mix" features. Also, you can find the songs and videos posted under the discography of artists from the "Connect" tab panel. Tidal only have the simple music recommendations such as curated playlists.
Built-in Devices
Apple music comes with a lot of devices such as HomePod, Apple TV, Apple Watch, iPhone, iPad, iPod. With the popularity of such gadgets, Apple music user base is expanding easily. Tidal is not available on so many devices except Chromecast, Android TV, Sonos, Squeezebox.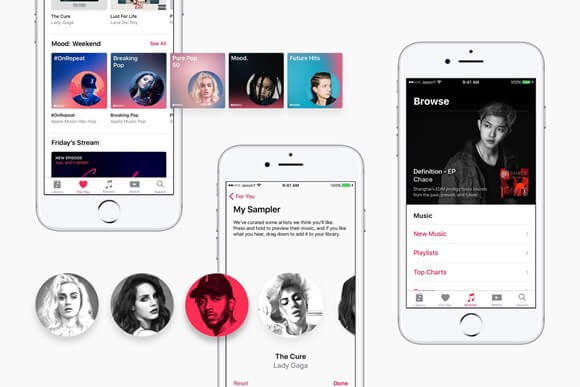 Verdict: Apple Music Wins
Tidal vs Apple Music: Battle of the Streaming Services
Before Apple Music is released, the competition from the music streaming is mainly between Tidal and Spotify. After the release of Apple Music in 2015, the streaming music services become even more competitive. Spotify is undoubtedly the best streaming service. Following that, Apple Music has much more advantages compared to the Tidal music in many parts such as price, user experience, music discovery, supported devices and much better integration with Apple devices. Tidal also has its strong points with lossless music but unless they make the app less glitchy, I won't recommend it. On the other hand if you are an Apple fan with kinds of iOS device, you should definitely pick up Apple Music.
Finally, I'd love to share another bonus tips here too. Because Apple Music are DRM protected, you can't move them out of the Apple's ecosystem such as transferring them to USB, SD card and so on. In addition, if you stop the subscription, you will lose the privilege to stream Apple Music songs. In order to transfer Apple Music freely and keep them forever, you can also use the Best Apple Music Converter for 2018 to help you batch download and convert the M4P songs to common audio files offline. It supports multiple output formats such as M4A, MP3, AAC, M4A, M4B. The best part of it is that it runs at 30X faster and keep lossless quality after converting. If you are interested, you can download it to have a try.