There are many streaming music services in the market, but which one would meet your needs? For instance, it must fit the major requirements of you, including the huge music library with many kinds of songs, high audio quality, the ability to download or stream and more features. Fortunately, there are a great amount of options for you to choose: Tidal, Apple Music, Spotify, Amazon Music, etc.
To let you make a right decision of choosing which music service, in this article, we will make a simple comparison between Apple Music vs Amazon Music. Let's check it out together.

Part 1. Apple Music vs Amazon Music: Differences
Music Library
One of the important features for a music streaming service is its music library. For Apple Music, it has more than 40 million licensed tracks. On it, you are required to choose your favorite genres and then it will recommend songs for you according to your tastes.
While Amazon Music owns over 45 million licensed tracks and the songs it recommends to you are based on your listening habits. In addition, Amazon Music Unlimited allows you to purchase the songs or albums from its Digital Store.
Price
Apple Music has three price plans. For individual, you need to pay $9.99/month. If you are a student, it costs $4.99/month. For family plan, it just costs $14.99/month for up to 6 family members.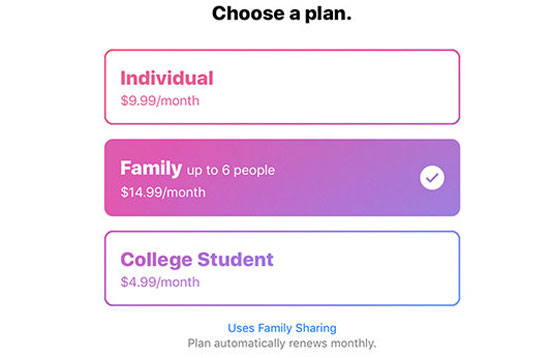 As for the price plans of Amazon Music Unlimited, it costs $7.99/month for individual. Its price of family plan and student plan are the same as Apple Music. But the big difference between Apple Music and Amazon Music is that it has one more plan. That is the single device plan, which costs $3.99 for Echo or FireTV users to use on one Echo device.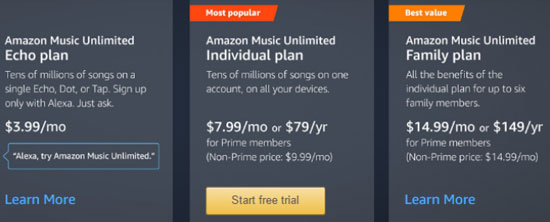 Supported Devices and Availability
Apple Music is available over 100 countries and it has about 60 million subscribers around the world as of June 2019. You can play Apple Music on iOS devices, Apple Watch, HomePod and Sonos speakers.
As for Amazon Music, it is available in about 28 countries, such as United States, United Kingdom, Germany, etc. It can work on many devices and platforms, including Android and iOS devices, computers, Amazon FireTV, Echo and other portable smart speakers.
User Interface and Lyrics
The interface of Apple Music is quite different from Amazon Music. When you open it, you will find that it is simple and clean. The tabs along the above shows you the library, For You, Browser and Radio. Library is the music files that you had downloaded before and For You is the place where you can discover playlists, artists, albums according to your taste. But there is a shortcoming of Apple Music desktop app, it often crashes, which may annoy its users.
Amazon Music looks like the same as most music streaming services that we could see in the market. Its interface is in blue. At the top of the main interface, you can see four major part of it: Browser, Recent, My Music and Store and four sub-section beneath: Home, Recommended, Stations and Playlists. When you locate on your favorite artist, you will see a big image in the top and you can see his songs, albums, etc. below, which is quite better than Apple Music.
As for the lyrics of Apple Music and Amazon Music, Apple Music just offers a static page when you play the music. Unlike Apple Music, Amazon Music has a dynamic page, which can move in time along with your music and gives users the best uses of lyrics.
Part 2. Apple Music vs Amazon Music: Common Things
1. You can subscribe to student plan at the price of $4.99 and family plan for up to 6 members at the same price of $14.99.
2. The audio quality of Apple Music and Amazon Music is both at 256 kbps in AAC.
3. Apple Music and Amazon Music Unlimited both allow users to download songs for offline using if they subscribe to the services.
3. Both of them have a large music library, you can find and enjoy lots of songs you want.
Part 3. Summary: Apple Music or Amazon Music
After reading the article above, do you have any idea of which one suits you best? In fact, both of them could meet our needs of daily listening. Thus, to choose which one for you is up to you. If you are Echo users, you should absolutely select Amazon Music since it has a special service for Echo users. But if you are a big fan of Apple and have lots of Apple devices already, then subscribing to Apple Music is a wise choice for you.
At last, I would like to give an extra tip for Apple Music users. If you want to get Apple Music for free without subscription, then you could try an alternative way to help you. Here you could use DRmare Apple Music Converter to make it possible. Just download it and take a try. If you have any other issue, please write download at the comment area and let me know.