Audible has been a long time producer and seller of digital audiobooks. It is undoubtedly a largest and most popular audiobook source especially for Android users. But this Amazon-owned company promote its business mainly with subscription plan strategy. It charges users regularly no matter if they have finished reading your books or not. Hence, not anyone are fond of it.
Fortunately, Google has entered the audiobook market at the beginning of this year 2018 by launching Google Play Auidobooks section which enables users to pay per book. So will Google beat Amazon? Is it a good idea to switch Audible to Google Play Audiobooks? Let's take a closer look at the detailed comparison to help you make the decision.
View also: Spotify vs Google Play Music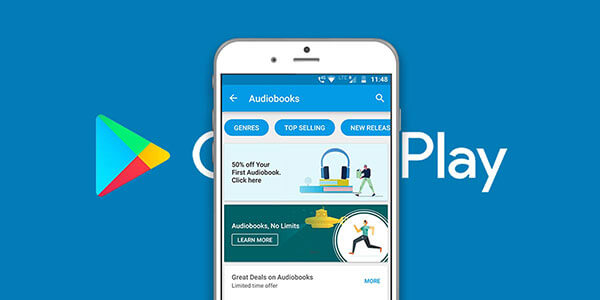 1. Price and Plan: Which Is More Cost Effective
When buying audiobooks, the biggest factor affects your purchase is the price because the content are exactly the same. In Audible, all other books are in regular price from $0 to couples of dollars except the special offer "Daily Deal" and free audiobooks. Generally they are expensive, so it is not recommended to buy directly. Instead you can subscribe to the Golden Membership such as the Golden plan which charges you $14.95 and get 1 credit per month. You can use the credit to buy any audiobook irrespective of the price. If you are a new user, you will get 3 months free trial with 1 free credit.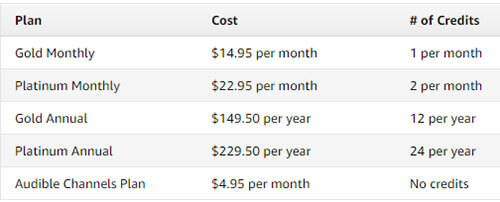 Google Audiboooks doesn't have such membership plans like Silver plan, Platinum plan, it runs a pay as you go business model. You just need to pick and buy the book you want without regular charging. What makes it even better is that it has a selection of audiobooks on "Time-limited Offer". The price for each book are usually less than $10, much lower compared to the average $14.95/Credit from Audible. The new user gets 50% off too.
Verdict: Tie
If you just listen to audiobooks time from time, you can dig into the the Google Play promotions to save some dollars on your media digestion. However, the promotion is not forever, the price will end up returning to original. If you are a heavy audiobook lover, Audible will be a preferential choice. So in terms of the price, we think it is a tie.
2. Audiobook Titles: Which Has a Larger Library
Audible has a large collection of 400,000 high quality audiobooks. It has focused on the business for so many years. It cover almost any categories such as Sci-Fi, Fiction, Romance, Best Sellers, New Releases, Kids, Comedy, Business, History and other featured books. If you can't find an audiobook you want, you will hardly find it elsewhere.
As for the Google Play Audiobooks, it is still a new entrant in this area. Until now, we still didn't find an official report about how many books it has. This is not a surprise. Maybe Google just don't want to users to compare its book quantity with Audible.
Verdict: Audible Wins
The Audible is second to none in terms of audiobook collection. But the difference is not very big. As the time goes on, Google will surely extend its library. I just try to search some best sellers from Google Play right now, it is not difficult for me to find them.
3. Guarantee and Service
Amazon is always proud of its excellent customer service. From Audible, you will enjoy "Great Listen Guarantee". If you find some books you don't like after purchasing within 365 days, you can simply log in the official website to find your purchase history and one click to return the one you don't like. The credit will return to your account immediately or if you pay by money, the amount will return to your original credit card. No troubles or hassles involved.
Google Audiobooks don't have such guarantee. In the return policy it clearly states "All sales are final". No matter if you are satisfied with the book or not, you can't return it unless there is a technical issue from the website making the audiobook fails to load or run. So you'd better spend more time in listening the sample to find out if you really like it or not before buying.
Verdict: Audible Wins
Audible has unmatched after-sales service, there is nothing I can complain about it. As for the Google Play Audiobooks, you have to endure the risk of buying uninteresting book by yourself.
4. How to Play Audiobooks
Audible is an US-based service with multiple languages English, Spanish,German, Italian and Chinese support. You can play Audible books with iOS, Android, Windows and Mac devices with the related Audible apps or play them on the Amazon devices such as Fire TV, Fire Tablet, Kindle Oasis and other Alexa-enabled devices. Usually to play Audible files, you just need to do a few clicks. For the Alexa enabled device, it will be as easy as saying "Alexa, play audiobook". If you play them through multiple devices, they will be synced automatically and the last playback location will be remembered.
Note: There are some devices which are not so convenient to install the Audible app such as MP3 players, GPS navigation player, car stereo and you may not copy the original AA/AAX files to them as they are DRM protected. No worries, you can use third party software DRmare Audible Converter for Windows/Mac to convert AA/AAX to compatible formats losslessly and promptly. It combines the straight audio decryption technology, so no quality will be reduced.
Similarly, Google Play Audiobooks can be played through multiple devices too such as the Android/iOS phones, Chromecast, Google Home or on the Google Assistant compatible players. The audiobooks can be synced across the devices you used as well. You can seamlessly listen to the files anywhere.
Verdict: Tie
Both kinds of audiobooks can be played on most popular devices, it is difficult to tell which one is better. For some Audible incompatible devices, you can use a third party software to help encoding the Audible files to a new format.
5. Special Features
Besides the features mentioned above, both allows you to share audiobooks with your family by using the Amazon Household Sharing or Google Play Family Library. Also, each has its own special features.
In Audible, you can access the "Car Mode" when listening audiobooks in the car. It zoom in the player so that you can operate and listen more easily. The WisperSync feature makes it possible for you to switch between reading and listening. As for my experience, that is really good.
Google Play Audiobooks don't have the WisperSync feature, but it supports to play through "Android Auto" to play audiobooks in car easily. In addition, it is going to establish the AI and machine learning feature which makes it easier to navigate and listen to your books.
Verdict: Tie
Regarding the other features, each has its own strong point. The AI and machine learning feature from Google sounds amazing, I am really looking forward to try it out when it is released. The WisperSync feature of Audible brings more fun if you enjoy both reading and listening.
Sum up: Google Audiobooks vs Audible
Compared to Google Play Audiobooks, Audible wins regarding to the price and library. Besides that, in other parts such as after-sales, playback compatibility and special features, they are exactly the same. In a word, Audible is better than Google Play Audiobooks.
As a new entrant, Google does provide another way for users to enjoy audiobooks. With low promotion price, you should pick it up if you are new to audiobook and not planning to listen to a many books. Else if you are a heavy lover, you should stick to Audible, the subscription membership, large library, great listen guarantee, WisperSync should be of great benefits to you.