In the quest to look into Apple Music vs iTunes Match you need to understand where the two are coming from. Both are subscription services offered by Apple. They are out to achieve the same goal – enable you to access your music from any device via the cloud. You may be wondering where their differences come from given they both have the same mission. That's what we uncover next!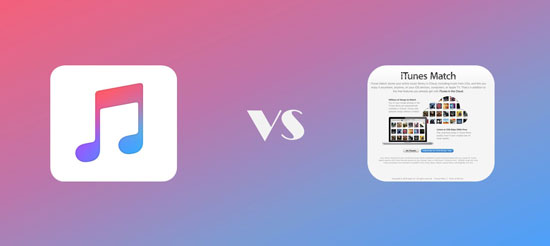 Part 1. What's Apple Music and What Apple Music Offers
Apple Music is an Apple subscription that offers you access to its entire music streaming catalog, paid monthly. With this, you can play any song within the catalog regardless of whether you own it or not. Apple Music also engages its users by offering two customized playlists weekly, depending on your preferences and past selections.
It doesn't end there. Apple Music curators also compile a variety of daily playlists' suggestions, giving users the chance to explore beyond their reach. Furthermore, it brings Beats 1, an internet radio station that users can listen to 24/7. You can as well playback Beat 1's catalog episodes of previous programmed shows.
Part 2. What's iTunes Match and What iTunes Match Offers
When it comes to iTunes Match, it actually doesn't factor in the music subscription aspect. What it requires is a yearly payment which is purely for maintaining and activating your iCloud Music Library.
With iTunes Match, users can match up to 100,000 tracks. That's from your iTunes library to an iTunes store catalog that is totally unprotected. This then gives you the freedom to download such tracks to other of your devices. It generally supports a maximum of 10 devices. In other cases, iTunes may not be able to match a track to a song in your iTunes catalog. But here's the kicker; it will manually upload it to the catalog where you can easily access it.
Part 3. Differences Between Apple Music and iTunes Match
As already seen, there is a distinction regarding Apple music vs iTunes match. However, more can still be derived from various features.
Price
Apple Music offers up to 3 months free subscription after which you can either subscribe to the single plan at $9.99 per month or the family plan at $14.99 per month. Remember the family plan covers up to six family members.
For iTunes Match, you'll need to part with $24 per year. This is necessarily not a subscription but its activation fee for your iCloud Music Library. The service stores all your music together with songs imported from CDs and lets you access them on up to 10 of your devices.
Digital Right Management
This aspect is also called for when looking at Apple Music vs iTunes match. For iTunes Match, Apple will match all the older files from 96 kbps and above and avail them in 256 kbps unprotected AAC format. Hence, you can access and play them using any of your devices. For Apple Music, Apple matches your music with the Apple Music catalog. You can re-download all matched songs on other devices and get 256 kbps unlimited AAC files. Cancelation of your Apple Music subscription will, however, lead to the disappearance of your songs.
Usage
Another difference between iTunes and Apple Music reveals that Apple Music is a streaming service while iTunes Match is basically an iCloud backup. For iTunes Match, it is possible to stream songs from iCloud Music Library. Just click on the 'iCloud' button next to any matched song you want to be downloaded and boom! You get that song downloaded to your computer or device.
When it comes to Apple Music usage, you will enjoy a free trial of up to three months before subscribing to your preferred choice. It's this subscription step that gives you the freedom to play any song or track in Apple Music. Besides, you have the advantage of offline listening. But remember! Once you unsubscribe from Apple Music, you also lose all the downloaded tracks and will not be available anymore.
Extra features
Apple Music has a lot in store for you. From the Beats 1, to the internet radio station, and daily playlist suggestions, you have good options to keep you going.
iTunes Match, on the other hand, has you covered when it comes to protection. It will automatically upgrade music that you buy or is matched by iTunes Store to unprotected 256 kbps AAC files. All these files are converted before being uploaded to your iCloud Music Library. So, you can comfortably sync and play them on any device.
Limitations
You'll find a few limitations as far as iTunes match vs Apple Music membership is concerned. Apart from iTunes match restriction to 100,000 songs you can't also upload songs that go beyond 200MB to your iCloud Music Library.
Any song that's downloaded from Apple Music is protected. It, therefore, does not allow users to copy, listen or transfer files to an unauthorized device. Apple Music users, therefore, have to get possible solutions to remove the protection on their devices before they get to enjoy listening to any Apple Music downloaded playlists or tracks.
Now check out these steps to convert Apple Music protected files to common audio files using DRmare Audio Converter.
Step 1

Load downloaded Apple Music files

Download and install DRmare Apple Music Converter on your desktop. Click the first 'Add' button from the left side of the home screen. Then you can add the downloaded songs or playlists from Apple Music library to DRmare. You can either drag and drop the them to the main interface or copy and paste the URL.
Step 2

Adjust output format and other options

Once the Apple Music streams are loaded into DRmare, hit on the 'audio' icon which is next to the 'Convert' button. You will prompt to Setting page. Select which output format you need your files to be converted to. Other parameters like the codec and bitrate are also determined at this stage.
Step 3

Convert Apple Music files

The last step is to convert your Apple Music protected files to the desired format. Now click the 'Convert' button and let the software carry through with the process. When the conversion ends, you can follow the on-screen tips to locate the local music folder.
Conclusion
It's a tough choice for Apple Music vs iTunes match. Both have a distinctive way of bringing on their best. While Apple Music offers Beats 1, curated tracks, and internet radio stations, the iTunes match gives the freedom to download and automatically upgrade your music to unlimited files. Well said, Apple Music has more to offer in terms of extra features. Furthermore, the availability of third-party converter tools like DRmare Audio Converter makes Apple Music still the preferred choice for many users.