At present, there are multiple music streaming services available, both for free and with monthly paid subscription. And there are some major and popular music platforms that stands out from the huge crowd, like Apple Music, Pandora, etc. They are quite at the same level, thus most of you will face the trouble for choosing which one.
Please take it easy. In order to let you choose the suitable music streaming service to listen to music, in this post, we are going to select Apple Music and Pandora to do a detailed comparison. At the below, you could see the differences between Apple Music vs Pandora.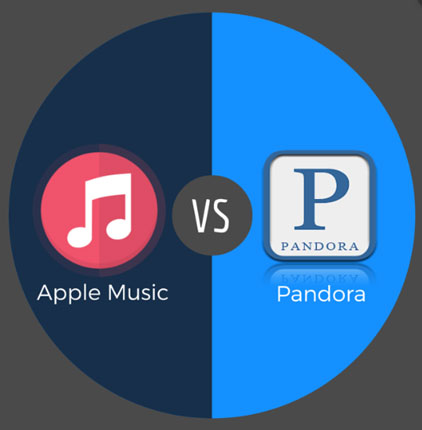 Part 1. Learn More about Apple Music vs Pandora
Apple Music is a music and video streaming service developed by Apple Inc. Users can stream music and listen to existing, curated playlists on it. It has a large music library, which includes many kinds of music for users to listen to. As Apple Music is integrated with existing Apple products, it is accessed through iTunes and Music apps that come with Mac, iPhone and iPad.
Pandora is an American music streaming and automated music recommendation internet radio service powered by the Music Genome Project. Users can choose an artist or song to be used as the basis for a radio station and Pandora uses this information to identify similar songs to play on that station.
Part 2. Apple Music and Pandora: Detailed Distinctions
Music Video Streaming Support
As a music and video music streaming service, Apple Music provides support to watch music videos within its service and there will be no-ads while streaming.
While Pandora doesn't offer such kind of music video streaming service since it serves as an Internet radio.
Siri Support
Apple Music streaming service offers support for Siri and you can control it by using your voice. You could ask her to play the songs for you, tell her what you want to hear next and more, which is convenient if you are driving. As for Pandora, it doesn't support for Siri.
Availability and Compatibility
Apple Music has a wide availability, which can be used in Americas, Europe, Asia, Oceania and in parts of Africa and the Middle East. However, Pandora is not available outside the United States, which greatly limits the users from all the world.
For the compatibility, Apple Music can work on iOS, Android, Apple TV, OS X and Windows. Pandora works well on the platforms, like iOS, Android, WP, Windows, Web and OS X.
Music Recommend
In the main interface of Apple Music, you can see the "For You" on the top. That is the place where Apple Music provides music recommendations for you. Apple Music will require you to choose some genres and artists you like when you start to use it. Every week, Apple Music will update a new playlist so that you can discover new music.
On the other hand, Pandora doesn't allow you to choose a specific song or artist. It just supports to create music stations according to users listening habits.
Audio Quality
When it comes to the audio quality, Apple Music is capable of streaming 256kbps AAC files. While Pandora is quite lower than Apple Music, which just streams 192kbps.
Plans and Subscriptions
Both Apple Music and Pandora offer free trial to their users. Apple Music provides a three-month free trial and Pandora offers 60 days. After the free trial, users need to pay for subscription if they still want to use the services. As for the price of each plan, here is the detailed below:
Apple Music service costs $9.99/month for a user or you can try its family plan, which costs $14.99/month for six users.
Compare to Apple Music, Pandora is quite cheaper for individual that just costs $4.99/month. It also offers family plan, which has the same price as Apple Music.
Part 3. Extra Tips
● For Apple Music Users
If you want to download Apple Music for offline playback on other devices, then you need to use a powerful third-party tool to help you. That is because Apple Music files are under the protection of DRM, you can't stream Apple Music to other non-Apple or unauthorized devices for using.
In order to solve this issue, we would like to share a tool named DRmare Audio Converter for Mac to you. It can help convert Apple Music to MP3 and remove DRM from Apple Music with lossless audio quality. You could just click the "Download" button below to install it on your computer and have a try.
● For Pandora Users
If you want to get Pandora radio for offline listening, here we would introduce an easy way for you. You could use DRmare Audio Capture for Windows/Mac to make it possible. It is a professional and smart software, which can automatically grab the radio tracks you play on Pandora and download Pandora Music to MP3 or other audio formats. The audios it downloads are with high audio quality and then you can listen to the music anytime anywhere.
Part 4. The Bottom Line: Apple Music or Pandora
At last, we hope you had known which music streaming service is the best for you with the above detailed comparison on Apple Music vs Pandora. If you want to listen to radio, you should choose Pandora. If you like to discover more music and songs, then I suggest you go for Apple Music.
Apple Music vs Pandora, which one do you like most? Please feel free to share your thoughts at the comment area below.