It could be a difficult task to figure out which music streaming service to choose when there are a lot of options for you. Each music service has its pros, as well as cons, thus, finding the suitable one for your needs may take a lot of time to study.
Do you want to listen to high-fidelity audio? Do you want personalized radio stations? Artist exclusives? We have looked at all these things and more across many popular streaming music services. But today, to help you make the right decision, we would like to choose two among them to do a research. Please go ahead and see the distinctions between Apple Music vs Deezer.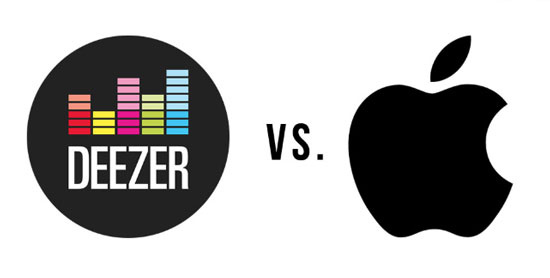 Part 1. Compare Apple Music and Deezer
Music Library
The most important factors to consider choosing which music streaming service is the number of songs in its music library.
Both Apple Music and Deezer has a large amount of music tracks. Apple Music owns over 50 million songs, which includes many kinds of genres of music. It will offer new playlists each week for you according to the songs you listen to regularly. And there are also playlists generated by the tracks your friends are enjoying as Apple Music offers the ability for you to see friends' activities.
As for Deezer, it also has more than 50 million tracks. Its music tracks include podcasts, live radio stations, and more. The "Flow" in Deezer is a shuffle mode with tracks chosen to match the tunes you listen to most and then Deezer will generate the songs for you based on your taste.
User Interface
When it comes to user interface, it is also one of the biggest factors for people to select the music streaming services.
Apple Music has a plain, clean design with playback controls at the top-left and you can search at the top-right to find music tracks. At the top of the main interface, you can see the Library, For You, Browser and Radio, which can let you navigate to the part you want easily and quickly. When you play songs, you will see the time bar at the top of the interface, which is quite different from other music players.
The user interface of Deezer is quite simple. When you open Deezer, you will see the navigation at the left. It shows you Home, Explore, Charts and Radio Channels and more. You can click on one of them to enter to the page you want. And the time bar of the song will appear at the bottom when you are listening to music.
Search Function
The "Search" on music streaming services is also vital thing for users, it is the place where users can type to find artists, songs, albums, radios and more directly.
Apple Music allows you to type in lyrics to find a song and see the rest of the lyric in the results, in case you remember the words but not the song title or artist, which does help a lot if you only know the lyrics of the song.
In Deezer, you can type in keywords to find an artist, playlist and more and you can also search for music via some genres, moods, etc.
Audio Quality
The next point to be considered is the audio quality of Deezer vs Apple Music. If the audio quality is bad, people won't like to subscribe to it unless you have a high quality earphone.
The audio quality of Apple Music is at 256 kbps, while Deezer is quite better than Apple Music. Deezer provides 320 kbps for those who subscribe to its premium service. Besides, Deezer also offers the hi-definition CD-quality at 1,411kbps to its subscribers, which meets the needs for people who want CD-quality songs. However, if you are a free member of Deezer, you just can enjoy the songs at 128kbps.
Subscription Plans and Cost
Apple Music and Deezer both requires to pay for its premium service. They have almost the same price of their services.
Apple Music doesn't have free service. For its individual plan, you need to pay $9.99 per month and $14.99/month for family plan. If you are a student, you can enjoy a lower price, which just costs $4.99/month.
For Deezer, it offers free service for users, but the music or songs you listen to are with ads, which may annoy you. For the price of its premium service, it is the same as Apple Music. But there is one more plan that Deezer provides for its subscribers. If you want to listen to HiFi songs, you could pay $19.99/month and then you can enjoy the music.
Part 2. Apple Music vs Deezer: Comparison Table
Below is the comparison table, which can let you see the detailed differences between Deezer vs Apple Music. Just take a look.
| | | |
| --- | --- | --- |
| | Apple Music | Deezer |
| Music Library | Over 50 Million | Over 50 Million |
| Free Service | No | With Ads |
| Monthly Fee | $9.99/month | $9.99/month |
| Family Plan | $14.99 for 6 family members | $14.99 for 6 family members |
| HiFi Plan | N/A | $19.99/month |
| Student Plan | $4.99 per month | $4.99 per month |
| Free Trial Period | 3 months | 30 days |
| Audio Quality | 256kbps | 320kbps MP3 quality for Premium / 128kbps MP3 quality for Free / CD-quality for Deezer Elite |
From this table, we could clearly see the distinctions between them. Apple Music and Deezer have something in common, such as the music library and the premium services. But there are two major differences -- the free service and the HiFi plan.
Part 3. More You Need to Know about Apple Music
When it comes to Apple Music, there is one thing that we want to note you. That is if you want to listen to Apple Music offline at any other devices, you are not allowed to do that. It is because Apple Music songs are in DRM-protected, which prevents uses from streaming Apple Music files to other devices for playback.
Is there any way to play Apple Music on other devices? Here is the solution. You need to use a tool to remove DRM from Apple Music first. We would like to highly recommend you use DRmare Apple Music Converter for Windows/Mac. Just download and install it on your computer and start the converting trial.
Part 4. The Verdict
After reading the post above, maybe you had got an idea of choosing which one for you. Actually, Apple Music vs Deezer are both quite popular and outstanding music streaming services, it may be quite difficult to select, so the option is up to you according to your own needs.
If you like to listen to radio and pursue for high audio quality for listening, then you may choose Deezer as it offers CD-quality songs for you.
If you are the one who usually forgets the name of the artist or the title of the songs, then you could go for Apple Music since it allows you search with lyrics.