Nowadays, there are many streaming music services that changed our way to listen to music, such as Spotify, Slacker, Apple Music and other services, and each has its own pros and cons. Among these music services, do you know which one is better for you? Now, you are feeling hard to make a decision, aren't you? To help you solve this problem, let's take a look at the music battle between Spotify and Slacker to see which meets your needs.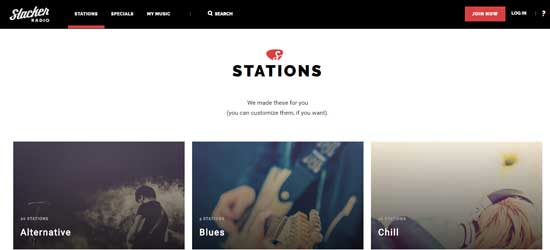 Part 1. Side by Side Comparison between Spotify and Slacker
Music Library
Spotify has more than 40 million of music tracks for its users and it usually has the fastest access to new music. And it can discover songs for you according to your listening habits.
As for Slacker, it owns over 13 million music tracks of different kinds. It can access to hundreds of various stations and shows easily and quickly.
Audio Quality
As for sound quality of Spotify and Slacker, Spotify is better than Slacker. Spotify free users can enjoy 160Kbps songs and premium users can enjoy 320Kbps songs.
While Slacker's free members can only enjoy 128Kbps songs and the Plus and Premium users 320Kbps. For Slacker's free users, the audio quality is really low beyond average.
Supported Platforms
Spotify has mobile, online and desktop platforms, such as Web, Android, iOS, Linux, Windows and MacOS.
However, Slacker doesn't have desktop app, it only supports mobile and online platforms, like Web, iOS, Android and Windows Phone.
Features
Spotify can generate a playlist for your based on your listening habits and release every week. You can create and pre-built your playlists, and rewind or fast forward songs you like.
Slacker has expert curated recommending function. The stations of Slacker are created based on an artist, album or track. Slacker will recommend tracks to the user who can either upvote or downvote them, and the Slacker will follow suit and recommend tracks considering how the user voted. And it also can let you pre-built your playlists.
Spotify Premium vs Slacker Plus/Premium: Price
Both Spotify and Slacker offer free and premium services, but there are some differences between them. Spotify's free service can let you listen to all kinds of music with occasional commercial advertisements. The premium service removes all ads for you as well as provides higher music quality, offline listening and more. Its price is $9.99/month.
While Slacker's free tier service only provides handcrafted stations and custom stations for you. The paid service of Slacker is Slacker Plus and Slacker Premium. Slacker Plus can let you enjoy ad-free, maximum audio quality and unlimited skips, it is for $3.99/month. As for Slacker Premium, you can not only enjoy the services that Free and Plus provide, but also can listen offline and play on demand. It is the ultimate listening experience of Slacker and the price for each month is $9.99.
Offline Listening
Both Spotify and Slacker free services don't allow users to listen offline. But don't worry. If you want to listen offline and without paying any fee, here we could introduce some free tools for you. You could look at the top 5 free streaming audio recorders to help you save any songs you want offline.
As for Spotify users, we will recommend you to use this software. It is called DRmare Spotify Music Converter for Mac, which can help you download Spotify songs at up to 5X speed with lossless quality and play on other devices.
Part 2. Spotify vs Slacker:Pros and Cons
Pros
Spotify is the most popular music service, which has lots of mainstream music and playlists for users. With Spotify, you can easily listen to different genres or moods of music you want. And it also provides free version for people to use.
Slacker is a radio app that is totally free to download. With this app, users get access to the music programming that is impossible to find elsewhere. You can customize the stations to let you only hear the type of music you love, the among stations include comedy shows, news shows, sports shows, and music shows.
Cons
Comparing to Spotify, the audio quality of Slacker's free service is too slow, which is not good for free users.
For Spotify, what makes people annoyed is that it has occasional ads.
Which One You Should Choose
After reading the post of music battle between Spotify and Slacker, do you have idea of which music service to choose? I guess it may be difficult, because each is designed for different needs for users, so it should be depended on your requirements. If you prefer high quality of audio, you should go with Spotify. For those who want to listen to news shows, sports shows or other shows, you should pick up Slacker.
Above are some of our suggestions, if you still have any questions, please write down your comments at the below section, and we will help you at once.