As two giants of online digital media providers in the world, iTunes Store and Google Play could be our top options when we are going to buy movies online. But should we buy from iTunes or Google Play?
Well, that could be a question if you are not yet familiar with the differences between the two. So in order to help you get a clear understanding of those two largest online media services and make wise decision on whether to buy movies from Google Play or iTunes Store, we are gathering the top differences between iTunes and Google Play in this review, such as media quantity, movie quality, price, compatible platforms, etc.
View also: Amazon Audible vs Google Play Audiobooks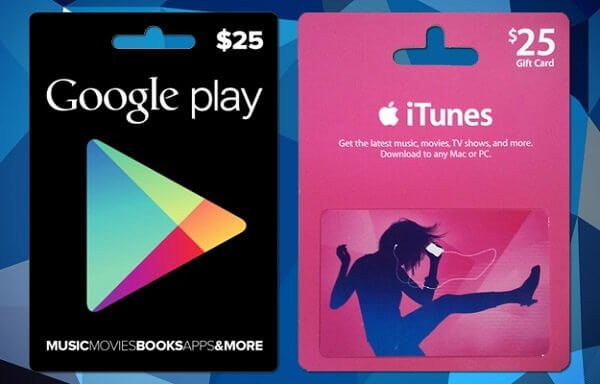 1. Media Catalogue: iTunes Wins
Both Google Play and iTunes Store provide a large number of media, including movies, TV shows to their users to select from. The statistic shows the online digital library or catalog of iTunes Store is around 45K+ movies, and more than 10 thousand TV shows. When it comes to numbers, Google Play does not reveal the actual quantity of media content it possess but only saying that it has "millions" of songs and "thousands" of movies and TV shows. So in terms of the movie quantity, iTunes seems to take the upper hand than Google.
2. Price: Almost the Same
When it comes to price, both of iTunes and Google Play ask almost the same amount. Specifically speaking, both Google Play and iTunes provide their user the convenience to buy or rent movies and TV shows, on their respective platforms. Most of the SD (standard definition) movies in iTunes and Google Play are available for around $4 for rent and around $15 to purchase. And for HD (high definition) movies, prices go up to $5 to rent and around $25 to buy. As for TV episodes, the price for entire series may go up to $30 to $40 per season.
3. Rentals Restrictions: Similar
As mentioned in the price models, both iTunes and Google Play provide service for users to rent movies. But the restrictions of the movie rentals show slightly difference in these two platforms. For iTunes, you can easily rent any movie by simply logging through your iTunes account. When you rent a movie from iTunes Store, you will be given the access of that particular item for 30 days, and 24 hours once you get started. And for movies rented from Google Play, you can access the content within 30 days after you rent it and 48 hours once you started watching it.
4. Service Accessibility: Google Play Wins
Generally speaking, Google Play supports more playback platforms and devices than iTunes. Because of the Apple's FairPlay DRM, iTunes content is only accessible through iTunes app. On the contrary, Google Play Store can be accessed by an android supported device, a web browser as well as an iOS device. As a result, iTunes user can only watch their movies on Apple or iOS devices, while Google Play users can watch the movies anywhere they want.
Useful tips to play iTunes movies on Android devices too
If you already got some movies from iTunes Store, don't worry. The good news is that you can somehow transfer the iTunes movies to Android devices or Google Play for watching and backup with the help of a third-party tool. For instance, DRmare M4V Converter which is able to remove the DRM protection from iTunes and convert the iTunes movies to Android supported formats. Simply follow this tutorial: How to Transfer iTunes Movies/TV Shows to Android and download the free version here to begin converting your iTunes movies to Android.
Conclusion: iTunes or Google Play
As you can see, both iTunes and Google Play are great places to buy movies. Choosing which store mainly depends on your requirements. For example, if you are looking for some hot movies or classic oldie films, iTunes Store might be the better choice as it provides more movies and TV shows than Google Play. But if you consider more about the playback devices, Google Play should be the first consideration unless you decide to get the third-party iTunes DRM removal tool, like DRmare as well.