What is DRM? DRM refers to Digital Rights Management and it is great as an anti-piracy technology. But it somehow punishes consumers that have legally purchased those media content. Generally speaking, DRM-protected movies, music, audiobooks can only be played by selected and approved devices in a limited way.
For instance, you can't play the downloaded iTunes video on your Android tablets, but only on iOS devices. To remove DRM from iTunes, a number of DRM removal freeware come out, both paid and free. If you have no idea on picking which freeware to remove DRM protection, you are suggested to have a test with some freeware at the first place.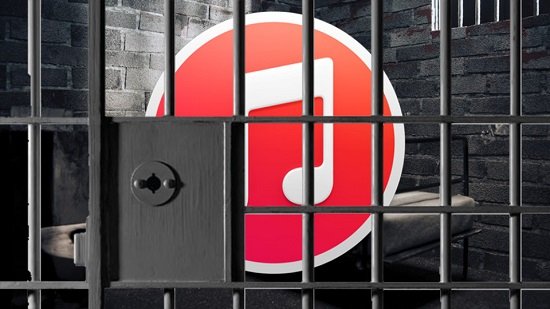 In this review, we are listing some top DRM removal freeware that bypass DRM encryption legally with high quality on Mac and Windows. And then produces DRM-free media files that you can enjoy on practically any capable device.
With these top 3 free DRM removal software, you can easily get all your iTunes movies, TV shows, music, audiobooks, etc. permanently free from DRM.
No 1. Requiem (Mac & Windows) - Best Free DRM Removal Software for iTunes
Requiem is a free iTunes DRM removal software, which can remove DRM from iTunes videos, music, eBooks. Unlike some fake DRM removal utilities that simply perform a screen recording of iTunes videos, Requiem is promised to remove iTunes DRM losslessly without re-encoding.
However, Requiem lost the war with Apple in 2012. It was stopped upgrading permanently since the release of iTunes 11 that year. The latest version remains in Requiem 4.1. That's to say, if you want to use Requiem to strip DRM from your iTunes media for free, the first thing you have to do is downgrading iTunes to version 10.7 or lower. To decrypt DRM from iTunes music and movies, Requiem 4.1 is the required version. For decrypting iBooks, the best combo would be Requiem 3.3.6 and iTunes 10.5.3.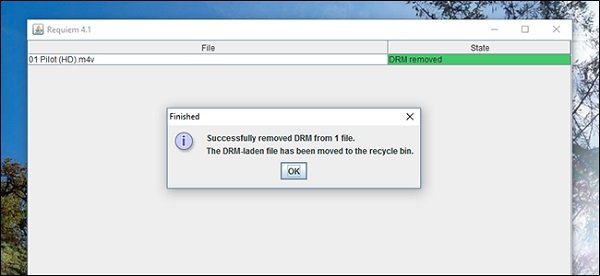 Pros:
* A complete solution to remove DRM from iTunes movies, songs, audiobooks and iBooks
* Support removing iTunes DRM losslessly
* Very easy-to-use and totally free
* Support both Mac and Windows OS
Cons:
* Out of development for years
* Windows users need to install Java to make Requiem work properly on Windows PC
* Can't work with Mac OS X 10.8 or later
* Support iTunes 10.7 or lower
* Can't convert iTunes movie and audios rentals
Best Alternative to Requiem 4.1 - DRmare M4V Converter
Since Requiem is out of updated, you are suggested to try out the best alternative to Requiem 4.1.
Here we are talking about DRmare iTunes M4V Converter (Mac & Windows). It's not a free DRM remover, but it features lossless removing DRM copy protection from both rented and purchased iTunes movies and TV shows, as well as iTunes Extras.
It's able to keep original AC3 5.1 audio track, closed captions, subtitles. And it converts the iTunes M4V videos to DRM-free formats, including MP4, M4V, MOV, AVI, MKV, MPEG, etc. at 30X faster speed. Better than Requiem, it fully supports the latest iTunes and computer systems. For more details, you can read this tutorial: How to Remove DRM from iTunes Movies with DRmare.
Pros:
* Support purchased and rented iTunes movies
* Support multiple output video formats
* Retain lossless output video quality
* Preserve CC, AC3 5.1 audio and AD tracks
* Convert iTunes videos at a faster speed
Cons:
* It is not free
* Free version is widely limited
No 2. myFairTunes (Windows) - Free DRM Removal Software for iTunes Music
myFairTunes is another free DRM removal program but mainly focuses on removing DRM from iTunes M4P songs. Although Apple already dropped out DRM from its iTunes music files since 2009, this freeware can still act as a great tool for iTunes users who collected thousands of protected songs from iTunes Store earlier than 2009.
Comes with a user-friendly interface, myFairTunes empowers you unlock iTunes FairPlay-encrypted songs and albums by converting the DRM-ed M4P music files to common MP3 format easily. Thus, you can share your iTunes songs to non-Apple devices freely after conversion.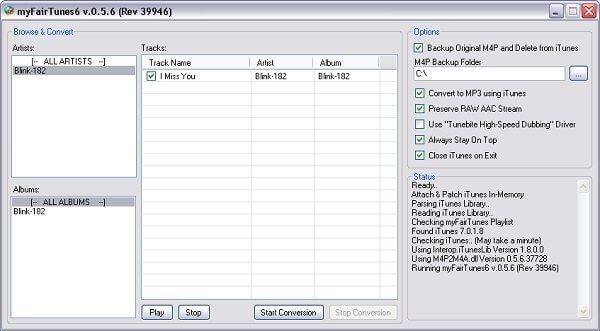 Pros:
* Free to remove DRM from iTunes M4P music tracks
* Support search for DRM protected music from users' entire collection
* Backup original M4P songs before stripping off DRM
* Simple to use with small size
Cons:
* Only available for Windows version
* Not completely free, only outputs MP3 at the free stage
* Stopped upgrading and requires iTunes 7.0.5 or earlier
* Can't customize output music quality, file size, etc.
* Can't convert Apple Music audios and iTunes audiobooks
* Can't convert iTunes M4V videos
* Need to install Microsoft .NET Framework 2.0
Best Alternative to myFairTunes - DRmare Audio Converter
From the above pros and cons of myFairTunes, we could see that it only works for iTunes music and runs on Windows. Here we would like to introduce a powerful tool for you.
It is DRmare Audio Converter (Windows & Mac), which is designed to remove DRM from iTunes Music, Apple Music, Audible Audiobooks, etc. with original quality.
This tool can convert the audios to MP3, AAC, WAV and more common audio formats. And it can batch convert the music files for you at a faster speed with ID3 tags kept.
For more details, you could refer to this page: How to Remove DRM from Apple Music.
Pros:
* Excellent and enhanced UI
* Multiple options for output formats
* Can work as an audio player
* Remove DRM from iTunes Music, Audible Audiobooks and Apple Music
Cons:
* Not many cons as such
No 3. Calibre (Mac & Windows) - Best Free DRM Removal Software for eBook
Calibre is a free e-book application suite developed to help users manage their e-book collections, by converting, editing, creating and reading eBooks of different formats. It could be the best free way to remove DRM from eBooks. It supports a variety of formats, including Kindle books, Barnes and Noble, Adobe Digital Content, etc.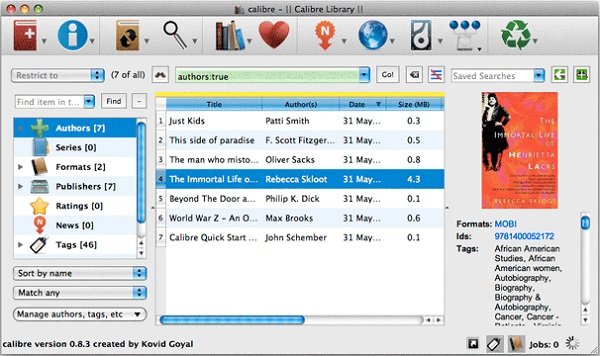 Pros:
* All-in-one eBook converter and manager
* Convert, load and read your eBooks with ease
* Support 50+ eBook formats
* Easily download e-books from online stores
* Support 'search book' function
* Access to your eBooks collection online
* Totally free to use
* Support Mac, Windows and Linux
Cons:
* Need plug-in to remove DRM from eBooks
* Source content must be in HTML
* Some features hidden
* Not very user-friendly
Best Alternative to Calibre - AzwSoft eBook DRM Removal Software
AzwSoft eBook DRM Removal is the best tool for you to rip DRM from eBooks. It can work with Adobe ADE DRM, Nook DRM and Kindle AZW/MOBI DRM. It can support almost all eBooks formats even several less common niche formats. And it is easy to use like other DRM removal apps and you can save the DRM-free audio files on your computer after converting.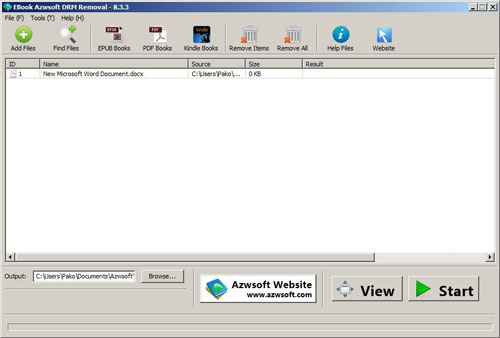 Pros:
* Work on Windows and Mac OS
* Support to rip DRM from Adobe ADE, Nook and Kindle AZW/MOBI
* Support eBook formats like PDF, EPUB, PRC, AZW, etc.
* Simple to use
Cons:
* Can't remove DRM from iBook