DRM is very common in our daily life nowdays. There are a variety of files come with digital rights managment copyright protection from different sources like iTunes, Amazon, Google etc. But do you know what is DRM exactly? Are you tired of DRM restrictions?
If you are not so sure about DRM or you just want to get rid of DRM protection, you can read this article to find out all the things related to DRM easily here so that to enjoy the digital media files in a much comfortable way.
View also: Top 3 DRM Removal Freeware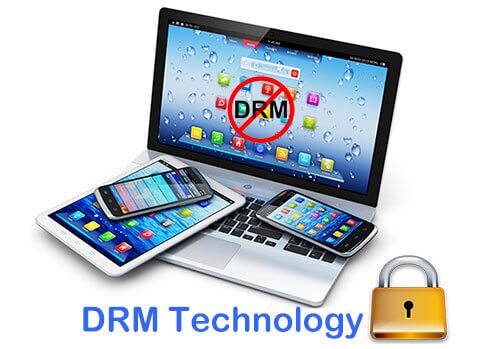 Part 1. What is DRM and DRM Technology
DRM is an abbreviation of digital rights management or digital restrictions management which is created to protect the digital media contents such as software, games, videos, music, eBooks from being pirated and control some devices like CD, DVD, printers, mobile devices etc. to access some specified services only and it was first developed in 1980s. This is very helpful for content authors and device manufacturers. However, it also brings so much trouble and inconvenience for the paid legal users, so there are a lot of people are against DRM and it didn't stop piracy much actually. In Octabor 1998, American enacted the DCMA ( Digital Millennium Copyright Act) to outlaw the actions of removing DRM from copyright protected and it has accelerate the development of DRM technology greatly.
DRM Technology means the program used to protect the copyright. There are thousands of different DRM techniques with different forms, almost each company has its own DRM system. The most important DRM technologies are Apple FairPlay, Microsoft PlaysForSure, PlayReady, Windows Media DRM, Windows Genuine Advantage , Content Scrambling System (CSS) and AACS (Advanced Access Content System) for DVD and Blue-ray, Google Widevine, Adobe Primetime, and CMLA-OMA DRM schemes and so on.
Part 2. How Does Digital Rights Management Work
Although there are different DRM systems, they work basically the same way. Take the FairPlay DRM for example, it use the AES algorithm in combination with MD5 hashes. In general, it can encrypt the contents and limit the access times, playing devices and so on.
1. First of all, to achieve this target to make DRM work, a Digital Program Authorization Center( also know as DRM server) must be established first.
2. Then it requires to encode the digital content like videos and audio files with a public key and the URL of the DRM Server on the head of media files. The public key is used to prevent the file from editing.
3. Third, when customers buy a DRM file, it will add two private keys, one is saved on the DRM server and the other one with customer info is saved on the downloaded file. With both private keys, the DRM system can verify and authorize the file to be played normally. This looks like a secret handshake between the download file and the DRM server.
Currently the two most widely used DRM systems are Windows media DRM and Apple FairPlay Streaming DRM. Both are developed to protected the media files and devices from its own IOS or Windows ecosystems and they are not compatible with each other. With both DRM, they can limit the access/modification/distribution of the digital media contents and hardware devices for Microsoft and Apple.
Part 3. Is It Legal to Remove DRM and How to Do That
From what has been mentioned above, DCMA was released in USA in 1998, so it maybe not legal to remove DRM for sharing and distribution in some countries. However, for the inconvenience which brought by DRM, more and more people start to complain about DRM. Because DRM is against of the spirit of free software/web/content today. And things seem to start to change in some areas. In 2009, Apple gave up the DRM protection on its iTunes music, so as to enable music lovers to enjoy them in a better personalized way they prefer.
But DRM still presists on other media files. To help users to enjoy digital media contents such as videos, audiobooks, iBooks easily, nowadays there are couples of third party companies like DRmare, TunesKit, Aimersoft, NoteBurner, M4VGear release many DRM Removal software. It is legal in some countries as long as you as you use it for personal instead of commercial. With these software, you can get rid of DRM effortlessly. If you want to experience the digital contents better by yourself, then you can try out these DRM removal tools. For instance, DRmare M4V Converter is a highly recommended converting tool to remove video DRM protection, which allows you to enjoy videos anyplace anytime.
DRmare M4V Converter - Best iTunes DRM Remover