What smartwatch do you have? Can it stream Spotify songs? Today smartwatches are a must-have gadget for runners. But, they are not all about running. They are wonderful devices that offer more functionalities for everyday life.
With your smartwatch, you can stream Spotify music as you walk your dog, listen to your favorite audiobooks as you ride the subway, track your location in case you went hiking or camping and get notifications of all the important things you want without touching your phone even once. This is why runners love it because it removes the need of carrying something in their pocket as they run.
However, not all smartwatches can play music let alone stream Spotify songs. If you use Spotify for streaming audio content, here are the top five Spotify smartwatches you need.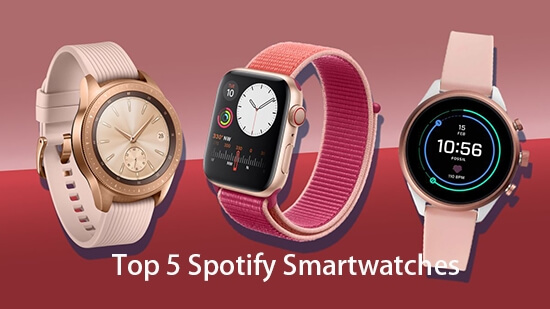 No 1. Garmin Fenix 6s Pro
The Garmin Fenix 6s Pro is one of the top Spotify smartwatches in the world right now. This smartwatch comes packed with numerous great features. It comes in a number of sizes and styles which gives you a lot of options. If you love listening to music as you jog then you will love this Spotify smartwatch.
It has enough space to store about 1,000 of your favorite songs. Besides, you can download songs from Spotify directly to the Garmin watch for easy listening even when offline. This gives you more freedom as you don't have to rely on your smartphone to get things done. In addition, the Fenix 6S Pro has a robust GPS and allows you to upload your custom courses, stream maps or area topography to ensure that you can easily track your location.
Besides if you like exercising you can use the watch to track your heart rate as you run, swim, hike or cycle. This smartwatch also works with other apps such as the ClimbPro app to track your climbing activities such as the elevation, distance covered vertical speed among others.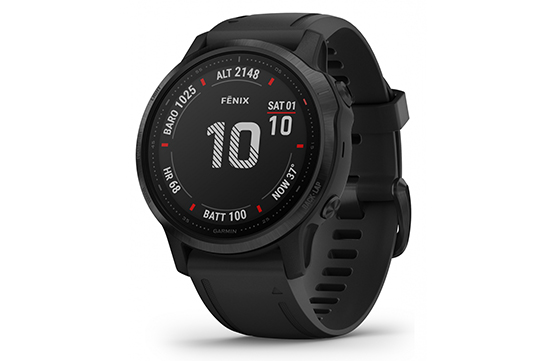 Pros:
Built-in robust GPS tracker
Bluetooth enabled headphones
Large music storage space
Capability to stream music from Spotify
Tracks all metrics of your exercise activities
Waterproof
Cons:
No 2. Apple Watch Series 5
It is impossible to talk about the best smartwatches in the world without mentioning the apple watch. It is a stylish watch packed with great features that make it perfect for use both in the office and on the hiking trail. If you love running this watch is what you need. It has all features to ensure that you remain on track. In addition, it tracks your heart rate, speed, distance covered and can allow you to call for medical help in case of an emergency.
The Apple Watch Series 5 comes has a 32 GB storage space which means that you can store all your favorite songs without having to worry about space again. In addition, you have access to Beats Radio and Apple Music which guarantees that you have a source of new songs right on your device.
If you are not a fan of Apple Music then don't worry as there are other better options for you. You can download and install the Spotify app to your apple watch and stream all your favorite music nonstop on the device. You could also download all your favorite Spotify music on to the Apple Watch for listening offline.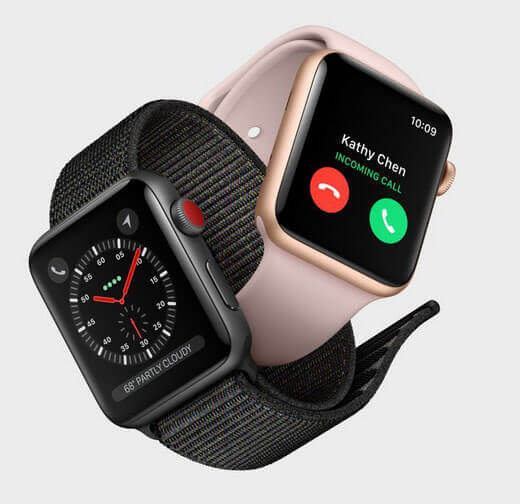 Pros:
Built-in GPS tracker
Music streaming for both Spotify and Apple Music
Large storage space
Waterproof
Cons:
No 3. Samsung Gear Sport
Samsung Gear Sport is one of the best smartwatch with Spotify in the world today. Although this watch may look just like your regular watch, it is packed with great features to make work easy for you when on the training field. It has a long-lasting battery which makes sure that you don't have to worry about a dead battery when jogging.
If you love working out then you can rely on this watch to track your heart rate, collect your exercise data and work with health apps to tell you how you are doing and what is happening to your body, which is perfect if you want to monitor your health. One of the best features of this watch is the fact that you can stream Spotify on Samsung Gear for easy listening while jogging.
The watch has a 4GB storage space for music where you can download and store all your best Spotify playlists for listening to when offline. In addition, all you need to find, select and play your favorite jams is your voice. This makes it easy to change songs while exercising.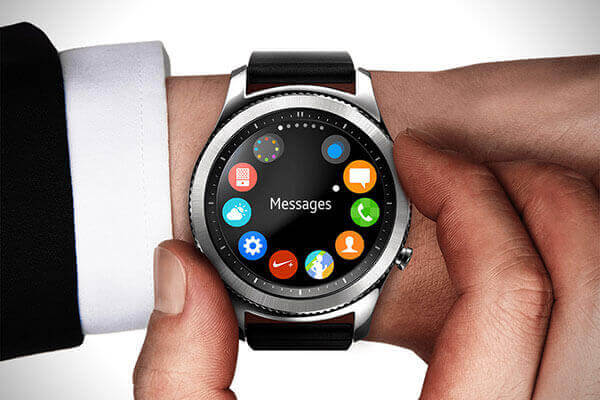 Pros:
Waterproof even in saltwater for up to 50m
Calorie tracking without the need for additional apps
Built-in GPS for tracking your location
Long-lasting battery that can last up to four days
Spotify music streaming
Cons:
No 4. Fossil Sport Smartwatch
Fossil Sport is packed with many great features that make the watch perfect for anyone looking for a smartwatch that works with Spotify. Unlike other smartwatches, Fossil Sports comes with pre-installed Spotify. This saves you the trouble of having to set up the Spotify infrastructure on your new watch. After buying the watch you can start listening to Spotify on Fossile Sport right away.
Other than playing music, this Spotify smartwatch as many other great features for an exercise lover. First, it has a decent battery life which allows you time to concrete on what you love without worry. It has an 8GB storage space for storing your songs and other data, besides, it has all the other tracking features that help you gauge how hard you are going when on track.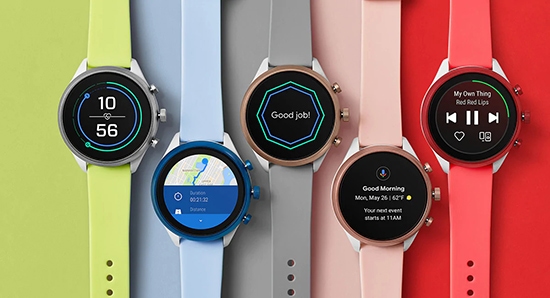 Decent battery life
High speed which makes for easy use
Pre-installed Spotify
Large storage space for music
Lots of other great features
Cons:
No advance features for health monitoring
No 5. Sony Smartwatch 3
Sony has a huge history of success in the electronics manufacturing world. It is therefore not a surprise to see the Sony Smartwatch 4 on this list. This smartwatch with Spotify comes with in-built GPS which makes navigating around and especially if you go hiking quite easy.
The watch also allows you to stream and play Spotify songs on it which is a huge plus for all music lovers. Its strong battery lasts for up to two days which can give more hours of constant Spotify music listening than most smartwatches in the world.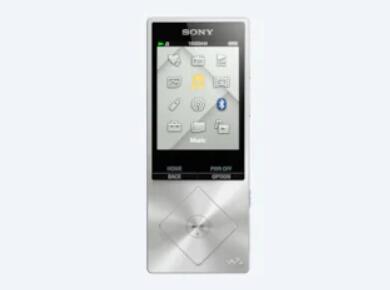 Spotify streaming
Bluetooth connectivity
High operation speeds
Long-lasting battery
Many great features
Cons:
How to Play Spotify on Smartwatch
Other than the smartwatches listed above there are many others that can play music, have a large storage capacity, and a long-lasting battery and Bluetooth enabled headphones but do not support Spotify. If you are a premium Spotify subscriber and own such a smartwatch you must be cursing yourself for not looking for one that supports Spotify. The good news is that you no longer need to feel upset if your smartwatch does not play Spotify. In fact, you should not be bothered with Spotify when buying a smartwatch.
Any smartwatch that has a music player can play your Spotify songs. All you need is a powerful tool known as DRmare Spotify Music Converter. With this tool, you will be able to download all your favorite songs from Spotify and convert Spotify to MP3 so that you can be able to play on any device. Besides, you don't even have to be a Spotify premium subscriber. This tool works with both the free and the premium Spotify accounts making it easy for anyone to get their Spotify songs onto their smartwatch even if they do not support Spotify. To use this tool follow these steps:
Download and install the DRmare Spotify Music Converter onto your windows computer. Once installed, click the desktop icon to launch the tool. This will automatically launch the Spotify app.
On the Spotify app, find the songs and playlists you want to transfer to your smartwatch and drag them to the conversion window on the DRmare Spotify Music Converter tool.
Once you have all the songs you want to download on the tool click "menu bar" and then select "preference" and then select MP3 as your output format. Remember if your smartwatch plays a different audio format then select it instead of MP3.
Click "Convert" to start the process of conversion. This will take a few minutes but once done all your songs will be saved on your computer as MP3 files or any other format you selected.
Transfer your songs to your smartwatch either using Bluetooth or a cable connected to your computer. Once this is done, you can enjoy playing the songs on your device as you want.
In Conclusion
Smartwatches have become important gadgets in our lives. As more and more people commit to exercise more having a smartwatch becomes an important goal. Traditionally smartwatch has been used to track all aspects of your exercising and how your body responds to work. However, today many smartwatch makers are now offering the ability to play music to users and most are turning to Spotify which is the world's largest must streaming service.
If are looking to buy a smartwatch that streams Spotify songs then the list above provides you with the best alternatives you have. However, if you already have a smartwatch that plays music but does not support Spotify then your best option is to get the DRmare Spotify Music Converter. With this tool, you will be able to download Spotify songs, remove the DRM protection and export them to your smartwatch for easily listening offline.