For a long time, Spotify is the unique streaming music online, making it the king of Internet radio. Nowadays more streaming music services rise up. The streaming music business to be more crowded. The rivals includes Google Play Music, Amazon Unlimited Music, Tidal, Apple Music, Deezer, Pandora. And Spotify is not the only choice anymore. Have you ever subscribed to Spotify before? Do you want to subscribe to Google Play or Spotify?
An online survey shows that more users are opt for Google Play Music to Spotify. If you want to get a new streaming service or want to switch Spotify to others, you can take a look at this post. We will do a side by side comparsion between Google Play Music and Spotify here.
View also: Upload Apple Music to Google Play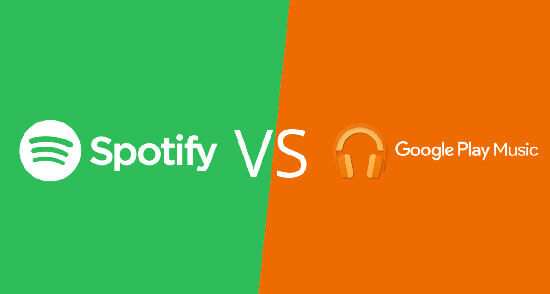 1. Google Play Music vs Spotify: Quick Introduction
Google Play Music is an on-demand music and podcast streaming service. It was publicly launched on November 16, 2011. Play Music offers users storage of up to 50,000 files for free. You can upload your personal music library to it. If you suscribe to the premium account, you can get access to the YouTube Music or YouTube Premium as well. Also, you can listen to all songs offline from web player or mobile apps.
Spotify is the most popular streaming service in the the world. It was established in April 23, 2006. Until now, it has over 170 millions users, of which 70 millions have premium membership. It also has two tiers of services: free and premium. The premium membership remove all ads and enable you to listen songs offline.
2. Subscription Cost
Both streaming Music offer free tier service. Spotify lets you access all music from the library except with ADs. Google Play Music only lets you listen to the radio station for free. And the premium subscription cost for both music is same. Personal license $9.99/month and family license $14.99/month. The difference is that Google Play Music also offers premium users the extra YouTube Music for free. And even the YouTube Premium or YouTube Red features.
3. Music Library
Both Google Play Music and Spotify claim to have over 35+ millions of songs. But after trying out both apps, we found that there are some songs lacking from the Google Play Music. Undoubtedly, Spotify's music library is a little bit bigger. Luckily, Google Play Music allows you to upload 50,000 songs for free. You can simply buy songs you want from other sources. And upload them to Google Play if you want.
4. Audio Quality
On desktops, they offer the same quality up to 320 Kbps for streaming music online. On Chromecast, the bit rate is up to 256Kbps. On mobile devices, the quality is up to 160 Kbps. Both supports Wear OS app, Android TV app, Web client, Desktop client so on. In general, you won't hear any difference.
5. Device Limitations
This is one major differnece of the two services. Google Play Music Premium users are limited to use the app within 10 devices. No matter if you are using it offline or online. Spotify doesn't have a limitation on the number of devices for online listening. You can use it for any devices. And you can switch it freely. But if you want to listen songs offline, then it is limited to 5 devices with 10, 000 songs in total.
Besides, both streaming services are combined with the digital right management protections. This means you can't move the streaming songs out of the ecosystem directly. For Spotify users, they can use a third party DRmare Spotify Music Converter for Windows/Mac to get rid of the DRM protection. Unfortunately, as of the time being, there is no such a tool for Google Play Music yet.
6. Music Discovery
Regarding to the music discovery fetaure, Spotify is the algorithm powerhouse. It supports daily mix, discover weekly , release radar etc. The longer time you use the software, the more accurate results you will find. Google Play Music doesn't have "discover weekly", but it offers "I'm feeling lucky" suggestions to recommend you new songs. You can thumgs up a song to add them to an auto playlist if you like it. Google will use it as find music match you better.
7. Spotify App vs Google Play Music App
Spotify and Google Play Music apps are all well organized with clean interface. You can easily navigate to find the features you want. For example, to share a music or playlist, you just need to do several clicks. Spotify has the extra feature though. You can connect the Spotify account to Last.FM. And you can manage and control the account there.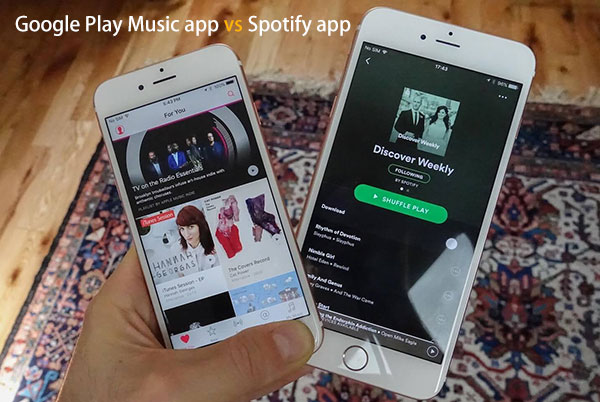 8. Availability
Previous Google Play Music is only available for a few countries. But now both music services are available on dozens of countiries. So this is not a problem for many users. By the way, even if your local country is not on the support list, you can solve it by setting up a VPN.
Final Verdict: Which Is a Better Streaming Service
As a Music lover, I have try almost every streaming audio service in the market. When one service has some advantages, it surely has some disadvantages. With time goes on, all platforms keep improving their services. And the music difference becomes less. It is hard to say which is better. Beucase this also depends on everyone's preferences.
Spotify is a pure streaming music platform with best music discovery features. It is highly recommended if you trust on the online streaming algorithm. But if you enjoy both music and video, you might take a look at Google Play Music. It offers the YouTube Premium which allows you to access premium video contents too.