Nowadays, most of us have become familiar with music streaming services. In those music services, we can listen to music and radios, create playlists, share music with others across them. But which streaming music service is best and suitable for you? What features do you need of it and what services and privileges you can get from its subscriptions?
Today, we here choose Apple Music and YouTube Music to do a detailed study for your reference. Below you can see the comparison between Apple Music vs YouTube Music.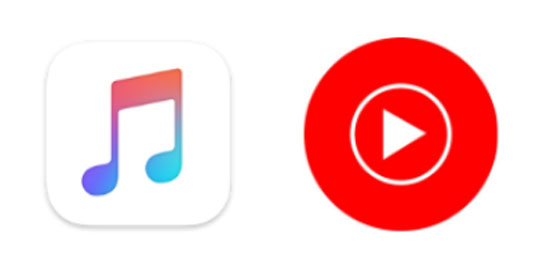 Part 1. Apple Music and YouTube Music: Detailed Distinctions
Plans and Subscriptions
Apple Music doesn't provide free service for users, it just allows users to try it for three months. After then, users need to pay for it to enjoy music. As for the price plans, Apple Music offers three plans for its users. For individual, you need to pay $9.99/month. If you are a student, you can enjoy a price at $4.99 per month. If you want to try the family plan, you should pay $14.99/month and it can support six family members.
Unlike Apple Music, YouTube Music offers free and premium services. Users can access to YouTube Music and listen to the music, but with ads. As for the premium service, there are YouTube Music Premium, YouTube Premium Student and YouTube Premium Family Plan for users. And the prices of them are the same as Apple Music.
Music Tracks
When it comes to the music tracks, Apple Music has more than 40 million songs that are available for its users. And until now, it has 60 million subscribers, including free trials. This is due to Apple Music has iTunes' established music library behind it and as part of Apple ecosystem it's a breeze for Apple fans to use.
While YouTube Music doesn't show us the amount of music tracks it owns, but users can still enjoy kinds of music with ads-supported.
Sound Quality
As for the audio quality, Apple Music is capable of streaming 256kbps AAC files. While YouTube Music offers 128kbps for free members. If you are the premium members of YouTube Music, then you can enjoy 256kbps audio quality.
Availability and Compatibility
Apple Music has a wide availability, which can be used in Americas, Europe, Asia, Oceania and in parts of Africa and the Middle East. It can work at Mac OS, iOS, CarPlay, Windows, Amazon Echo, Sonos, etc.
And YouTube Music is available in 77 countries, which is mostly in the Americas, Europe, Oceania, Asia and in parts of Africa. And it is available on Google Assistant smart speakers (including Google Home).
Music Recommend
When you open Apple Music, you will see the "For You" on the top of the main interface. It is the place where Apple Music will recommend music for you. Every week, Apple Music will recommend new songs for you according to your tastes and then you can find more new music.
YouTube will show you newly music according to your search history in Google Search and YouTube since YouTube is a Google product.
Radio
Along with easy device and iTunes integration, Apple Music has a Beats 1 radio. It is a live, all day radio service, which offers up content that you won't find anywhere else. It is also a good place for find new music, listen to music from your favorite artists, or enjoy a steady stream of quality tunes without having to choose what to listen to. If you are the subscribers of Apple Music, you can listen to shows on demand.
While YouTube Music, it seems that it doesn't have the feature of radio like Apple Music.
Part 2. Extra Tips
Above is the detailed review on Apple Music vs YouTube Music. Then you can refer to it to choose one of them for you according to your requirements. And no matter which one you will select, we will give you bonus on both of them. You could check it below.
● For Apple Music Users
When it comes to Apple Music, here is something that you should know. That is you can't directly stream Apple Music songs to some devices, because Apple Music has restricted users to do that unless they play the music on authorized devices.
To solve this issue, then you need the help of a powerful tool to make Apple Music play on any other devices freely. Here we would like to highly recommend the Audio File Converter for Windows/Mac to you. You could use it to convert Apple Music to MP3 or other common audio formats, and then you can listen to Apple Music files offline without limitations. Just click the "Download" button below to start your trial.
● For YouTube Music Users
As for YouTube Music, if you want to download music from it for offline playback, then you need to subscribe to it. What if you don't want to pay for it and still want to listen offline? Take it easy. That is not hard to solve. You just need a tool to help you.
Here you could try Audio Capture for Windows/Mac. It can detect the music you play on YouTube Music and download them to your computer with high audio quality. You can set the output audio formats and personalize other parameters for YouTube Music before recording. After the whole process, you will get YouTube Music offline and can listen to them with ease.