As we all known, Spotify is one of the most popular music streaming services and many people are used to listening music with Spotify. However, as the time goes on, many new music services appear in our life, such as YouTube music. Maybe you had known it on YouTube, but maybe you hardly use it, because it's a newly music service and you cannot make sure whether it's suitable for you or not.
In order to let you make the right decision, we will take Spotify and YouTube music as an example to do a review in the following sides.
See also: YouTube Music vs Tidal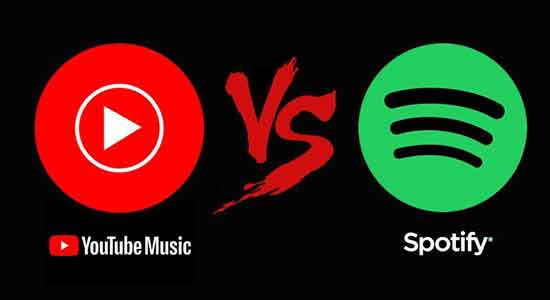 Comparison List of Spotify and YouTube Music
Though all the music streaming services have something in common, there are still lots of distinctions among them is you deeply make a study on them. The table below is some parameters of Spotify and YouTube music, you can take a look of it.
Spotify
YouTube Music
Founded

October 2006

November 2015
Price

Ad-supported free tier

Personal license: $9.99

Family plan: $14.99 for 6 family members

Ad-supported free tier

Premium: $9.99 / month for single license

$14.99 / month for family license

$4.99 / month for student license

Free trial time
1 month

1 month

Podcast service

yes

no
Audio quality

up to 320 Kbps

up to 256kbps AAC
Music library
over 40 million
not reveal
Offline listening

yes, for paid subscribers

yes, for paid subscribers

Supported platforms
Windows/Mac/Android/iOS
Android/iOS/Amazon Alexa/Google Home/Sonos
Special features

weekly music discovery

home of thousands of non-lable tracks
Offer free tier service
yes
yes
Availability
78 countries
50 countries
Spotify vs YouTube Music: The Apps' Design
Spotify's whole background color is black, which organize all of the important parts. When you click "Home", you will find your personalized playlists, what's trending, and more on the app's interface, it is very easy to use and find your songs. The app has a dynamic ambient background which switches based on the active song's album art.
As for YouTube Music, its layout is similar to Spotify, but there are some differences in its library. Its sections are around the music you've listened to before. It will show you "Favorites", "Listen Again", "Similar To", and more sections. However, YouTube Music's interface may let you confused, because its large video and album/artist thumbnails.
In addition, the biggest different point is that YouTube Music doesn't have dedicated desktop apps, so you have to depend on the web apps and third-party wrappers instead.
In this part, Spotify is undoubtedly the winner here.
Winner: Spotify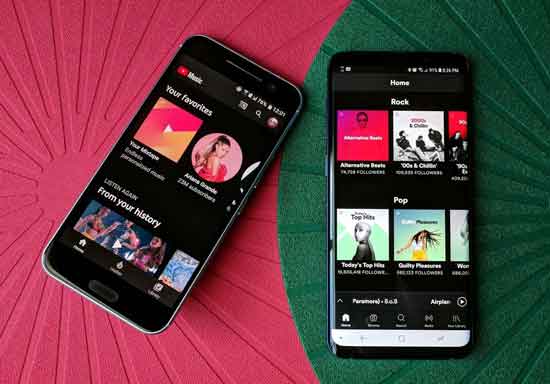 Spotify vs YouTube Music: Music Library
Until now, Spotify had housed over 40 million music tracks at a wide range. No matter which times' music you want to look for, Spotify has your covered. Moreover, it will release exclusives occasionally as well for users.
Whereas YouTube, it doesn't reveal how many music tracks are in its library, but you don't need to be worried. It is the only music service that can let you find some non-label tracks which you can't find on other music streaming platform, because it is home to thousands of non-label tracks. YouTube music allows you stream music or video from YouTube's extensive catalog of songs, concert clips and others.
As far as official songs are concerned, Spotify won't let you down. However, due to YouTube's integration, YouTube music gains the advantage. In the future, YouTube music's possibilities are endless and you will be able to hear more music beyond others.
Winner: YouTube Music
Spotify vs YouTube Music: Search Function
Both Spotify and YouTube Music have a search function. When you search on Spotify, it can let you find the right playlist for a mood or activity. For YouTube music, it has a powerful feature. When you can't remember the title of a song, you can type in whatever you remember on YouTube music and the song you are looking for will be showed up in the results. That's really good news for those who usually can't remember the name of the song.
Although Spotify can precisely meet your playlists demands, it seems that YouTube has a superior search engine than Spotify. The reason why YouTube music has this feature is that YouTube is tied with Google.
Winner: YouTube Music
Spotify vs YouTube Music: Podcasts
Being able to stream podcasts is another point that Spotify differs from YouTube music. Spotify has a rich platform for podcasts, which is with lots of topics to be explored. What's more, you can browse the most popular channels and follow one to receive notifications if there is a new episode is added.
However, YouTube music doesn't support podcasts yet. We hope this function will be added on as time changes.
Winner: Spotify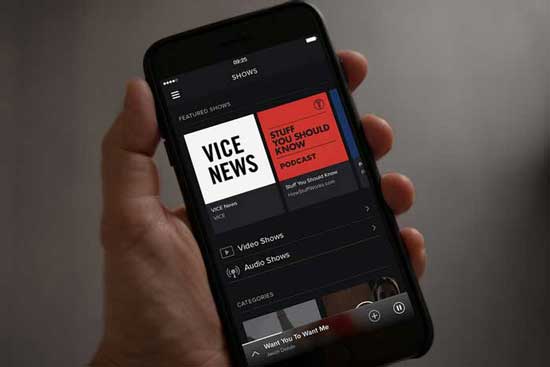 Spotify vs YouTube Music: Payment Plan
Regarding to the payment plan, both Spotify and YouTube music have free and premium services.
Spotify's free tier lets you skip only a limited number of tracks per day, shows in-app advertisements, and you can't stream offline. It's very much usable if you're not a keen music listener. The premium subscription costs $9.99/month. If you are a student, you can enjoy $4.99 per month.
YouTube Music's free plan is much less appealing and along with ads, and it requires you to have the screen constantly on. At the price of $9.99/month, you can upgrade to YouTube Music Premium for an ad-free music streaming experience.
YouTube Music Premium's family plan costs $14.99/month. And YouTube Music for Students also costs $4.99/month.
Although both services offer the same pricing, Spotify comes out on top because its excellent free plan.
Winner: Spotify
Spotify vs YouTube Music: Supported Platforms
Spotify is available for Windows, Mac, Android and iOS, while YouTube music is supported to be played on Android, iOS, Amazon Alexa, Google Home and Sonos. The two music streaming services have their own supported platforms, so you can choose the suitable service for you.
Winner: Tied
Who Is the Winner of Music Streaming Service
According to the above review, we could see that each streaming music service has its own merits. If you want to control what you want to listen to, you could go to Spotify, otherwise, you should choose YouTube music and let it make a decision for you. If you want to play music on Sonos or other music players, you should try YouTube music.
But for Spotify users, you are not allowed to play Spotify music outside its own software like Sonos as its music tracks are under the protection of DRM. Here we will give an extra bonus for Spotify users that help you remove DRM from Spotify and stream on other devices. You can use DRmare Spotify Music Converter for Mac to download Spotify songs without paying for the subscription fee. It is such a big bonus, why not download it and have a try?