Hip Hop is one of the most thought-provoking genres of music you can listen to. The strong lyrics carry most us to a different world where we imagine things and come to terms with our inner-self. If you love hip hop music like I do, then you enjoy listening to full playlists as opposed to choosing individual songs every time you want to listen to some cool music. You can enjoy too by checking the best Hip Hop Playlists on Spotify. It lends a helping hand to this end by making available a number of Hip Hop playlists you can enjoy listening to. Some of the best Hip Hop playlists on Spotify include: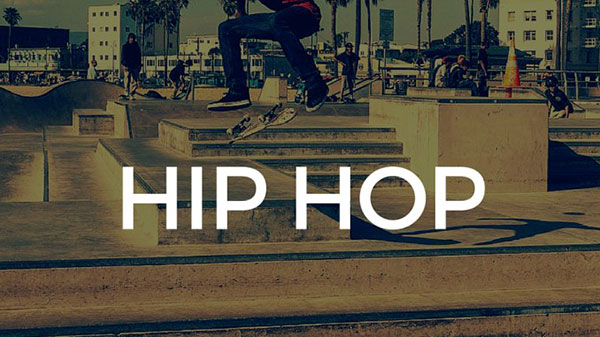 Top 1. This Is Drake
This is a top hip hop party playlist that contains the best of Drake's songs. If you love Drake then this playlist gives you a chance to listen to 50 of Drake's dopest tunes. This is an amazing playlist that will give you a wider selection of Drake's tracks that define his music career. If you are a real fan then there is nothing like this playlist out there. So instead of buying each album separately you can get this playlist as it is one of the best rap playlists on Spotify.
Top 2. New York Hip Hop
This is a great hip hop playlist on Spotify that will let you listen to hip hop just like a local New Yorker. It contains some great music from yesteryears as well as new jams from artists such as ASAP Mob, Smoke DZA, Joey Badass and Bobby Shmuda among others. If you enjoy listening to the 1990s-centric rhymes then you will love this playlist. It has some great songs from your favorite old school artists such as Fat Joe, the Wu-Tang Clan, the Diplomats, the Lox, The Beatnuts and M.O.P among others. This should give you a feel of the yesteryears with a clever mix of some modern raps what still carry the classic rhymes. This playlist is a best hip hop party playlist when you feel nostalgic and just want to unwind.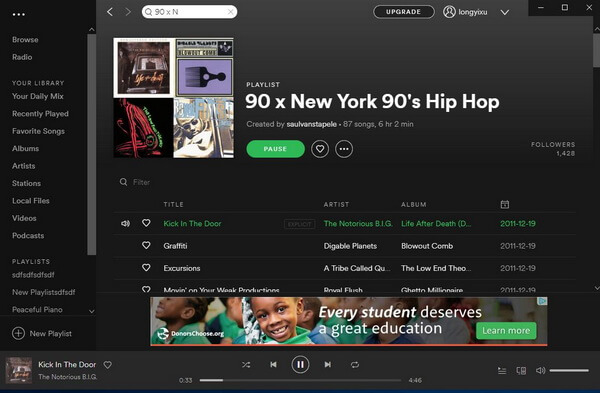 Top 3. Rap Caviar
This is one of my favorite hip hop playlist on Spotify. The playlist is made up of great music from established rappers such as Nicki Minaj and some younger talents such as Blocboy JB and YBN Nahmir. It is also a top rap playlists on Spotify ans has such a cool depth and diversity that no matter the kind of hip-hop you listen to you will love this playlist. The songs on the playlist go deeper and will likely give you a kick on your very first listen. This is what makes it a great hip hop party playlist as one can dance through it with a free spirit. The younger artists on the playlist have some amazing songs that properly depict the hip-hop music world in its current state.
Top 4. Cali Fire
This is another top hip hop playlist on Spotify to listen to. This playlist is made up of fifty electrifying music from some of your favorite music. As the name suggests the music section reflect that California sunny coastline as all the songs are by local artists. The playlist is perfect for both hard partying and for a laid-back listening. No matter where you come from this is a very rich hip-hop party playlist that will get you rolling. It gives a great opportunity to listen to local Californian hits as you enjoy your day.
Top 5. This Is Bad Boy
This hip hop playlist on Spotify is the perfect representation of the Notorious B.I.G family on Spotify. It contains all the great songs by Christopher Wallace that you will love listening to. In addition, it also contains songs from all the artists that helped cement the legacy of the Notorious B.I.G. These include songs by Mase, Lil Kim, Lox and Puff Daddy among others. If you love old school hip hop then this is the playlist for you. It has all the cool songs from yesteryears and is thus a best Spotify hip hop party playlist. It is without any mix of some of the rails new school songs.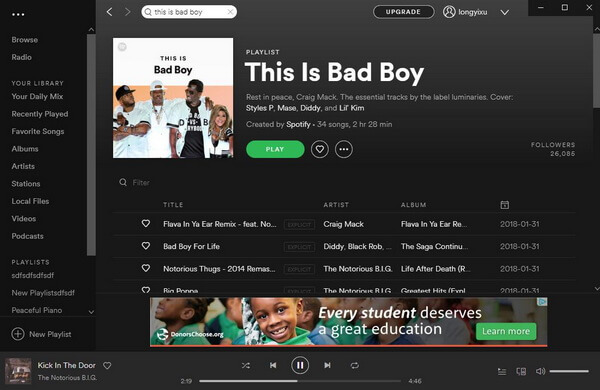 Top 6. The Realest Down South
This Spotify rap playlist contains great jams from the south. Nothing funky here. No classy urban tunes. Just some real southern smashes. If you drink lemonade from mason jars then you will love this playlist. It is one of the best rap playlists on Spotify as the playlist contains some great hits from the likes of Lil Baby, Rich Homie Quan, Marlo, Gunna and Migos among others. It has all the awesome traditionalist bangers that will make you want to listen for some more. In addition, you get a few surprise fresh tunes that ooze great style and sound.
Top 7. Gold School
As the name suggests, this is an old-school hip-hop playlist. It contains all your favorite classic hip hop jams that will carry you back in time. Here you will listen to classic tracks from Tupac, T.I, Method Man, Busta Rhymes, Juvenile and Redman among others. This classical are the actual backbone of today's hip-hop and should bring you some great memories from back in the days. It is a great hip-hop gym playlist where you do your fitness as your mind relaxes listening to the great raps from the past. Even if you are a young folk who has grown up listening to this Spotify hip hop playlist of the likes of Kendrick Lamar will give you some great hip-hop education to understand where the modern day artists get their inspiration from.
Top 8. Signed XOXO
This is the latest Spotify hip hop playlist you should listen to. This Spotify rap playlist is made up of a selection of 50 amazing songs that will not only keep you entertained by will get deeper into your soul and get you reflecting on life. It is thus a great hip hop gym playlist as it motivates you to be better at what you do. By selecting to play this playlist you will get to hear great tunes from some young and modern artists that are now controlling the airwaves. In addition, you will get to listen to some old school hits from the likes of Buddy and J.Cole. It is a complete collection of music that will take you on a Spotify hip-hop playlist journey through time.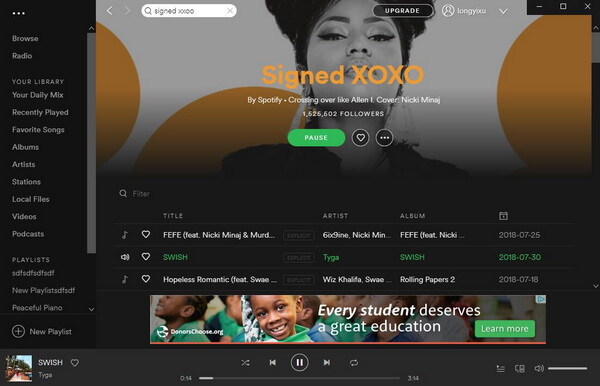 Top 9. Most Necessary
This is one of the top Spotify rap playlists. It is made up of awesome tracks from artists you have never before. The playlist is made up of 65 songs from young and hungry artists yet to become billboard regulars. Most necessary is the perfect playlist if you want to listen to some new hip-hop from new artists. It is a great Spotify hip hop workout for when you want to go for a run.
Top 10. Mellow Bars
This is an amazing playlist for chilling out. Sometimes all you want is listening to some tunes that will help you unwind as you watch the evening sunset. This is the best Spotify hip hop playlist for you. It features great hits from artists such as Lil Xan and Brochhampton. The music is cool with smooth rhymes to help you cool down and reflect on your life. It is thus also a great hip hop gym playlist.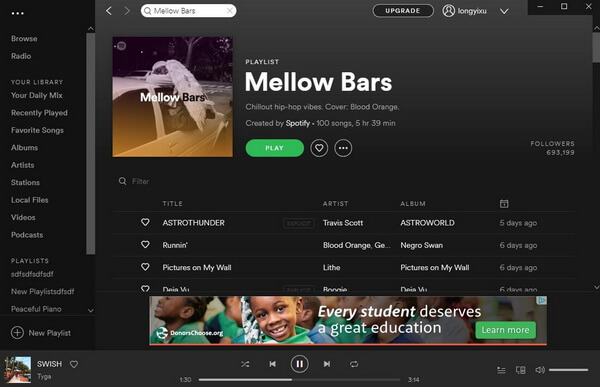 Further Tips
If you enjoy hip hop music, you can listen to these great Spotify playlists when you are doing exercise, having parties and so on. Just search the titles from the Spotify app on your mobile phone or desktop computer, you will find and stream them online for free. If you want to get the best out of the playlists, you can also download Spotify hip hop playlist with a great third party software.
DRmare Spotify Playlist Converter for Windows/Mac is one of the great streaming music downloader in the market. Compared to other software, it is well-known for its lossless quality. You are supposed to keep all the artist info, metadata such as title, author, album cover and so on. In addition, it can help you transcode audio format from the original OGG to new formats such as MP3, M4A, M4B, AAC for better compatibility.