Here we arrive at the end of 2020. And we are going to celebrate Christmas with families and friends. It's true everyone would have had a plan by then. But what beats all odds is enjoying Christmas Spotify playlist.
With over 30 million songs, Spotify gives you an avenue to listen to music for hours. Furthermore, you can discover more songs via Spotify music discovery features. Here in this post, we will list top 10 best Spotify Christmas playlist for you for this coming Christmas.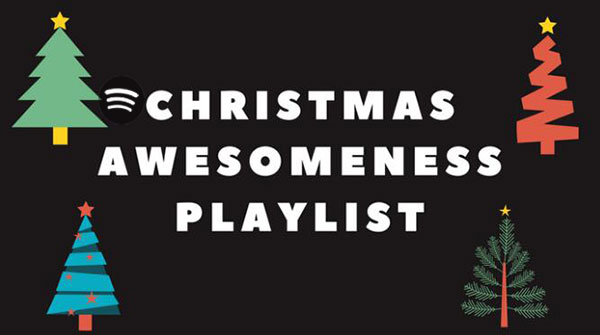 Top 1. Your Favorite CoffeHouse
This Spotify Xmas playlist has the soft voices and steady beats. And it should be worth listening to. The songs are grouped purposely. It gives a soothing feeling and transports your mind to that calm locality. Voices are soft, a gesture that it's time to relax. With up to 4 hours and 70 songs, there is no boredom no matter what.
Top 2. Christmas Party
It's party time. And dancing is part of this Christmas playlist on Spotify. The songs are hotter. The likes of Ariana Grande and Destiny's Child are the core artists within. So, grab your dancing shoes and open your sparkling wine. Then toss your head up for a total sensational mesmerization.
Top 3. Acoustic Love
This is where you can rekindle that one time lost love. This Spotify Christmas music playlist will awaken your past love memories. Heley takes it on well with 'Can't Help Falling in Love'. Other tracks include 'Everything's Fine' by Jamie Drake, 'Party of One' by Brandi, etc.
Top 4. Totally Stress Free
Why stress yourself when you should be in a celebratory mood? 'Totally Stress Free' is among the best Christmas playlist on Spotify. It is meant to let you take it easy. It also doubles up as yoga music. But it would be great if you listen to it during Christmas. Simply sit down calmly, stay relaxed and factor in every easy upbeat song. Make it a habit to stay relaxes and kick out conditions like hypertension. And there is no better way to do it like during Christmas festival season!
Top 5. Wake Up Happy
It's only after being 'Totally Stress Free' that you can 'Wake Up Happy'. Yes, set the mood of the day by your morning attitude. This Christmas playlist Spotify contains songs meant to bring out the inner-you. And it helps you face the day with utmost eager. Get tracks like 'Beautiful people', etc. It may come as a surprise. And you'll be 'Dancing in the Moonlight' by the end of the day!
Top 6. Christmas Jazz
This is the home of Jazz lovers. If you're in the bandwagon, you may know how trumpets, etc. all gear towards stealing the show in such a collection. The good thing with Jazz is that it has no limit variations. You can play it during and after Christmas. And it still feel like you are in the right mood.
Top 7. Rock Christmas
Rock lovers are not left behind either! You can still find best Spotify Christmas playlist. A number of rock artists have put in extra effort to record songs for the special Christmas. There are up to 50 songs take you down to rock city during this Christmas.
Top 8. Mariachi Christmas
Mariachi playlists just got better, with additional Christmas hits. You can now enjoy cool Mariachi Christmas songs from great artists. There are other beautiful gems to discover from this Christmas Spotify playlist.
Top 9. Trap City
Trap City got you covered with its best collection of weekly additions. From 'Falling' by Vincent to 'Still Awake' from Biometrix, they are all packed with loads of goodies. If you plan to spend your Christmas indoors this season, then Trap City will do you more good. Furthermore, it has no boundary limits. Enjoy this collection with your teens, the young and the old alike.
Top 10. Indie Christmas
This Christmas music playlist on Spotify suits unconventional Christmas music lovers. Due to the music variations, this Spotify Christmas playlist has over 65k subscribers. Get hooked to listen to music from both independent and emerging artists alike. Here is where to cool your nerves. You can complete your Christmas without the Boxing Day menace. Wind up your day with 'Boxing day Blues' from Courtney Barnett.
How to Download Best Spotify Christmas Playlist
Listening to music has no limit. Especially if it's from best Christmas playlist Spotify list. It even gets better when you download your favorites for offline streaming. There are smart software in the market you could use. They will convert these Christmas playlists on Spotify in lossless quality.
If you still don't have such a tool, maybe you can give the DRmare Spotify Music Downloader a shoot. This softwares comes with 5X converting speed and lossless quality.
Beyond that, it supports to convert Spotify OGG to a lot of formats. Playing Spotify on any of your devices such as MP3 players and so on.
To get Christmas playlist on Spotify, you need to download & set up the DRmare program first. Then add Spotify Christmas playlist to it and set the output format. Then you can convert and save the audio files locally and listen anywhere.