Before you identify the+m, you may end up listening to a lot of the same music, especially in this time and era when technology is rocking from all corners. This cannot only be boring but will compel you to hit the skip button multiple times. Not anymore with the best Spotify playlists!
Talk of any genre, mood, artist, and track of 2019. Spotify is home to over 30 million songs, with new collections added almost daily. Additional music discovery feature like Discover Weekly makes the whole music listening-game fun and engaging. This streaming music service is simply the go-to source for all your ear-soothing music. Whether you need a home-brewed or curated playlist, Spotify has all your worries solved. Let's dig deep into some playlists that you can throw on and listen for hours on end.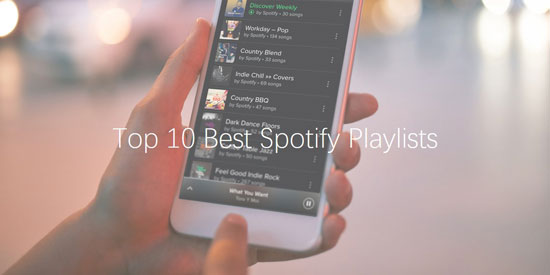 Top 1. Young and Free Mix
For both the old and the young, these top Spotify playlists will keep you on toes. Everything is uplifting and naturally fun-filled. It's something close to 'The Happy Hipster' but actually, more than that. There is no room for skipping any track; feel entertained all through with the likes of deluxe version "Talking Dreams" and the other over 60 songs.
Top 2. Have a Great Day
Who wants a bad day anyway! Have a Great Day will set your mood to the right tone with all its cheery music tracks. Be it classic collection from your old folks or hot cake-like hits from newcomers, this playlist knows it best. Furthermore, you can play it all day long.
Top 3. Discover Weekly
Perhaps you are wondering whether this is a playlist or an app. Discover Weekly is both! As a playlist, simply subscribe to it and experience how it changes songs week by week to suit your taste. Although it may be a miss sometimes, it promises some really good music.
Top 4. Relax & Unwind
Good Spotify playlists to end your day is Relax & Unwind. This playlist comes with magic that slowly drives your worries away. Get the "What a Wonderful World", "Someone Like You", "The Boxer" and much more. With about 135 songs to revamp into, you have no better option than to end your day feeling free from mind-cracking gigs.
Top 5. Wake Up Happy
And when it comes to starting your day, this Spotify playlists get you in the right mood. With over 60 songs, there is no room for bad day whatsoever. From "What I Like About You", "7 Minutes Dean Lewis" and "Beautiful People", your day would be half complete by the time you step out of your house.
Top 6. Bass Drops
Bass Drops is another hot Spotify playlists with non-skip hits like "Runaway" and "Peanut Butter Jelly". Being fairly hip-hop and partially pop, this playlist brings a mix of all the good and the bad. Play it on any occasion to elevate your mood.
Top 7. Broken Heart
There is no heartache like a broken heart. It's often said that just give it time, a broken heart can eventually heal. But what happens before it's totally healed? You need heartbreak hits to nurse your wounds. That's exactly what this top Spotify playlist will do. It will magically get you whole.
Top 8. Brain Food
Do you feel like your brain needs a revamp? Brain Food has the potential to kick your brain into the right gear. It's another best playlists on Spotify with a variety of soundtracks to instantly awaken your sleeping brain. Get hold of this playlist if you are on your path to a tremendous study session.
Top 9. Indie Workout
Indie workout equates to anything positive. And being among the best Spotify workout playlists, it justifies being the right collection for a gym takeover. There is no better way to getting through your day's motions other than with Indie. From "Keep the Car Running", "In the Twilight" and "I Bet You Look Good On the Dance Floor", there are other pace-setting tracks that make this playlist hot for the better.
Top 10. Top of the Rock
Gone are the days when Rock'n'Roll was the in thing. Lots of improvements have come along the way and it's even hard to find a perfect rock on the block. Top of the Rock Spotify playlists know how to collect the best bands and serve you.
Download Spotify Playlist as MP3 for Offline Listening - DRmare Spotify Music Converter
It is one step to get your best playlists on Spotify and it is another to listen to them. Even though you can enjoy these playlists when on an internet connection, you may not have that privilege when you want music for offline listening.
Remember, you have to convert your songs to other formats for offline usage. But wait! There is an audio format protection on Apps that hinder you from converting any song to a compatible format. So, what's the next move?
You need a third-party tool to download Spotify playlist as MP3 for offline playback. And that's DRmare Spotify Music Converter. This App will automatically remove any format restrictions from your tracks or playlist. And apart from being able to convert your files to any format, it offers 100% lossless conversion.